B2B partnerships are all about businesses teaming up together to pool their skills, audiences and resources to bring benefits to both. But what exactly does a B2B partnership look like?
As you're about to see, there's no real template for a B2B partnership. Rather, there's a huge range of collaborations that could be said to fit into this category. With that in mind, here are 21 killer B2B partnership examples that demonstrate the myriad ways that businesses can gain value by teaming up together.
1. This Is Why I'm Broke and Amazon: affiliate marketing
It can be hard to pinpoint the most successful affiliate marketing partnerships. 
After all, most businesses with affiliate programs work with a huge number of affiliates. And most affiliates sign up with at least a few affiliate programs. So, how can you safely say that one partnership is more important than another?
That said, we love the work that This Is Why I'm Broke does with Amazon. This Is Why I'm Broke is a site that helps you find the most random, pointless and unusual gifts. But instead of manufacturing the gifts itself, this online shop uses affiliate links to direct consumers to its partners.
While This Is Why I'm Broke works with multiple brands, the vast majority of its links direct consumers to Amazon. 
Amazon Associates (Amazon's affiliate program) is one of the best affiliate programs, with more than 12 million offers for affiliates to choose from. We'd argue that it's this breadth of choice that has made This Is Why I'm Broke so successful, allowing the affiliate to make money on the most unexpected items, like pimple-popping toys. Even with so many low-value items, the affiliate makes an estimated revenue of $70,000 per month!
It's harder to tell the impact that the partnership has had on Amazon. After all, Amazon Associates is the largest affiliate program in the world with more than two million affiliates. However, This Is Why I'm Broke has over 4.9 million monthly visitors – with the majority of these perusing promotions for Amazon products, we can only imagine the boost this would bring to Amazon's bottom line.
2. Red Bull and GoPro: content marketing
You can't get much more famous than Red Bull's B2B partnership with GoPro. And, although you could call this partnership many things (such as co-branding and comarketing), we've decided to categorise it as content marketing here.
Why? Well, the partnership centres around capturing content using GoPro's point-of-view imaging technology.
Like no other brand, Red Bull markets its energy drinks through impressive stunts and extreme sports – positioning them as empowering consumers to push beyond their limits. With GoPro as its exclusive point-of-view imaging provider, the pair are able to capture Red Bull's stunts in a fresh and exciting way, showing off both Red Bull's daring nature and GoPro's versatile technology.
As part of the pair's agreement, GoPro has access to more than 1,800 Red Bull events across 100 countries. The pair share the access rights to the content, which gets distributed across both company's channels, including GoPro Channel and Red Bull TV.
However, one particularly extreme collaboration involved Red Bull investing $64.8 million into an event that involved Felix Baumgarner jumping out of a helium balloon 24 miles above the earth. The stunt broke three world records and was all captured with a GoPro, enabling 8 million viewers to stream the event live (and countless more to watch it afterwards).
Ultimately, while energy drinks and point-of-view imaging technology might not seem to have a lot in common to start with, these brands both use an active, daring and extreme lifestyle to promote their products. In this way, they're the perfect partners as they share an audience and complement one another's skills without competing.
3. Adidas and Gucci: co-branding
Co-branding can take many different forms. But here, we've stumbled upon a fantastic example of product-based co-branding, which is when brands collaborate to create a product that incorporates both of their individual identities.
In June 2022, Gucci and Adidas launched a retro ready-to-wear line that blends the high-fashion label's signature style with the sportswear brand's streetwear aesthetic. The pair's logos have been seamlessly combined and feature prominently on all items in the line, from clothing to bags, shoes and other accessories.
In the first 48 hours following the launch, online searches for Gucci increased by 286%. The designer label also quickly sprung back to the world's hottest brand after nine months of Balenciaga topping the ranking, according to the Lyst Index's Q2 2022 report.
But that's not all. Looking at brand equity stats, it's clear that both brands benefited from changing the perceptions of consumers by associating their branding. 
The Harris Poll reports that being associated with Gucci allowed Adidas to see steep increases in perceived quality and purchase consideration. Meanwhile, Gucci saw a large increase in consumer familiarity with its brand, showing that partnering with the popular sportswear brand helped to make it feel less out of reach and more accessible.
The partnership announcement also prompted sportswear competitor, Nike, to embark on its own high-fashion collaboration with Jacquemus, as we revealed in May's strategic partnership news roundup.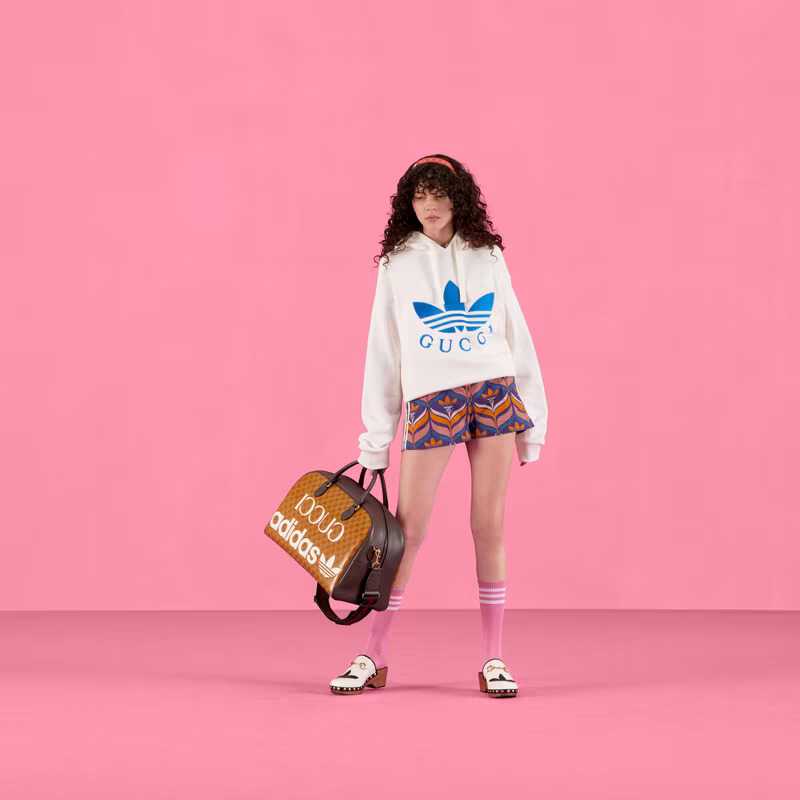 4. Hubspot and Chatfuel: comarketing
One of the best examples of comarketing we've seen is Hubspot's collaboration with Chatfuel back in 2017. 
Hubspot is an inbound marketing and sales software provider, while Chatfuel is the leading social media chatbot platform. The pair combined their expertise to create a free ebook on how to build a chatbot that was hosted on Hubspot Academy – Hubspot's official learning resource.
We know, we know, so far, it sounds like a content marketing partnership. But hang on because both brands used their channels to promote the ebook, which is where the comarketing part comes into it.
And it gets even more interesting. In order to download the ebook, users had to chat with a Facebook Messenger bot that captured lead information such as name, email address, company name and size.
Not only was this a great way of showing off the brands' expertise and Chatfuel's technology, but the brands shared the leads they received, enabling them to leverage one another's audiences to help with lead generation.
5. Hire Space and Central Hall Westminster: sponsorship marketing
When we think of sponsorship, we often think of entertainment – from sports teams to TV programmes and awards ceremonies. But it's also a frequently-used B2B partnership. Here's a great sponsorship marketing example.
Hire Space is the UK's leading venue booking platform, as well as the experts in virtual, live and hybrid events. To demonstrate its expertise, it hosts a flagship conference most years called EventLAB, aimed at the events industry. 
Meanwhile, Central Hall Westminster is one of the largest conference and events venues in central London. Can you see what's coming?
Any conference needs a venue, and any venue needs to be known by events professionals to get more bookings. By teaming up, Hire Space was able to use Central Hall Westminster for its conference in exchange for providing exposure for the venue amongst its audience of event professionals. 
Not only was Central Hall Westminster able to show off its brilliant facilities by playing host to the conference. But it also benefited from having its branding associated with the event, for example on the EventLAB website. And it received some pro bono promotion in blogs and on social media.
Remember, sponsorship isn't just about getting seen by the biggest audience possible, for example on national television. Rather, it's about getting seen by the right audience, which is arguably much more powerful.
6. Hush and Coolstays: incentive marketing
Incentive marketing is all about incentivising sought-after customer behaviours with offers from a partner brand. In this case, clothing company Hush, and holiday let listing platform Coolstays, teamed up to incentivise both their audiences with offers from both brands. Let us explain.
The pair embarked on a competition on social media, giving their followers a chance to win a £400 voucher to spend on a stay in Edinburgh (provided by Coolstays), as well as a £250 voucher to spend with Hush on an outfit for the trip.
To win, consumers had to follow both Hush and Coolstays on Instagram. They also had to tag a friend in the comments of the social media post advertising the giveaway. For an extra entry, consumers could repost the giveaway to their stories.
Of course, the competition was shared by both Hush and Coolstays on social media, enabling them to leverage both their audiences (this part could be seen as comarketing). Not only was the competition a great way for both brands to encourage consumers to follow and engage with them on social media, but it was also a fantastic way for the pair to advertise their services, through a sought-after giveaway.
Consumers who entered the competition and had their hearts set on the prizes may well have forked out for a similar getaway from Coolstays or outfit from Hush themselves, if they weren't successful in winning.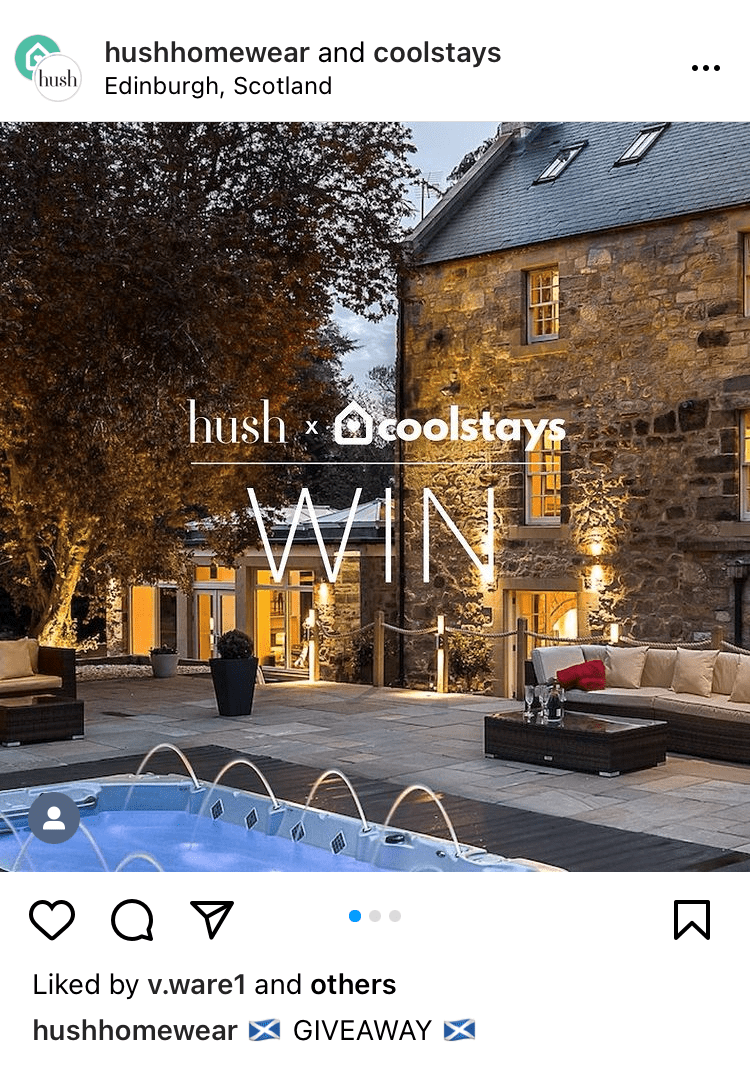 7. Xero and accountants: referral agreements
In a referral agreement, one brand refers another to its customers – or, brands might agree to refer one another. However, in this case, Xero has a whole B2B partner program where it encourages accountants and bookkeepers to refer the accounting app to their small business clients. We'll explain. 
Although Xero's end consumer is small business owners, many of them have their finances managed by an accountant or bookkeeper. In fact, they often rely on their accountant or bookkeeper's expertise to help them make decisions about their business finances. For this reason, promoting the app directly to small business owners isn't nearly as effective as getting accountants and bookkeepers onboard, who can recommend the app to their clients.
Knowing that sitting around and waiting for accountants to recommend the app organically wouldn't get it far, Xero created a partner program that rewards accounts and bookkeepers for using the accounting app with their clients.
Partners earn points based on how many clients they sign up to Xero products, the type of billing relationship they have with their clients and more. Depending on how many points they earn, and what partner status level they reach, partners can receive rewards including free subscriptions and discounts, advisor tools and marketing resources.
Ultimately, this program is successful because Xero is a truly useful app that accountants enjoy using and feel confident recommending to their clients. But by actively encouraging this behaviour through a partner program, Xero is able to take control of this interaction and scale it up to reach a much wider audience.
8. Woodmansterne and Five Star Days: cross-promotion
Woodmansterne and Five Star Days have a longstanding B2B partnership that's oh-so-simple but oh-so-effective.
Woodmansterne is a British card company, while Five Star Days sells experiences as gifts. As greetings cards and gifts are two things you're likely to need at the same time, the pair make perfect partners (in fact, this relationship is complicated slightly by the fact that Five Star Days is actually operated under licence from Woodmansterne, but we won't go into that here!).
Here's where cross-promotion comes in. When you buy a Woodmansterne greetings card from one of its stockists, you'll find inside a promotion for Five Star Days. The idea is that if you don't yet have a gift for the recipient of the card, you can quickly and easily buy them an experience from Five Star Days – and there's even a discount code to sweeten the deal.
So, why does this work so well? Well, if you're buying a last-minute card and haven't thought of an accompanying gift, Five Star Days offers the perfect solution. It's quick and easy, and there's even a little note for you to leave the recipient, explaining that their special experience is on its way to them. So, it's the perfect coverup to hide your lack of organisation!
In other words, it's a win for the consumer as well as the partner brands – exactly what any good partnership should be all about!
9. EE and Apple: bundling
One of the best examples of soft bundling that we know of is the collaboration between mobile network provider EE and technology provider, Apple. Consumers who join EE are able to get six months of free Apple Music. 
This partnership works well on so many levels. Firstly, for EE, it's a great incentive for consumers to join the network. In this way, it could also be seen as an example of incentive marketing.
For Apple, it's equally beneficial as Apple Music is continuously being promoted alongside EE's services. To get the deal, users have to get an activation code from EE and then use it to sign up directly with Apple. In this way, it's also a fantastic opportunity for Apple to gain new users it might not otherwise reach, as users that take up the deal are highly likely to continue paying full price for the product once the free six months has come to an end.
The collaboration has a takeup rate that's 45% above forecasts. In fact, EE also claims that it's improved the brand's net promoter score by a huge four points. So, it's no surprise that the partnership is still going strong more than six years after it all began back in 2016.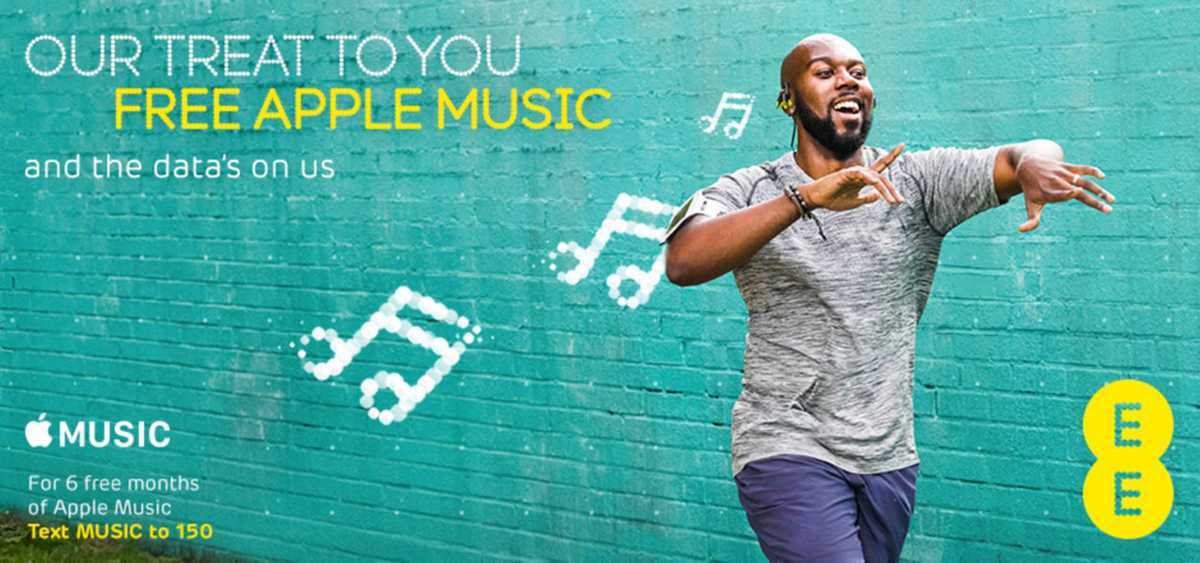 10. Boohoo and Myntra: reselling
A big benefit of distribution partnerships is that they can help brands to reach new audiences, in particular in new geographic areas. And that's exactly what online fashion retailer, Boohoo Group, has managed to do in teaming up with Myntra, an Indian fashion e-commerce company.
In our November 2022 partnership news roundup, we announced that Boohoo would make its first foray into the Indian market by launching its much-loved brands – Boohoo, Dorothy Perkins and Nasty Gal – on the Indian platform. The three brands now have a dedicated online store on Myntra, offering over 1,500 items across categories such as dresses, tops and footwear.
The partnership will enable Myntra to stay fresh and current (and keep ahead of its competitors) by giving its customers access to UK brands that they're sure to love. Meanwhile, as a major fashion and lifestyle brand in India, it's the ideal partner for Boohoo to reach fashion-conscious Indian consumers. 
This is particularly the case as Myntra has forged the way in e-commerce marketing by launching Myntra Studio in 2020 and M-Live in 2021. Myntra Studio is a personalised content hub on the platform that gives users original, entertaining and shoppable content at scale, while M-Live is a groundbreaking video and live commerce section on Myntra's app. Since their inception, the platform has had a 5x increase in traffic and 20x scale in demand, according to buzzincontent.
Together, Boohoo and Myntra will collaborate on marketing activities to boost the impact of the launch, including leveraging Myntra's channels such as through influencer activation and visibility on M-Live. 
11. Microsoft and Check Point: co-selling
Co-selling is a type of B2B partnership that involves sales teams from partner businesses working together to sell a better solution to a customer. But Microsoft has taken co-selling to a whole new level by introducing a co-seller partner program – rather than just teaming up with one or two other businesses to co-sell its products, it partners with thousands. 
In fact, by the end of the program's first year alone, Microsoft had already formed 9,000 partnerships. And by the end of the first two years, it had made $8 billion in partner revenue (according to CRN)!
One co-selling partnership that particularly stands out is Microsoft's collaboration with cybersecurity company Check Point.
Check Point produces a range of security solutions that enhance Microsoft products and services – such as an advanced security solution for Microsoft Azure and a leading threat prevention solution for Office 365 email. Co-selling with Microsoft allows prospective customers to better understand the pair's well-integrated and ready-for-prime-time solution. Check Point's Head of Marketing for Cloud Security calls it a 'one-plus-one equals three model.' 
The pair align their go-to-market and channel efforts, including engaging customers at over 40 joint events. Not only does co-selling help the partners to speed up the sales cycle by going into customer accounts together. But since co-selling with Microsoft, Check Point's revenue has increased by 150%, and the company has won new business with 800 new customers.
12. Payfit and partners: lead account mapping
Lead account mapping is often the precursor to co-selling. It's essentially when partners share the details of their leads and customers in order to leverage any overlaps for the benefit of them both. Payfit is a payroll and HR management software that used this B2B partnership type to double its win rates!
Payfit has over 200 members on its sales team and has high targets when it comes to the number of leads generated. In fact, in 2021, the target stood at 30,000! 
Noticing that a large part of its database was linked to a partner's customer base, Payfit used an account mapping tool called Reveal to see if sharing lead data might increase the quality of its leads. Indeed, the software company noticed that the quality of its prospects improved if the prospects were clients of its partner, enabling it to obtain a significant number of higher-quality prospects.
Payfit has since continued to use account mapping with other partners in its ecosystem, and the results have continued to be impressive. With leads obtained through account mapping, Payfit has doubled its conversion rate. In fact, conversion rates from lead to demo even increase up to 60%!
13. Marmite and ASDA: licensing
Marmite is the UK's controversial 'love it or hate it' spread made from yeast extract, owned by Unilever. Key to its success for almost 20 years has been licensing. In fact, Marmite was the first brand Unilever licensed out and by 2014, licensing already accounted for around £15 million of additional sales each year, according to Marketing Week.
The licensing of Marmite's unique flavour and brand has led to products that range from marmite-flavoured crisps and rice cakes to branded board games, teapots and t-shirts. But one of the most noteworthy might just be the Marmite-flavoured Easter egg sold by ASDA.
While Marmite-flavoured chocolate certainly divides opinions, that's part of what makes the collaboration so fitting, as the Marmite brand is built on just how controversial the product is. In fact, Unilever Head of Licensing, Julie McCleave, admitted that the team thought they would do well to sell just 100,000 units when Marmite chocolate was first released, but the stock was sold in a matter of weeks.
In the case of the Marmite Easter egg, the product wasn't just successful in itself, but it also acted as a fantastic marketing tool for both businesses. The launch resulted in a ton of PR, which was certainly helped by the seasonality of the partnership.
Marmite's products show that licensing is best when it acts as a direct representation of the brand, rather than just a badging exercise. Consumers are often not aware that the Marmite-branded products they buy aren't manufactured or sold by Unilever itself, demonstrating how well the products reflect the brand they're representing.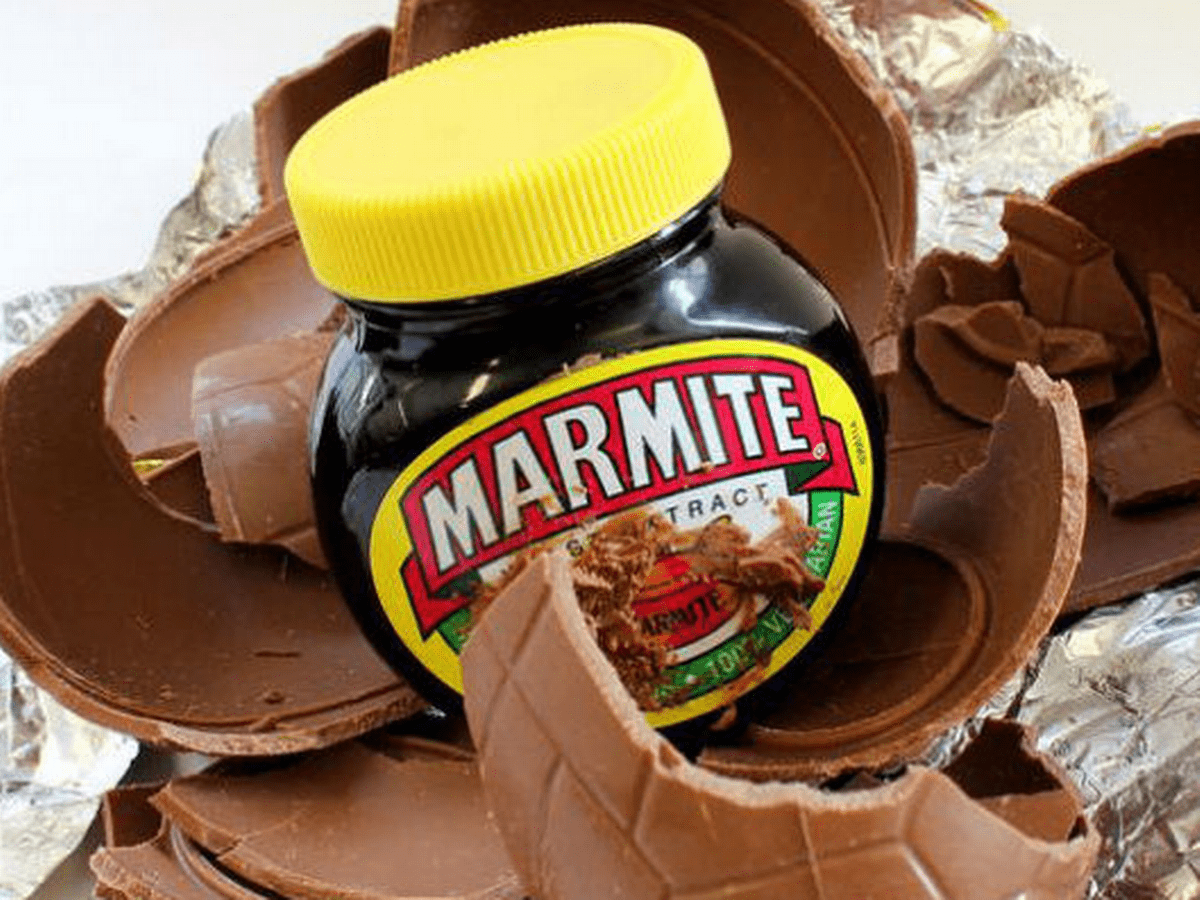 14. Lotus and Toyota: supply chain partnership
When we talk about supply chains, one industry that immediately springs to mind is the automotive industry. And Lotus and Toyota have a longstanding supply chain partnership that particularly stands out.
Since 2004, Toyota has been supplying engines to power Lotus models – the Elise and Evora amongst others. In 2010, the partners took their partnership a step further, by announcing that Toyota would also start manufacturing tailor-made powertrain solutions for Lotus cars. And more recently, the pair have explored a tie-up that would allow them to build a mid-engined sports car.
Toyota and Lotus' collaboration is a supply chain partnership example that's worthy of admiration as it brings together both partners' individual strengths to create a premium product. Lotus is known for crafting beautiful, lightweight cars, while Toyota has a reputation for reliability and quality – traits that are essential when it comes to a car engine!
Outsourcing to Toyota in various guises over the years has also enabled Lotus to sell cars for less and pass strict emission laws in the US. All in all, it's a partnership that brings a whole host of tangible benefits to both businesses, as well as car lovers.
15. Cineworld and Starbucks: shop sharing
You'll find Starbucks cafes in over 35 Cineworld cinemas across the UK. And it makes perfect sense when you think about it!
When you go out to watch a movie, it's become common practice to buy cinema snacks. By teaming up with Starbucks, Cineworld can stay ahead of its competitors by offering consumers popular drinks and snacks it knows they'll love. And Starbucks has the benefit of having a guaranteed footfall to sell to.
The pair have even introduced a discount for Cineworld Unlimited members, giving them 10% off their favourite Starbucks drink – helping to incentivise repeat business that benefits both brands.
The collaboration also makes for good marketing. During the heatwave of July 2022, Cineworld pushed the coffee shop's iced drinks, billing the Starbucks stores within its cinemas as a great destination to beat the climbing heat.
16. Waymo and Fiat Chrysler Automobiles: joint product partnership
While you'll find joint product partnerships in virtually every industry, they're particularly common in ground-breaking industries that prove partnerships are the future of business. One such product partnership example? The race to popularise self-driving cars.
Self-driving or autonomous cars, as they're also known, are riddled with strategic partnerships. That's partly because there are so many individual technologies required to make them work that companies would struggle to become an expert in all of them. And partly because the journey towards creating safe, reliable and cost-effective self-driving vehicles has turned out to be much more expensive than anyone first thought!
While we could pick from a whole host of partnerships here, one that definitely deserves a mention is Waymo's partnership with Fiat Chrysler Automobiles (FCA). 
Waymo is a sibling company of Google and was formerly Google's self-driving project. It teamed up with FCA so that it could focus on the parts of the car that replace the driver, rather than building a whole new vehicle from the ground up. As such, the pair put Waymo's self-driving technology into a Chrysler Pacifica minivan. 
It sounds simple enough, but it wasn't just a case of mashing the two together and having done with it – instead, the partners agreed to share engineering responsibilities, with their engineering teams actually working together on the project at a facility in Michigan. This was a first-of-its-kind partnership – in fact, the pair became the first partners to deploy fully autonomous technology in the real world, on public roads. The collaboration also paved the way for many more of the partnerships you've likely come across in the self-driving space.
Since their initial collaboration, Waymo and FCA have expanded their partnership and are now working together to address the needs of commercial customers by jointly enabling self-driving for light commercial vehicles.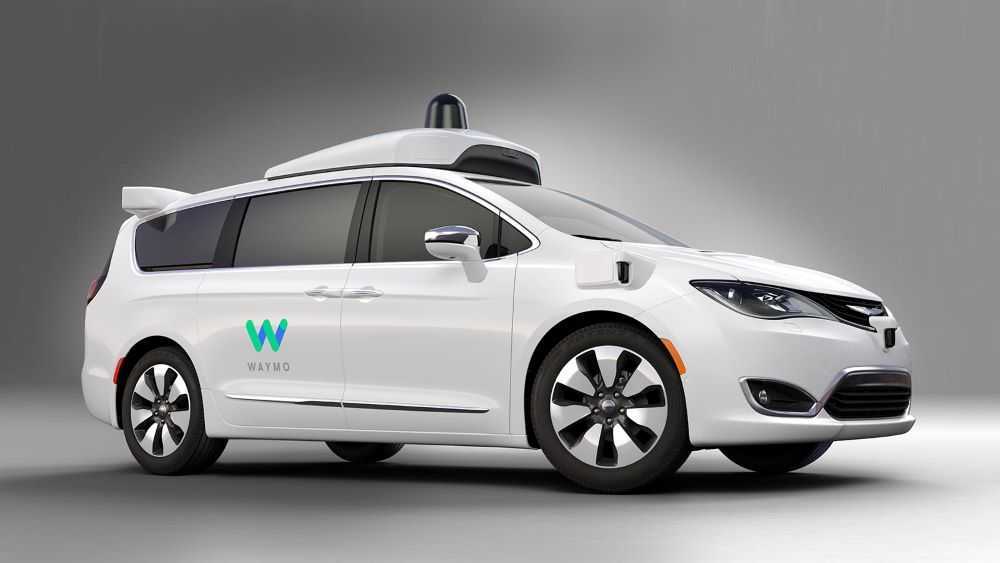 17. Spotify and Shopify: integration partnership
If you did a double-take reading that heading, we don't blame you! Perhaps it was inevitable that Spotify and Shopify – with their similar-sounding names – would eventually partner up. But their collaboration is a fantastic example of an integration partnership done right (in fact, it made it onto our selection of the best strategic partnerships of 2021!).
Music-streaming platform Spotify and e-commerce platform Shopify integrated their products to enable artists to list their merchandise on their Spotify profiles.
The integration means that listeners can purchase an artist's merchandise just as easily as they can listen to an artist's music – allowing artists to boost their bottom line by broadening their Spotify revenue with merch. The integration, which simply requires artists to install a 'Spotify for Artists' app, means that artists can display featured products on the music-streaming platform, add new products instantly, automatically remove out-of-stock items and more. 
In other words, it gives fans one central place where they can listen to their favourite artists' music and buy their merch, making it a win for both listeners and the artists themselves! 
Spotify's data shows that two-thirds of all an artist's merch clicks come from fans who follow them, like their songs, or add them to a playlist. Plus, listeners are 7.8x more likely to click on an artist's merch on the very first day they listen to them than just one day later. These figures demonstrate the power in artists being able to display their merch alongside their music, capturing the attention of new listeners and seasoned fans right where they listen.
18. Pizza Hut and PepsiCo: product extension merger
This B2B partnership example is a little old school but a great one to know about. Way back in 1977, PepsiCo acquired Pizza Hut (in the years that followed, it also acquired another two restaurant chains: Taco Bell and KFC). In doing so, they made it so that diners at the beloved pizza chain were only able to purchase drinks in the PepsiCo line.
Most people would agree that pizza and soft drinks are a winning combination. So, pooling together these two product offerings seemed to make sense. It also allowed the soft drinks maker to reach a bigger pool of customers, who were already fans of Pizza Hut restaurants.
For the first 15 or 20 years, the theory was certainly proven right. Within a year of the merger, sales almost exceeded $436 million. And in 1991, company sales at the pizza chain worldwide reached $5.3 billion (according to Funding Universe)! In fact, it was reported by The Independent that Pepsi owned 5,200 Pizza Hut restaurants by 1995 (and had franchised a further 3,700).
However, things didn't continue to be so rosy. Unfortunately, as time passed, the chain faced new threats like other competitors and the rise in healthy eating. While the parent company was still making good profits, its return on assets was much greater in its beverage and snack food divisions than in its restaurant division – and it was widely thought that the merger with Pizza Hut (and subsequently Taco Bell and KFC) was taking PepsiCo's eye off the ball in its main battle in the soft drinks market. 
As such, in 1997, PepsiCo exited the restaurant business and spun off Pizza Hut, Taco Bell and KFC to Tricon Global Restaurants, which would later be renamed Yum! Brands.
19. Squarespace and website designers: platform partnership
Usually when we think of platform partners, we think of technology partners working together – like app developers collaborating with app stores. However, this B2B partnership example shows that platform partnerships can be found elsewhere too.
Squarespace Marketplace is a platform that helps small business owners to find a 'Squarespace Expert' – a third-party designer or developer who can help polish an existing Squarespace site or build one from scratch.
By teaming up with trusted independent designers, Squarespace is able to fulfil a need for its customers – giving them a way to quickly and easily create a professional-looking Squarespace website without having to invest time and effort. 
Meanwhile, for website designers, partnering with Squarespace becomes a valuable way of obtaining a steady stream of leads. To appeal to these leads, website designers have to make Squarespace an integral part of their offering. This may well include gaining new experience, skills and credentials that enable them to claim they are indeed 'Squarespace Experts' that can be trusted to deliver results using the platform.
20. Virgin Wines and RSVP: outsourcing
Virgin Wines is one of Europe's largest independent online wine retailers. It works with RSVP, the UK's oldest contact centre, to contact previous customers and re-engage them with the Virgin brand and produce.
While it's often seen as a risk to outsource frontline communications with customers, Virgin Wines' partnership with RSVP is a fantastic outsourcing example that shows that it can work. 
When the partnership was agreed, RSVP already had extensive experience working with clients in the wine industry – and several key members of the contact centre's management team even had official wine qualifications. On top of that, RSVP's USP is that it uses trained actors as agents. This means their agents have excellent interpersonal skills and are well-placed to build a rapport with customers from all walks of life.
The pair embarked on an initial test, contacting previous continuity customers who last ordered between two and six years ago. The goal was to reactivate these customers and subsequently convert them to active customers on a subscription basis. Daily conversion rates soon settled at between 25% and 35% – metrics that far exceeded the 10% conversion rate that would typically be seen as successful. 
Since then, the partnership has gone from strength to strength, with RSVP re-recruiting almost 20,000 customers to play a key part in Virgin Wines' growth. This demonstrates just how successful outsourcing can be when partners' skills, experience and ethos match – even when it comes to something as risky as frontline communications!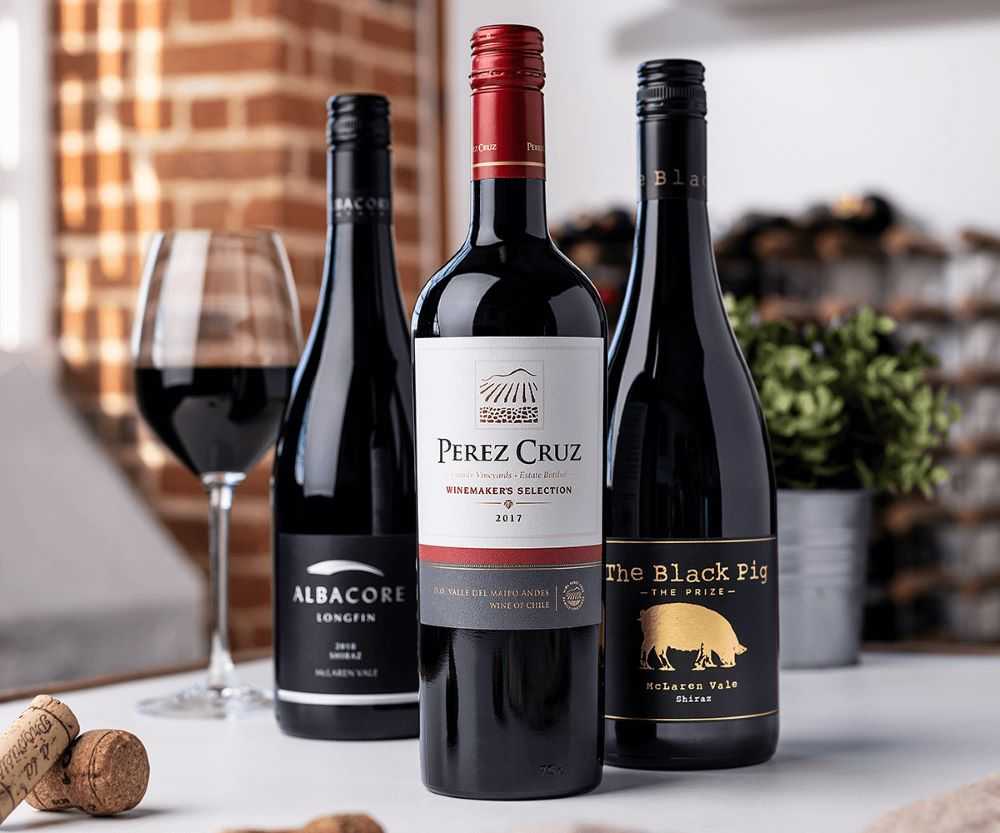 21. Volvo Cars and Geely Auto: joint venture
Last but not least, Volvo and Geely's B2B partnership is a great example of a joint venture. The couple teamed up in 2016 to create a company called Lynk & Co – a brand that reinvents the very idea of car ownership.
Based on technology developed jointly by both partners, Lynk & Co is owned 50% by Geely Auto and 30% by Volvo Cars. To make matters a little more confusing, another 20% is owned by Zhejiang Geely Holding Group, which owns and manages a number of brands including both Geely Auto and Volvo Cars!
Anyway, Lynk & Co's first product is a plug-in hybrid compact SUV called the 01. Although the car is available to purchase, that's not the primary focus. Instead, consumers can choose whether to subscribe, buy or borrow – enabling them to get as much (or as little) car as they want. The tagline pretty much says it all: 'Cars should be like celebrities. Easy to cancel.'
The car scored a full five stars from the European New Car Assessment Program, showing that Volvo and Geely certainly succeeded in bringing the best bits of both their technologies to the project. The 01 officially hit the roads in Europe in 2021, and can now be found in seven countries with 60,000 people subscribing, buying and borrowing the vehicle.
--
As you can see, these 21 B2B partnership examples are all wildly different. It just shows the huge range of ways that businesses can choose to collaborate together, and the even bigger range of benefits that B2B partnerships can bring to companies in a myriad of industries.
If you're keen to take inspiration from these successful B2B partnership examples, what are you waiting for? Simply book a demo to see how our unique partner intelligence and discovery platform can help you to up your partnership game in more ways than you can imagine.
Imogen Beech
Imogen is a copywriter and content writer with over two years' experience writing about the exciting world of strategic partnerships, as well as running her own business. She loves learning about new topics as she writes, and has enjoyed penning articles on industries ranging from mortgages to events, theatre to home improvements and everything in between.
View more by Imogen Beech