Forrester's channel software tech stack for 2021
Publication date

Author

Imogen Beech

Reading time

3 minute read
This month saw the release of Forrester's channel software tech stack for 2021 – a list of the tech that helps companies to find, onboard, execute, manage and measure partnerships. This year's list includes 183 companies who together generated a whopping $2.8 billion in revenue in 2020. Set to over double in 5 years.
Best of all (get ready for a not-so-humble brag), we saw Breezy make it onto the list for the first time, alongside the likes of Adobe, Salesforce, AWIN and other household names. Yep, we're in good company! Zoom in below, and you'll see we've been placed in the 'Ecosystem Management' section - core to the entire landscape. In a sec, we'll tell you what this means.
But back to the point. Here's a quick lowdown on Forrester's findings.
The channel software stack for 2021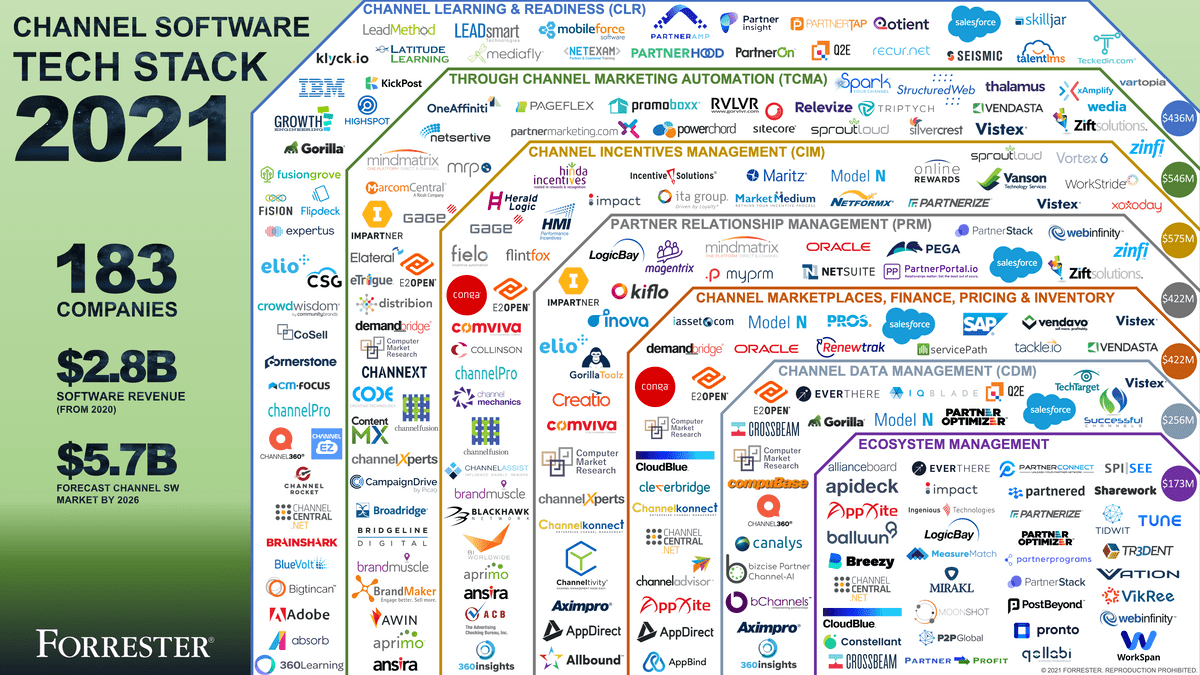 Forrester has revealed that channel software has remained a fast-growing market this year, with 8.9% growth. Not bad considering this took place during the Covid-19 pandemic!
But what's changed?
Well firstly, there's been a growth in the number of companies transitioning to a 100% subscription/consumption business model, including Cisco, Dell Technologies and IBM. This has contributed to a split in the partnership landscape into three channels: influence, transaction and retention – which has in turn led to a greater reliance on automation.
And secondly, the number of companies listed under 'ecosystem management' have doubled. Let's look at this in more detail.
Ecosystem management
When we talk of partner ecosystems, we're referring to cross-industry players working together to create solutions.
This is a fairly new concept (the category 'ecosystem management' was only added to Forrester's channel software stack in 2020). But, it's quickly changing the partnership landscape:
76% of business leaders agree that ecosystems will render current business models unrecognisable within the next 5 years (according to Accenture).
Nearly a third of global sales are predicted to come from ecosystems by 2025 (according to McKinsey).
84% of companies believe that ecosystems are important to their strategy (according to Accenture).
Check out more eye-opening facts about ecosystems in our list of strategic partnership stats.
With all that in mind, perhaps it's not surprising that this is where Forrester's latest stack looks vastly different from its channel software stack for 2020: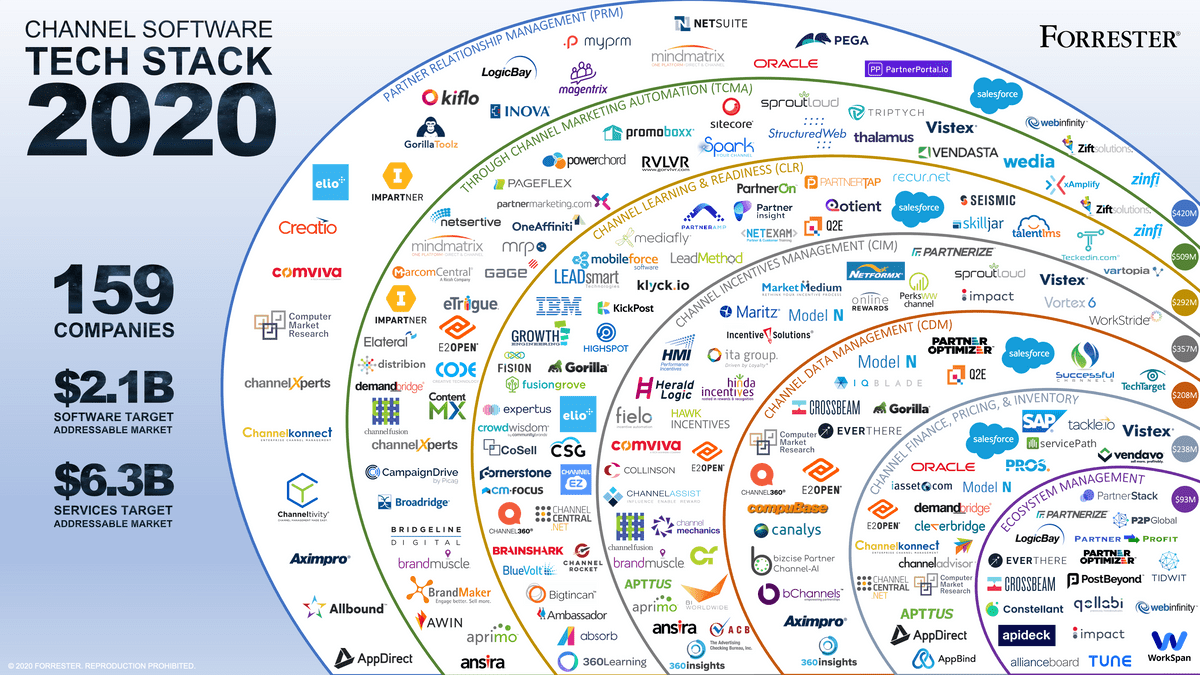 Since the release of 2020's stack, the 'ecosystem management' section has seen an addition of 18 new companies (including Breezy!) – a 50% increase.
This is particularly noteworthy when you consider that there are only 24 more companies listed on the data stack this year as a whole. The growth in ecosystem management has accounted for more than a third of that change.
Not only that, but the companies listed in this section now bring in almost twice as much revenue. Last year, these companies brought in $93 million in software sales. This year, they brought in $173 million. That's a huge achievement, especially when you consider the fact that this growth took place against the backdrop of a pandemic.
According to Forrester, the companies included in this bracket assist with activities such as:
Nonlinear partnership recruitment and discovery (this is where Breezy fits in!)
Attribution (with a strong focus on B2B influencers)
Account mapping
Ecosystem management
API integrations
Collaboration at scale
Perhaps part of their success is that these technologies are designed to manage all three of the channels we mentioned earlier – influence, transaction and retention – across the whole customer journey.
Final thoughts
So, where does this leave us for the year (and years) to come? Well, we'll leave you with a quote from Forrester:
"The effective use of technology tools is no longer optional — ecosystems don't run on spreadsheets!"
It seems that when it comes to partnerships (whether partner marketing or more complex strategic partnerships), the future's going to be all about automation, self-service, scalability and flexibility.
If that sounds dreamy to you, why not sign up with Breezy? Whether you're looking for affiliates, re-sellers, co-branding partners or any other type of strategic partnership, we'll generate hundreds of relevant suggestions for you which you can easily navigate and filter to uncover those partnerships central to your partner ecosystem strategy. In other words, we're here to help make your partner discovery a breeze. Enjoy!