What are the 15 types of strategic partnership?
Publication date

Author

Reading time

47 minute read
Updated: 23rd November 2021
Take a look at any successful brand and we bet a strategic partnership (or two!) has been key to their success.
Just think of Amazon's world-famous affiliate program, 'Amazon Associates', which has seen several million affiliate publishers promoting products on their marketplace. Or Red Bull's history-making co-branding partnership with GoPro, which saw some of the most highly-viewed extreme-sport content of all time. Or Uber's smart technology integration with Spotify to let you plan your music playlist before you enter your ride. Or Adidas' joint product partnership with Kanye West to create the 'Yeezy'. Or the supply chain partnership between McDonald's and Coca-Cola, its biggest supplier. Or Dropbox's referral program where partnering with its most loyal customers enabled it to acquire 4 million new users in 16 months.
Or, or, or. We could go on... and we will.
As you can see, there are a ton of high-growth brands putting their focus on partnership marketing – and that's not a coincidence. Hinge's 2020 High Growth Study revealed that high-growth brands are three times more likely to use marketing partnerships as a part of their overall strategy than no-growth firms!
Not only that, but this often-overlooked growth driver has some pretty impressive stats to back it up. Strategic partnerships can be credited with generating businesses with more revenue than paid search. While the average business generates 18% of its revenue from paid search (according to Wolfgang Digital), high-maturity partnership programs generate 28% (according to a Forrester report in 2019) - check out our full list of incredible strategic partnership stats for more (we've compiled 104 of them!)
So if you haven't yet thought about investing in a partnership program, it's certainly not to be sniffed at. Here, we attempt to break it all down.
So you want to know more about partnerships: where do we start?
When it comes to getting started in strategic partnerships, it can be hard to know where to begin. Every brand is different and there really is no 'one size fits all'. In some ways, that's great. It means there are barely any boundaries and the opportunities are there for you to form a unique partnership that really works for you (and your partner!).
But before you start that delicate dance with potential partners, it does help to know what's out there – what have other companies done? What kinds of partnerships are tried and tested?
To help you get your head around it all, we've broken things down into 15 strategic partnership types, split broadly across two main categories:
Partnership marketing; and
Other strategic partnerships
So, what's the difference?
Broadly speaking, partnership marketing, also known as partner marketing, is when two (or more) companies collaborate on a marketing campaign to gain value. Essentially, it's a type of strategic partnership that's limited to marketing.
On the other hand, our second category covers any kind of partnership where companies collaborate beyond just marketing – they might share tech, personnel and other resources.
We find it helps to look at these two categories like dating – if marketing partnerships are the honeymoon period, then these other strategic partnerships are moving in together. But remember, these are by no means cut and dry and there's a fair bit of overlap between the two.
Ultimately, any of these types of strategic partnership (including those in the partnership marketing category) will be most successful when you look beyond just limiting them to the marketing department and start treating them as a thriving ecosystem with their own unique life cycles. In other words, the most successful strategic partnerships will involve all aspects of the business that the partnership touches, from finance to business development and operations.
Matching up your strategic partnership with your objectives
No matter which types of strategic partnership you go for, the trick to a long-lasting collaboration is making sure that both companies benefit (more on this in our guide to creating partnerships that are the right fit for your brand). In fact, when it comes to value gained, we like to go right back to marketing basics and think of it in the context of the pirate funnel (so called because it's an acronym for the sound pirates make):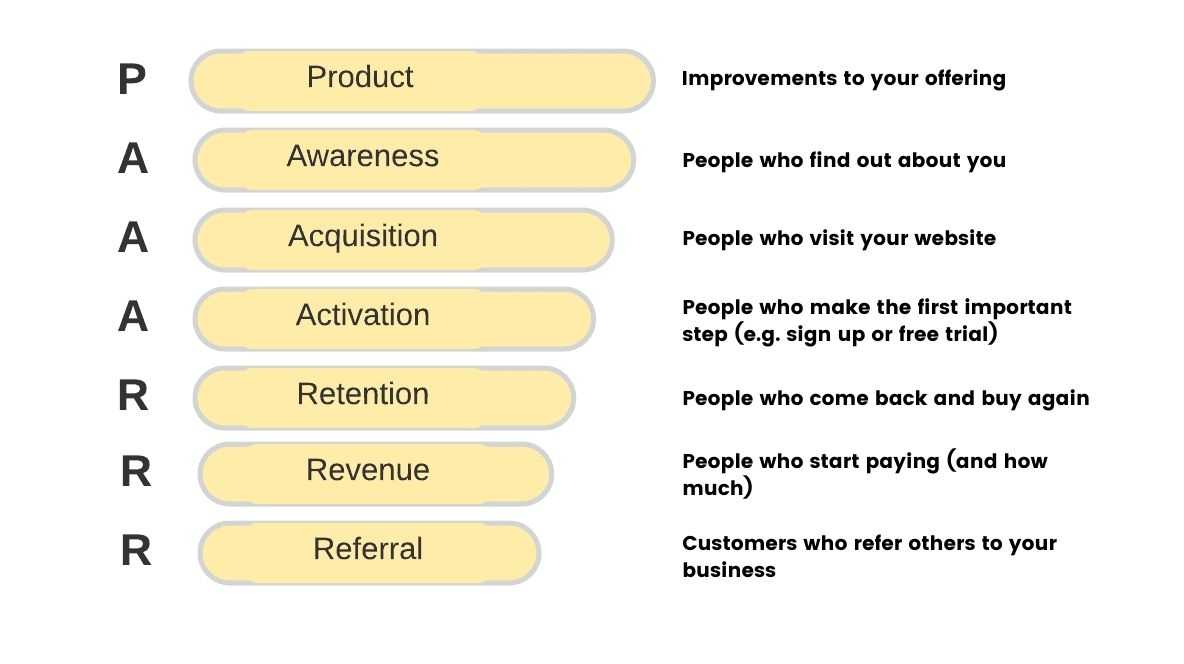 The eagle-eyed among you might have noticed that a rogue P has made its way into our version of the funnel. That wasn't an accident! Our new PAAARRRtnership funnel all starts with Product. Essentially, while partner marketing typically provides a boost to one of the three As (Awareness, Acquisition or Activation), other strategic partnerships can focus on optimising any step of this funnel in order to achieve profitability and growth for both partners.
By collaborating to boost their Awareness, Acquisition or Activation, either long-term or short-term (for example through a seasonal partnership), companies can leverage one another's brand and resources to fast-track their growth. By going yet a step further and teaming up to improve Retention, Revenue, Referral or even Product, the benefits are almost endless.
To help you negotiate a successful partnership, we've listed the 15 broad strategic partnership types that will provide a boost to one or more of the steps in the funnel for both you and your partner. Are you keen to boost brand awareness? Or are you looking to increase customer referrals? Whatever your objectives, you'll need to choose a type of strategic partnership that helps you achieve them.
Just remember – all these strategic partnership types can be adapted, amended and amalgamated to suit your individual needs.
Partnership marketing
The following types of strategic partnerships fit under the broad category of partnership marketing. Broadly speaking, partnership marketing is when two companies collaborate on a strategic marketing campaign to achieve their objectives (usually providing a boost to Awareness, Acquisition or Activation).
While partnership marketing used to be largely focused on traditional affiliate marketing, it's since evolved into a flourishing partner ecosystem that incorporates media houses, mobile apps, influencers, strategic B2B relationships, charitable causes and much more. So much so that in 2020, Forrester decided to add 'ecosystem management' into its yearly channel software tech stack as a new category of its own. Not only that, but the revenue being brought in by the software in this category nearly doubled between 2020 and 2021, showing a huge increase in demand (our piece on Forrester's channel tech stack for 2021 has the full lowdown).
In short, this isn't just a subcategory of marketing. It is its own marketing channel that could be seen in the same vein as print, email, TV or paid search. Hence why brands that are serious about milking the benefits of this channel will often hire a partnership manager and ultimately grow a partnerships team, as opposed to leaving the job to the head of growth or marketing.
In fact, it wouldn't be an exaggeration to say that we believe partnership marketing is the most underrated way of earning income and creating value, both on and offline. You can check out our selection of the best partner marketing examples to get an idea of the huge range of collaborations that fall under its remit. Or check out the main types below.
In affiliate marketing, the primary company (often referred to as the brand, advertiser, creator, merchant or seller) offers the secondary company (usually known as the affiliate or publisher) a performance-based financial reward in exchange for promotion. This type of partnership is the best-known – and arguably, most popular – form of partnership marketing there is and has been around for almost as long as the internet (read our brief history of affiliate marketing to find out more).
Objectives achieved
The brand gets its products promoted, boosting awareness, acquisition and activation.
The affiliate earns performance-based commissions, boosting revenue.
How does it work?
There are many different techniques that affiliates use to promote brands and make money with affiliate marketing. Here are six of the most popular:
Banner ads: One of the most common forms of affiliate advertising, the publisher displays an ad for the advertiser on their website.
Text links: The advertiser is promoted in plain text with a hyperlink through to their site. This is usually within an article on the affiliate's website but could equally work via a WhatsApp message.
Comparison tables: A popular form of affiliate marketing that can be found on comparison sites like confused.com and Money Saving Expert. Advertisers are ranked by factors such as price and reviews.
Newsletters: Allows advertisers to promote offers and services to the affiliate's mailing list, perhaps by mention in a newsletter or in a dedicated e-shot.
Articles: A more bespoke form of promotion than a banner ad, the affiliate writes a dedicated article designed to promote the advertiser's products. Often, the affiliate will drive traffic to the article using SEO (read our guide to SEO and affiliate marketing to learn more).
Discount sites: A form of promotion that uses discount codes, coupons or cashback to attract consumers to click on an affiliate's offer.
Promo pages: A dedicated page on an affiliate's site for promoting their partners' offers.
Social media posts: Influencers have become a major part of the affiliate marketing landscape, often using social media to promote partner products.
Generally, whichever of these methods is used, the partnership centres around an affiliate link or 'tracking link.' Affiliates are given their own unique links so that, when a consumer clicks on it, the brand is able to tell where that consumer has come from. This way, the brand can be sure that the correct affiliate is rewarded for their efforts. These links legally have to be disclosed as they are a form of advertising. Read our guide to affiliate link disclosure to learn more.
Affiliates come in many different forms, from large, national newspapers to one-man-band review sites and comparison sites. In short, any business or individual that's in a position to promote another brand's product on a performance basis could operate as one. However, most will operate within a specific niche. Check out our lists of the best large affiliate websites and the best one-person blogs for more examples.
If you're looking to work with brands on an affiliate marketing basis, our step-by-step guides on how to become an affiliate marketer and how to make money with affiliate marketing will help. Alternatively, if you're looking to work with an affiliate, there are three key ways in which you can find the right one for you:
In-house affiliate programmes
Many brands run and market their own in-house affiliate programs where they allow affiliates to choose the campaign type and earn a commission for promoting their products. This solution is particularly popular with big brands like Amazon and eBay because it generally relies on the primary brand having enough reach to attract affiliates organically or through in-house marketing methods (check out our list of the best affiliate programs for some examples).
That said, it can be effective for smaller brands too as there are a number of ways that you can spread the word about your affiliate program (read our step-by-step guide on how to find affiliates to get started). Most brands that choose to run their affiliate programs in-house do so using affiliate link tracking software, which makes it easy for them to manage, track and reward affiliates.
Affiliate networks
An affiliate network is a third party site that both brands and affiliates register with in order to find partners for their brand – such as AWIN and Clickbank. An affiliate network is generally an all-in-one solution that makes it easy for brands to create an affiliate program for their business, find affiliates to work with, and then manage their program.
This solution gives advertisers exposure to many affiliates, as well as giving affiliates a greater range of primary brands to choose from. However, there isn't always a great deal of variety amongst the affiliates listed on these platforms (the majority tend to be Instagrammers) and it can be hard for brands to find affiliates on these who are highly relevant.
Affiliate agencies
Another option is to outsource your affiliate marketing to an agency that manages a portfolio of affiliates. This way, the negotiations, tracking and measuring will all be taken care of for you. Sometimes, affiliate networks will also operate as agencies.
What gets measured?
The greatest advantage of affiliate marketing over other types of partnerships is that it's a form of performance marketing. This means that results can be easily measured and proven, and return on investment (ROI) is easy and accurate to calculate. Better still, the primary brand only has to pay when the affiliate gets results, taking away a lot of the risk.
Exactly how the affiliate gets paid depends on what kind of deal the partners make. The most popular agreements are based on:
CPA: Cost per action (the action could be sign-ups, downloading demos and more).
CPS: Cost per sale (which might also include repeat sales).
Fixed fee: A fixed fee for each piece of promotion, for example per ad spot, when used together with another form of measurement.
Companies may form an agreement based on any one of these measurements, or on combinations of more than one – often referred to as a hybrid deal. It's worth noting that although hybrid deals can include a fixed fee, the purpose of affiliate marketing is to pay based on performance. So, if a partner asks for a fixed fee alone, this is really just paid marketing as opposed to a partnership.
Although less popular, affiliate partner agreements can also be arranged around other measurements, such as CPM (cost per thousand impressions) and CPC (cost per click). However, this is essentially the same as what Google and Facebook offer on a paid marketing basis, which are hard to beat.
Not only that, but the best deal for a brand will usually be to pay the affiliate based on a measurement as far down the sales funnel as possible, minimising any risk and leakage. For example, if the advertiser pays the affiliate a proportion of each sale, there'll be no money spent on marketing that doesn't work. On the other hand, paying per click is riskier as those that click through may not purchase.
In contrast, the affiliate is likely to want to be paid as close to the start of the sales funnel as possible, giving them more control over the process. So, a successful partnership depends on finding the right balance between the two.
Affiliate marketing example
Amazon Associates is one of the largest affiliate marketing programmes. Bloggers and website owners can create their own tracking links and earn referral fees of up to 12% every time a customer clicks through to buy a product.
Difficulty score 2/10
Affiliate marketing can be very easy but becomes increasingly difficult with more complex integrations and reward structures.
Overlaps with content marketing partnerships, sponsorship, product placement.
Content marketing partnerships are another form of partnership marketing intended to promote the primary brand's products and services. This time though, the aim is to do so through sharing valuable and engaging content with potential customers.
Objectives achieved
The primary brand gets exposure to new audiences, boosting awareness and acquisition. They may also receive SEO benefits, which ultimately provides a boost to awareness by improving the brand's visibility on search engines.
Depending on the agreement, the secondary brand might receive the same benefits as the primary brand, or they might receive a fee resulting in revenue.
How does it work?
There are a number of ways that brands can collaborate in a strategic content partnership:
The brands collaborate to create and share a piece of content that promotes one another.
The primary brand creates a piece of content but works with a secondary brand to promote it.
The secondary brand writes a piece of content to publish on their own website, promoting the primary brand.
By collaborating to create fresh, engaging content, companies are able to utilise one another's expertise, resources and personnel to keep their customer bases engaged and grow their reach – ultimately meaning a lower cost per acquired customer.
On top of this, brands who collaborate on digital content may be able to help one another with SEO (Search Engine Optimisation) by providing each other with backlinks. Providing a link to a partner company's website effectively endorses the partner brand's content and helps the partner to climb higher up on the search engine results pages (SERP). This helps the partner to be found more easily on search engines, ultimately resulting in increased brand awareness.
Brands may choose to work together on the latest industry research, opinion pieces, product reviews… the list is endless! Here are some examples of the kind of content brands can collaborate on:
Articles
Infographics
Podcasts
White papers
Videos
What gets measured?
Content marketing is harder to measure than affiliate marketing because many of its benefits are hidden. That said, there are some aspects that companies can measure, including the number of people who view the content created and, in the case of digital content, its ranking in the SERPs.
It can also be useful to use tracking links so that companies can measure how many readers each partner drove to the content, as well as how many readers clicked through to the partners' websites. This may start to sound reminiscent of affiliate marketing (and technically, affiliate marketing can be a form of content marketing) but bear in mind that you can't technically receive SEO benefits from paid links.
It could also be helpful to measure views and engagement on any social media posts intended to publicise the content.
Content marketing partnership example
In September 2020, Renault collaborated with The Guardian and Global on a multiplatform content marketing campaign that celebrated the 'joy of firsts.' Across print, video and radio, the partners celebrated a range of UK firsts (such as the first London postbox and the first coffee shop in Oxford) with the ultimate aim of showing how driving an electric Renault ZOE gives you the rush of being behind the wheel for the first time all over again.
Not only did the campaign result in 57% more people considering buying an electric car from Renault. It also resulted in 257% more people saying that Renault ZOE was their favourite brand.
Check out our full list of excellent content marketing partnership examples.
Difficulty score 4/10
Although content partnerships aren't particularly difficult to implement, they can be more difficult to track, which can make it hard to set and achieve objectives.
Overlaps with affiliate marketing, content marketing partnerships, co-branding, sponsorship.
In a co-branding partnership, companies team up to leverage one other's reputations and market reach for the success of both parties.
Objectives achieved
Both brands benefit from reaching new audiences – boosting brand awareness and acquisition.
How it works
A co-branded marketing campaign carries the branding of two separate companies, leveraging both their reputations to increase brand awareness and acquisition.
There are two main types of co-branding:
Communications-based. Where the partners team up on a marketing campaign, such as splitting the costs of a billboard or carrying out a publicity stunt together.
Product-based. Where brands create a product that carries both their identities, such as Dairy Milk chocolate with Ritz crackers from Mondelez. This has a major overlap with joint product partnerships, another type of strategic partnership.
For a co-branding partnership to work, the two companies need to have similar target audiences. That way, the primary brand benefits from getting its products in front of the secondary brand's audience and vice versa. It's also important that both brands have a good reputation – you certainly don't want to co-brand with a company that will bring down your credibility!
What gets measured?
A co-branded marketing campaign gets tracked in the same way as you would usually track a solo marketing campaign. So, depending on what kind of campaign it is and what your objectives are, aspects to measure might include:
ROI: Return on investment. How much more did the campaign make versus what was spent (including in time and resources)?
CPS: Cost per sale. How much did you spend to achieve each individual sale?
Conversion rate: What percentage of leads from the campaign purchased your product? This reveals the quality of traffic that's been driven to your website.
Co-branding example
We can't talk about co-branding without mentioning Red Bull and GoPro's famous collaboration on their 'Stratos' event in 2012. The campaign involved skydiver Felix Baumgartner jumping from a helium balloon 24 miles above the earth. Not only did he break three world records and shatter the sound barrier, but he also used a GoPro camera to capture it all. The event drew a huge amount of attention, and since both brands had a similar target audience, proved very successful for both parties.
Check out our full list of fantastic co-branding examples.
Difficulty score 3/10
Co-branding a marketing campaign is relatively easy to achieve and measure. The difficulty lies in ensuring you choose the right partner – providing you do, your campaign is likely to be more successful than your solo marketing campaigns given the increase in reach, and just as easy to measure.
Overlaps with content marketing partnerships, joint product launches.
Comarketing shares a large overlap with co-branding. It's when two brands team up to promote something, in order to maximise the reach and impact of a marketing campaign.
Objectives achieved
Both brands benefit from reaching new audiences – boosting brand awareness and acquisition.
How it works
Comarketing is the act of both brands promoting something, which could be anything from a piece of content to a product or event.
While co-branding quite literally refers to the act of including two (or more) companies' branding on something, comarketing refers to the act of jointly promoting it. So, as you can imagine, co-branding and comarketing often go hand-in-hand (and you'll probably hear the two terms used interchangeably, although there is a subtle difference between them!).
Most importantly, a comarketing campaign involves both brands using their respective channels to promote the partners' chosen item (whether that's content, an event, a product or something else). And it also involves both brands benefiting from this promotion, usually in the form of accessing their partner brands' audiences to maximise the impact of the campaign.
What gets measured?
A comarketing campaign will often get measured in the same way as you might measure a single marketing campaign. However, usually, the benefit of comarketing (as opposed to solo marketing) is an increase in reach. So, brands will often focus on measurements like clicks (if sharing a blog), registration and attendance stats (if comarketing an event) or simply sales (if comarketing a joint product).
One popular form of comarketing involves brands promoting a free piece of shared content (like an ebook, webinar or template) that sits behind a lead generation form. Brands can use the lead generation form to gain new leads, expand their mailing list or simply fill in data gaps. So, a comarketing collaboration like this might measure its success based on the number of downloads or leads generated.
Comarketing example
Inbound marketing and sales software provider, Hubspot, collaborated with social media chatbot platform, Chatfuel, to create and jointly promote a free ebook about how to build a chatbot. However, to download the so-called BotBook, consumers had to chat with a Facebook Messenger bot that captured lead information such as their name, email address, company name and size. In this way, the brands were able to generate new leads, while Chatfuel was also able to give users first-hand experience of its leading chatbot services.
Check out our full list of fantastic comarketing examples.
Difficulty score 2/10
Comarketing can be as easy or as hard as you want to make it. The easiest kind (hence why we've given it a 2 for difficulty!) is guest blogging (which is also a kind of content marketing partnership). Partners write blog posts to appear on one another's websites and both brands promote the blogs across their channels.
Overlaps with co-branding, content marketing partnerships, joint product partnerships.
Distribution marketing partnerships are a common form of partnership marketing that we all see on a near-daily basis. It occurs when the secondary brand agrees to use its distribution channels to promote the primary brand's products or services.
Objectives achieved
The primary company gets to put their product in the hands of potential customers who they might otherwise struggle to reach, boosting brand awareness and activation.
The secondary company can benefit in a number of ways depending on the agreement—from receiving a fee for distributing flyers, to receiving a profit from reselling the primary brand's products, to offsetting acquisition costs by bundling another company's products with their own.
How it works
Distribution marketing can take place both online and offline, and both have their pros and cons. For the primary brand, an offline partnership might make it easier to stand out from the crowd in a world that's moving more and more online. However, online marketing makes it generally easier to track a distribution marketing campaign's performance.
There are five main types of distribution marketing partnerships.
Cross-promotion
Cross-promotion, also known as cross-marketing, is when customers of one brand are targeted with the promotion of another.
The most obvious example of cross-marketing is when the secondary company distributes leaflets promoting the primary company's products, perhaps within an online delivery or in a physical shop. However, it can also occur online – you might be shown complementary products from different brands before you reach checkout, receive an e-shot from one brand promoting another or even see come across a cross-promotion on social media.
Types of cross-promotion can include:
Leaflets
Offers and promo codes
Coupons
In-store live demonstrations
Vouchers
Bundling
Bundling is when the secondary brand combines its product offering with another brand's products. This might mean giving the primary company's product away for free as part of their offering, setting up a 'buy one get one free' promotion that includes products from both companies, or even promoting the primary company within one of their products.
Reselling
A reseller is someone who buys a product and then sells it on to someone else after marking up the price. Resellers can be distributors, wholesalers or retailers. Or, they can simply be consumers who decide to 'flip' an item they've previously bought using sites like Gumtree or Facebook marketplace.
Co-selling
In a co-selling partnership, the sales teams from partner companies work together to sell a better solution to a customer. Perhaps unsurprisingly, this can also be known as 'solution selling.'
There are two main types of co-selling:
Tech or integration partnerships: Co-selling in this kind of partnership usually involves two sales reps from partner companies working together to sell their software to the same customer at the same time, in order to make their offering more attractive to the customer.
Channel partnership: In a channel partnership, co-selling tends to involve the vendor's sales team working together with the reseller's sales team, combining their knowledge and expertise to better pitch a solution to the customer.
Some businesses, including Microsoft and Hubspot, have actually introduced co-selling programs where they partner with thousands of businesses to pitch solutions that are built on top of their software.
Lead account mapping
Lead account mapping is when partner companies share their data for the benefit of them both. Usually, this involves companies forming a list of their customers and potential customers and then cross-referencing this list with their partner's.
Where there are overlaps, companies can share more information on these leads and decide on a strategy for how they can use this information for their benefit.
Often, companies might use the data shared to make warm introductions for one another. Or, they might identify customers to approach jointly in a co-selling agreement.
What gets measured?
It's much easier to measure an online distribution marketing partnership than it is an offline one. That's because the use of tracking links online makes it really easy to see where customers have come from and how they behave in the lead-up to becoming a customer (or else dropping out of the sales funnel).
Understandably, it's a lot harder to measure the effectiveness of an offline distribution marketing campaign. However, using an exclusive promo code or voucher for the campaign that customers have to enter upon purchasing gives you a way to track where customers have come from and therefore link their online behaviour to your distribution marketing partnership.
Distribution marketing partnership example
Y Combinator and WeWork teamed up on a bundling agreement where Y Combinator alumni are offered a discount rate for WeWork facilities globally. There's a bit of an overlap with referral agreements here, but the difference is that the WeWork discount is a valuable addition to Y Combinator's alumni network, helping the funding program for entrepreneurs to attract high-quality applications. At the same time, WeWork benefits from leveraging Y Combinator's pool of alumni who fit WeWork's target audience perfectly.
Difficulty score 3/10
As long as both partners are on the same page, distribution partnerships aren't too challenging to initiate or to execute effectively. Although offline campaigns are harder to track than online ones, they're still easier to measure than other types of partnership thanks to the use of discount codes. And, if you get them right, they offer great ROI.
Overlaps with loyalty marketing, referral agreements, co-branding.
Sponsorship is a popular form of partnership marketing that involves the primary brand linking itself to an aspect of the secondary brand. This is often an event, but could also be a television program or a sporting personality to name just a couple of examples.
Objectives achieved
The primary company boosts brand awareness and improves their reputation by associating themselves with the secondary brand.
The secondary brand receives a boost in revenue by receiving a monetary reward from the primary brand or support in the form of resources.
How it works
Usually, the primary brand supports the secondary brand financially in return for help in raising brand awareness and bettering brand reputation. Popular sponsorship opportunities include:
Sports: In every kind of sport, you see brand names in all sorts of places – from board advertisements in stadiums to brand logos on team kits. Even players have sponsors!
Events: From the world cup to the Olympics, sponsorship opportunities are in high demand when it comes to large events.
Media: Often, before a popular TV or radio show, you'll hear the words 'proudly sponsored by…'. Sponsoring entertainment is a great way of reaching the 'masses'.
With any of the above, national and international opportunities are in high demand as they can give brands exposure to millions of potential customers. Brands such as McDonald's, Pepsi and Coca-Cola all invest billions of pounds in sponsorship every year.
But for some smaller brands, local sponsorship opportunities can be equally as effective. Opportunities cost less and give brands more targeted advertising to local customers. Think local radio stations, farmers' markets or amateur sports teams.
What gets measured?
Sponsorship marketing isn't easy to track and it can be difficult to quantify your ROI when it comes to these opportunities. The closest you can really get to an effective measurement is recording how many people have been exposed to your branding. For example, if you have a board advertisement at a sports game, how many people attended the game? And how many people watched the game on TV?
Not only that, but sponsorship doesn't offer a way of implementing a clear call to action. If your focus is conversion, a more easily trackable form of partnership, like affiliate marketing, might be preferable. But if brand awareness is your goal, sponsorship can do wonders.
Sponsorship marketing example
Virgin Media has been sponsoring the BAFTA TV awards (or, as they're currently called, the 'Virgin Media British Academy Television Awards') since 2016. As part of this, they run 'Virgin Media's Must See Moment Award' – the only award to be voted for by the Great British public. For the 2021 awards, members of the public can vote on Virgin Media's website or (if they're Virgin Media customers) through their television, TiVo, V6 or Virgin TV 360 box.
Check out our full list of sponsorship marketing examples.
Difficulty score 7/10
While it's not too hard to find events to sponsor, it's very difficult to measure the performance of this kind of partnership.
Overlaps with product placement, content marketing partnerships.
Product placement, also known as product integration, is the act of working with another company (usually in media) to place your product in the view of that company's followers. This form of partnership is best-known in TV and film.
Objectives achieved
The primary brand gains exposure, boosting brand awareness and therefore acquisition.
The media company usually receives a financial reward from the primary brand, boosting revenue.
How it works
Usually with product placement, the primary brand will pay a fee to have their product or branding included in a piece of entertainment. This can be (and usually is) very subtle, often involving the inclusion of a company's product or brand as a prop. For example, viewers watching How I Met Your Mother might get a glimpse of a bottle of Coca-Cola inside Ted's fridge.
However, it can also be more overt, with the product or brand actually being integrated into the script of a program or film. This is known as product integration or brand integration. A cookery show might endorse the use of a certain product for instance, or a TV show might gear a storyline around it.
Companies who are looking for product placement or integration opportunities can consider:
Background placement
Visible foreground placement
Direct mention or usage
Inclusion in the plot
You may have already noted that product placement is very similar to sponsorship. In fact, it's often seen as a cross between sponsorship and advertising. Nowadays, the lines have become even more blurred, with the growth of social media and celebrity culture leading to the popularity of influencer marketing and celebrity endorsement.
What gets measured?
Like with sponsorship, results from product placement can be difficult to track and prove. However, it's usually possible to see exactly how many people viewed a TV programme or purchased or watched a film, so generally, the best thing you can measure is reach.
Providing you pick the right channel, influencer or celebrity, product placement gets your brand in front of tons of new audiences. And, although it's difficult to measure, by increasing your reach you're hopefully going to cause your sales to soar!
Product placement example
An overt (and arguably a little overused) example of product placement is Krispy Kreme's partnership with the 2017 Power Rangers film. The film is littered with shots and mentions of Krispy Kremes, and the plot even includes a Krispy Kreme shop as a location.
Check out our full list of product placement examples.
Difficulty score 8/10
Like sponsorship, product placement can be very effective but is difficult to track and measure. On top of this, there are usually fewer opportunities for product placement than there are for sponsorship.
Overlaps with sponsorship, content marketing partnerships.
An incentive marketing partnership is when a company incentivises specific customer behaviour with offers for partner brands. A popular kind of incentive marketing is loyalty marketing, where brands work together to reward (and therefore incentivise) loyalty. But companies might also choose to reward customers who purchase frequently, make high-value purchases or even recommend or promote the brand to their friends and followers, in an attempt to encourage this behaviour.
Objectives achieved
By rewarding customers for completing certain actions, the primary brand is able to incentivise certain customer behaviours, boosting retention, revenue or (depending on the setup) referral.
By getting its products and offers featured, the secondary company is able to boost awareness, acquisition and activation.
How it works
You're probably familiar with a lot of in-store loyalty programs – think about the Boots Advantage card scheme for example. Customers earn points by shopping at Boots and then need to return to a Boots store in order to make another purchase and redeem their points!
An incentive marketing partnership works in much the same way. The difference is that instead of customers having to return to the same brand in order to use their reward, the brand teams up with a partner to reward the customer.
For example, a supermarket might give out club card points to customers who make high-value purchases. These customers could then redeem their points with partner brands, such as using their points towards flights with certain airlines.
While the primary brand is able to encourage sought-after customer behaviours such as loyalty, the partner brand is able to get their products in front of new audiences and position their offering in an exclusive way that makes it more attractive.
Some of the rewards that could be offered in a loyalty or incentive marketing partnership include:
Vouchers
Discount codes
Club card points
Product extensions
Cashback
Different primary brands are likely to want to incentivise different behaviours. Often, brands will reward customers who purchase frequently or make high-value purchases. But some brands may prefer to encourage customers to leave a review or even refer a friend. In this way, these partnerships can overlap with referral agreements (which we'll cover next).
However, there are some key differences between the two. In an incentive marketing partnership, a customer is rewarded using a partner brand's products. On the other hand, in a referral agreement, the partner's job is to send the brand leads they would otherwise struggle to reach – they'll often get rewarded for this, but not necessarily in the same way.
There's also a major overlap between incentive marketing partnerships and the incentive sites that dominate the traditional affiliate market. Cashback sites (like Quidco and TopCashBack) and coupon sites (like VoucherCodes.co.uk or MyVoucherCodes) make up the largest affiliate types by spend at 27% and 25% respectively.
Just like any other affiliates, these sites promote their partner brands and earn commissions from the sales they make. However, they often pass some of this commission onto the consumer in the form of discounts or cashback, as a way of encouraging the consumer to continue using their site. In a sense then, they're rewarding consumers who return regularly with offers for partner brands. You see the similarities!
What gets measured?
For the primary brand, the main thing to measure will be the customer behaviour they're trying to incentivise. For example, if you decide to reward high-value purchases through partner offers, you'll need to measure whether the average purchase value has increased and how much by. Or, if you want to reward customers who purchase frequently, you'll need to find out whether retention rate has increased.
If instead, you're the secondary brand whose products are being promoted, the measuring process will look a little different. You'll want to measure how many leads you receive from the promotion and the conversion rate on those leads to find out whether the partnership is worth continuing.
Incentive marketing partnership example
American Express and Amazon have a very popular loyalty marketing partnership whereby American Express gives out Membership Rewards points for every pound that users of its American Express Preferred Rewards Gold Credit Card spend. These points can be redeemed on thousands of Amazon products, bringing Amazon revenue and incentivising consumers to use American Express' credit card.
Check out our full list of incentive and loyalty marketing examples.
Difficulty score 2/10
Incentive marketing partnerships are easy to set up and maintain because they are so directly beneficial to both companies. For the brand that's working to incentivise its customers, these partnerships offer a unique way to tailor customer behaviour in line with business goals.
Overlaps with referral agreements, distribution marketing partnerships.
In a referral agreement, one company agrees to send business to another in return for a reward.
This kind of partnership is particularly useful for small companies that offer limited services as it allows companies to fill a gap in the services they offer by referring customers to another business that they trust.
Objectives achieved
The referrer is able to fill a gap in the services they offer, increasing customer satisfaction and therefore boosting retention.
The referee gets access to clients they may not otherwise have reached, boosting awareness and acquisition.
How it works
There are a few ways that businesses can work on a referral agreement together.
Reciprocal referrals
Let's imagine that you're a sole trader who offers web design services. It's likely that a client who needs a website designing will also be looking to get a new logo. But because you're only small, that's not a service that you provide.
By teaming up with a logo designer that you can refer your clients to, you can provide them with additional value (as long as the company you team up with provides a high-quality service!). This is likely to improve customer satisfaction and will also help you to compete with larger companies who are likely to offer both services in-house.
At the same time, the logo designer you've partnered with will have clients who are looking for web design services. In return for the customers you send them, they can refer these clients to your company. This way, you benefit from gaining clients that you'd otherwise struggle to reach, boosting your acquisition and revenue. Simple!
Sometimes, the lines between a referral agreement and a joint product partnership (which we'll cover later) can become blurred. Rather than simply passing your client onto your partner, you might find that you can add more value by collaborating with your partner more closely.
Let's return to our previous example. As a web designer, you might achieve better results by collaborating with your partner on the design of your client's logo rather than passing your client on and letting them manage the creative process independently. Plus, by managing the process yourself, you're potentially saving your clients a great deal of time and effort. In an arrangement like this, you're effectively adding your partner company's services to your own, which could be crossing the line into a joint product partnership. Or, you could choose to look at it as outsourcing.
Referral fee agreements
Although many of these kinds of referral agreements work on a tit for tat basis, in some cases, the referrer might receive a fee for passing a client onto a partner company instead of receiving the promise of clients in return – when this is arranged on a commission or performance basis, this works similarly to an affiliate agreement.
One industry that's well-known for operating in this way is real estate. If you make an offer on a house, you'll usually find your estate agent recommends a conveyancing solicitor. Usually, this isn't just to be helpful. Instead, they're likely to receive a fee for each successful referral they pass onto their conveyancing partners. And it really works – according to Qredible, 30% of home buyers choose to use the conveyancing solicitor referred to them by their estate agent.
Consumer referrals
Of course, it would simply be counterintuitive to suggest that only partner brands can refer new customers to your business, especially when consumer referral programs yield such great results – according to Extole, customers acquired through referrals have a 37% higher retention rate and are four times more likely to make a purchase!
However, whether or not consumer referrals count as strategic partnerships is debatable. Yes, it's true that both the consumer and brand gain something from working together, but in most cases, it's unlikely to be a strategic decision for both sides. That said, there's no escaping the fact that the line between partner and customer isn't always clear – especially when it comes to B2B businesses, who might well find their partners and customers are one and the same!
Influencer marketing
Influencer marketing falls into a number of different partnership categories, including content partnerships and, if the influencer is working on commission, affiliate marketing. However, we've decided to list it under referral marketing, because the benefits influencers can bring to your brand are similar to the benefits you'd get from organic word-of-mouth.
With 49% of consumers now depending on influencer recommendations (according to Digital Marketing Institute), it's no surprise that 75% of marketers now use influencers as a marketing tool (or so says Chief Marketer). To keep up with the demand, there are a whole load of influencer marketing platforms that have sprung up to help brands find the right influencers for them (check out the top ones in our piece about the best influencer marketing platforms). The majority of these, however, are focused on paid partnerships on Instagram. Read our piece on how paid partnerships on Instagram work to find out more about the pros and cons of this kind of influencer marketing.
What gets measured?
The best ways of measuring a referral agreement will depend on what kind of agreement you have in place.
If we're talking about reciprocal referrals, or you're receiving a fee for referring clients to another brand, it's important to measure your customer satisfaction rate. If your clients have a good experience with your partner brand, you'll end up with happy customers which could boost your retention rate. However, if they have a bad experience with your partner brand, it will reflect badly on you. To measure their experience, you can send out surveys or ask customers to leave a review.
At the same time, it's important to measure the financial value of your partnership. In a reciprocal referral agreement, how many customers have you received from your partner? What was their average spend? In an ideal world, you should receive as much business from your partner as you send to them, making it an equal relationship. In a referral fee agreement, how much profit did you make from the customers you received from your partner? To measure all this, you'll need to set up systems to ascertain where customers have come from, such as tracking links or unique discount codes, and regularly report to your partner.
Referral agreement example
When you purchase a house, your estate agent is likely to recommend you a conveyancing solicitor. In fact, Qredible reports that 30% of home buyers choose to use a conveyancing solicitor referred to them by their estate agent! Of course, the solicitor can't very well pass clients onto the estate agent in return, as purchasing a house is a pretty one-way process. So, they'll usually pay the estate agent a referral fee, which can often be in the hundreds of pounds.
Difficulty score 3/10
Although the most basic referral agreements can be fairly easy to set up and maintain, they require frequent communication with your partner brand, as well as systems to track, measure and report on them.
Overlaps with joint product launches, loyalty marketing, affiliate marketing.
A corporate-charity partnership is when a charity and a brand collaborate, to the benefit of both parties.
Objectives achieved
The charity benefits from receiving support, whether that's marketing, personnel, finance or volunteer work.
The brand receives a boost in awareness and acquisition by bettering its reputation.
How it works
Usually in a charity partnership, the business supports the charity by sharing resources, making a yearly donation or taking part in fundraising efforts. In return, the brand is able to improve its reputation in three key ways:
1. Corporate Social Responsibility (CSR)
CSR, also known as corporate citizenship, is a practice that enables a company to be socially accountable to itself, its stakeholders and the public. By partnering with a charity, companies can have a positive impact on society, often attempting to minimise any negative social impact at the same time.
2. Company culture
The Cone Communications Millennial Employee Study revealed that 64% of Millennials won't take a job if their employer doesn't have a strong CSR policy. With Millennials set to make up 75% of the workforce by 2025, corporate responsibility and company culture clearly go hand in hand.
3. Brand reputation
Many companies choose to associate themselves with a charity for the positive effect it could have on their reputation. After all, according to research by Accenture Strategy, more than six in ten consumers under the age of 30 closely consider a company's ethical values before buying their products.
One big criticism of business-charity partnerships is that they're not geared up around creating impact. Unlike trusts, foundations and philanthropists, brands don't usually give altruistically. Instead, 91% of companies cite brand reputation as their primary motivation, according to NPC. And yet many charity partnerships come and go without raising any awareness at all.
Although it isn't done enough, there are plenty of ways to make a charity partnership more impactful for both parties. For example, a charity and company could run joint campaigns together, which could take the form of exhibitions, awards ceremonies, raffle prizes… the possibilities are endless! And that's not to mention the fact that any of the types of partnership marketing we've covered up until now could take place between a charity and a company too!
What gets measured?
Charity partnerships are very difficult to quantify given that the primary motivation for companies is reputation. And of course, reputation is near-on impossible to measure!
Similarly, the impact of the partnership can be difficult to measure for the charity. Although it's fairly easy to measure the impact that a financial donation makes, support from voluntary work and resources can be harder to track. This is particularly the case given that companies don't usually specialise in the charitable area they're giving to and so are often unaware of the real needs of the charity.
Collaborating to create more impactful partnerships in the ways we've mentioned above would benefit both charities and corporations by better enabling them to measure the impact of their collaborations.
Charity partnership example
In 2020, Starbucks launched a campaign called #WhatsYourName in collaboration with Mermaids – a charity supporting gender-diverse children, young people and their families. The campaign launched with an ad showing a member of the transgender community trialling their chosen name at a Starbucks store, helping to raise awareness of gender diversity and winning Channel 4's Diversity In Advertising Award in the process.
The partners worked together to ensure that members of the transgender community were authentically represented in the campaign and raised money for Mermaids at the same time by selling mermaid-shaped cookies.
Check out our full list of charity partnerships examples.
Difficulty score 6/10
A charity partnership is easy to achieve for brands, as there will always be charities in need of support. However, the difficulty lies in executing the partnership in a way that helps the brand to achieve its objectives of increasing awareness through reputation.
Overlaps with co-branding, sponsorship.
Other strategic partnerships
Just like with partnership marketing, these types of strategic partnerships are all about companies working together to gain value. But they go a step further.
Instead of limiting their efforts to marketing, they give companies access to other joint resources in order to lead to the ultimate success of both partners. This might include shared office space, filming resources, personnel and more.
The following types of partnerships all fall loosely under the banner of 'other' strategic partnerships.
A joint product partnership is when companies collaborate to either launch a new product or to improve an existing product.
Objectives achieved
In the case of a small and large business teaming up together…
The smaller brand receives a boost to brand awareness and acquisition through being associated with the larger brand, as well as accessing resources that could increase revenue.
The larger brand is able to stay ahead of its competition by improving its product, therefore boosting acquisition, revenue and retention.
In the case of two larger businesses teaming up together:
Both brands are able to improve their product to increase acquisition, revenue and retention. They're also able to leverage one another's reputation to boost acquisition and revenue.
How it works
Often, a joint product partnership involves a large tech company, like Google or Microsoft, teaming up with a small tech company or startup that can fill a gap for them.
For the small company, teaming up with one of these tech giants can be life-changing. Being associated with such a reputable brand can give them a mark of quality and trust, as well as giving them access to media coverage, personnel and other resources. But there's a lot in it for the big guys too.
Generally, large companies have a lot of processes and protocols in place that prevent them from being able to move as fast as smaller, more agile companies. And yet, in a fast-moving marketplace, the need to act quickly to launch new products and improvements is urgent. So, by collaborating with a smaller startup, they're able to stay ahead of the competition.
Alternatively, two well-known brands might choose to work together on a product, leveraging both their reputations and expertise to make the product launch as powerful as possible.
Most joint product partnerships fit into one of these three categories:
One brand supplying their services or technology to another brand in order to improve a new or existing product.
One brand offering a white label solution to another brand, so that their technology or services can be used under the other company's name.
Both brands amalgamating their products in a product merger, which can itself come in many different guises.
Product partnerships are a common choice when two brands are looking to work together to leverage seasonality for brand awareness. You'll find a couple in our selection of the best seasonal partnership examples.
They're also particularly common when it comes to highly technical innovations that require a lot of different complex parts to work together seamlessly. For instance, self-driving cars, eVTOLs and space travel are three industries that are riddled with product partnerships. By teaming up together, companies can better manage the costs involved in launching groundbreaking concepts, and combine their expertise to move more quickly. Read our piece on partnerships that are changing the future of business to learn more.
What gets measured?
Like any new product launch, companies collaborating on a joint product partnership will want to measure stock turnover rate and ROI. Because joint product partnerships often require a huge amount of time and input from both companies across multiple departments, they're not a cheap undertaking and so it's important to measure any gains against the (often large) upfront cost – both financially and in terms of time and resources.
Joint product partnership example
The Apple Watch Nike is a collaboration between tech giant Apple and sportswear brand Nike. The partners pair all the benefits of an Apple Watch with Nike's signature sporty aesthetic to create a product loved by sports nuts and technology lovers alike.
Check out our full list of product partnership examples.
Difficulty score 9/10
Depending on the type of joint product partnership you go for, they can require a lot of time and collaboration between both brands. This makes them one of the most costly partnership types. That said, when done right, they're amongst the most effective for brand awareness and increasing revenue.
Overlap co-branding, outsourcing, licensing agreements.
Outsourcing is when a company chooses to delegate an element of its operations to another company, in order to save time, resources or money – or to gain expertise that can't be found in-house.
Objectives achieved
For the primary company, outsourcing can save time, money and resources, increasing revenue. In the case of technology companies, it can also help them to avoid a single point of failure, as demonstrated by Facebook's biggest-ever outage.
For the secondary company, providing services to the primary company in exchange for money allows them to increase revenue.
How it works
In most outsourcing partnerships, the primary brand will simply pay the secondary brand to deal with an element of its operations for it. You might think 'what makes the company a partner rather than a customer here?'. It's a good question!
In reality, there's little difference. But there's definitely a sliding scale where at one end we have approved providers that a brand might have a tactical, transactional relationship with. And at the other end, we have strategic providers who are not just preferred suppliers, but who a brand actually has a strategic, long-term relationship with.
Ultimately, the latter type of relationship is integral to the working of your business and without it, your business would cease to function.
We've divided outsourcing partnerships into two main categories: external outsourcing and supply chain partnerships (which are essentially a type of external outsourcing that comes with its own unique quirks).
1. Supply chain partnerships
A supply chain partnership is when two or more companies work together from different parts of a supply chain, allowing a company to outsource the manufacturing of a product.
For the primary company, outsourcing the manufacturing of a product can save time, money and resources, increasing revenue. Meanwhile for the secondary company, providing services as part of a supply chain allows them to focus on what they do best – creating a product without worrying about marketing – increasing revenue.
However, to truly benefit from a strategic relationship rather than a transactional one, both brands are likely to also look to other factors. Brands might look for exclusivity, shared risks, long-term commitment or the sharing of technical expertise – all factors that cement the brands as partners.
Some of the most prevalent supply chain partnerships can be found in the film industry, with films often made using a supply chain method. That's why there's usually more than one company named at the beginning of a movie! Usually, a relatively small production house will deal with the filming and post-production, while a much larger studio will deal with the financing, marketing and distribution – think of Bad Robot's partnership with WarnerMedia.
Another sector in which supply chain partnerships are common is the technology sector. For example, Intel makes processors for many different computer manufacturers.
If you're the primary brand, supply chain partnerships can be great for saving time, money and resources. However, they're not always the best option – you may be able to make the product for less money than a partner company. Or, you might find that although outsourcing the manufacturing is cheaper, you end up sacrificing on quality.
According to Dr Andrew S Humphries, an expert and thought-leader in performance improvement in collaborative business relationships:
'Supply chain partnerships run into problems because, on the supplier's side, the measures of success focus on time, cost, and quality, whereas your perspective likely focuses on sales and revenue. A supply chain partnership only works if each party involved can meet with end customers' expectations for quality and price while remaining individually profitable.'
So, always be clear on why you're forming a partnership and don't just go for one because you want a partner.
2. External outsourcing
External outsourcing is when a brand delegates operations and tasks to an external partner. When we use the term here, we're talking about outsourcing partnerships that don't involve the manufacturing of a product.
This could be anything from a brand using a social media agency to manage its social channels, to a brand hiring an external partner to take care of customer service. However, two popular types of external outsourcing are technological (where a business outsources technological expertise) and financial (where a business outsources financial or accounting expertise).
Brands will usually do this because they don't have the resources or expertise necessary to run this part of their business in-house. For example, a brand might not have enough work to warrant employing a full-time IT expert. Similarly, many smaller brands wouldn't have the financial means to employ an in-house accountant or the expertise to handle the company accounts themselves.
By using the services of an external accountant or IT support company, companies are able to gain expertise that can't be found in-house.
That said, outsourcing partnerships aren't always a simple matter of paying an external company to handle tasks. There are other kinds of agreements that could be reached. For example, if you own a web design company, you might agree to a partnership with a computer repair shop whereby you build their website in return for long-term discounted services.
Outsourcing can often be cheaper than dealing with this aspect of your business in-house, especially if we're talking about a small brand that doesn't need full-time support. That said, if you're looking to save money by outsourcing, make sure that you first identify the aspects of your brand that set you apart from your competition – these are elements that you'll want to remain in tight control of and that should not be outsourced. However, by outsourcing processes that have more of a functional purpose to your brand, you could increase efficiency, save time and save money.
It's also important to reassess the benefits of designating to a partner regularly – as a business grows and gains more employees, it might be cheaper to move certain previously outsourced tasks in-house, particularly when it comes to tasks like HR and finance.
What gets measured?
The primary measurement when it comes to outsourcing is ROI. A successful partnership will cut down on the amount of time and money you have to spend dealing with an aspect of your business in-house, increasing overall profits.
However, in the case of supply chain partnerships in particular, be sure to measure customer satisfaction rates regularly as well, to make sure you're not sacrificing on quality. A dip in quality over time will negatively impact retention and acquisition, affecting your revenue.
Outsourcing example
Toyota makes engines for many Lotus cars, enabling Lotus to sell some cars for less and allowing other Lotus cars to pass strict emission laws in the US.
Difficulty score 5/10
While an outsourcing partnership isn't hard to put in place, it takes away an element of control from you as a business owner, which can be a risk. If it's a simple case of working with an external accountant or teaming up with an IT support company, things aren't likely to go too far wrong. But when it comes to supply chain partnerships, the risks are greater as they can easily result in a compromise in quality.
Overlaps with joint product partnerships, standard customer relationships.
13. Licensing arrangements
A licensing arrangement is when a company retains ownership of its intellectual property but allows another company to use it.
Objectives achieved
The licensor boosts its revenue by either selling the licence to another company for a given price, or by collaborating with them and receiving a cut of profits.
The licensee enhances its product offering, associates itself with a reputable brand or reaches new audiences, boosting awareness, activation and acquisition.
How it works
There are lots of different ways in which the primary brand might let another company use its intellectual property. For example, it might give another company permission to manufacture its products, sell its products or use its name and logo.
Here are some of the main types of licensing you might come across:
Product licensing
A product licensing agreement is when the licensor gives the licensee permission to manufacture and sell one of more of its products within a specific market area. The licensee usually agrees to pay royalty fees to the owner of the intellectual property.
For the licensee, this form of channel partnership can be a really good way to sell a product that's been proven to work, with the experience and knowledge of the company who originally developed it – especially because this company is often a larger and bigger company who will have more resources and capabilities. This kind of arrangement enables the licensee to break into a new market with the benefits of the experience and insight that's already been gained in other markets.
Usually, the licensee only has to start paying royalties when they start making sales, which means that the licensee won't have to face large losses if the product isn't successful in their market area.
White labelling (which we've already mentioned briefly in 'joint product partnerships') is also a kind of product licensing, where the licensor removes their brand and logo from the product and allows it to carry the licensee's branding instead.
For example, if you go to Waitrose, you're likely to see all kinds of products in their 'Essential Waitrose' range. But there's no way they're going to be producing all these products themselves. Instead, other companies will be willingly branding their products with Waitrose's packaging. You may even see the same product just a couple of rows down branded completely differently!
Brand licensing
If you've built a successful name for your brand, you may allow another company to use your name and brand image alongside your product, known as brand licensing. Or, you may even allow them to develop their own related product, using your name to sell it.
Depending on the arrangement made, the licensee could adopt the licensor's:
Design assets
Brand colours
Tone of voice
Company culture
Logo
However, be careful who you license your brand to – if your logo appears on a low-quality product, you're likely to harm your brand's reputation.
On the other side of things, if you're thinking about obtaining a licence to use another brand's assets, consider whether this brand's reputation will help you to increase acquisition and activation amongst your target audience. There's no point in teaming up with a brand that sells DIY products if your target audience is children!
Franchising
Franchising is a very popular form of licensing agreement where the licensor (known as the franchisor in this case!) gives the franchisee permission to use its successful business model and brand.
The franchisee puts up the initial capital for the business, helps to promote the brand and pays a (usually monthly) fee. In return, the franchisor offers support that usually comes in the form of training, marketing resources and more.
The franchisor benefits from scaling their business and accessing new markets, boosting their awareness and acquisition, as well as generating revenue from the franchise fees they receive. Similarly to product licensing, the franchisee benefits from being able to use a business model that's been proven to work, with support from the people who developed it. They also benefit from being able to use a recognised name, logo and brand to increase awareness and acquisition in their market area.
What gets measured?
What you measure will depend on what the licence is for. If you have a licensing agreement that allows you to manufacture another brand's product, you'll need to measure sales metrics related to that product.
Equally, if you're selling a new product using the primary brand's name and logo, try to measure how much more revenue you've made by branding the product in this way compared to similar product ranges without branding.
Ultimately, you'll need to measure ROI to assess whether your licensing agreement is worth it.
Licensing agreement example
The Walt Disney Company is the world's largest licensor – just think of the sheer number of toys and clothing collections that you come across every day featuring Disney characters! Gucci is just one designer that has a licensing agreement with Disney, with its Donald Duck edition clothing and accessories.
Difficulty score 4/10
Although licensing agreements can look fairly complicated legally, they're often a successful way of fast-tracking results for both the licensor and licensee. Licensing enables the licensor to enter new markets without having to do the legwork themselves. At the same time, it enables the licensee to earn an income from intellectual property that's already been proven to work, which can be particularly useful for small startups who haven't yet had a chance to build a name for themselves.
Overlaps with joint product partnerships, outsourcing.
14. Shop sharing
Shop sharing is when one brand makes room in its shop for another brand, in order to provide additional value to its customers.
Objectives achieved
The brand that invites another brand to share its shop provides additional value to its customers and extends the duration of customers' visits, boosting activation and retention.
The brand that takes up a spot in another brand's shop benefits from guaranteed footfall and receives a mark of trust from the store owners, boosting acquisition and revenue.
How it works
Costa Coffee, Starbucks and Caffè Nero are all examples of coffee shops that can often be found within department stores and bookstores. This is perhaps the most obvious form of shop sharing and can be very effective. By teaming up, the cafes receive a spot with guaranteed footfall, while the store managers are able to meet customer needs and extend the duration of their customers' shopping trips at the same time.
Other forms of shop sharing include dedicating a desk to another brand inside your shop – like John Lewis might do with various cosmetic brands – or providing a dedicated area where another brand could set up a promotional stall to sell their own products.
Alternatively, smaller brands might collaborate to rent a pop-up shop. This way, they're able to save money by splitting the costs of renting a space, at the same time as increasing brand awareness by reaching one other's brand audiences.
Although shop sharing might immediately call physical shops to mind, it's also possible to shop share online. If you're looking for ways to do so, consider:
Setting up a members area with exclusive content where other brands could be featured
Dedicating a page or tab within your website to a partner brand
Displaying a page from your partner's website within your own website, called iFraming
By shop sharing, partner companies are demonstrating to consumers that they trust and endorse one another, which can go a long way in giving consumers the confidence to purchase.
What gets measured?
There can be many different goals of shop sharing, from saving on rental costs to providing added value to customers and acquiring new customers. As such, there are many different ways to measure whether you've achieved your objectives.
If one of your objectives is increasing brand awareness and acquiring new customers, you'll want to measure the number of new leads obtained and the conversion rate. Conversion rate is particularly important because if your partner brand's target audience doesn't align with yours, you're going to be unlikely to be able to turn them into customers. Ultimately, it's all about ascertaining ROI, which should be fairly easy to measure.
Shop sharing example
A collaboration between Cineworld and Starbucks has resulted in there being Starbucks cafes in 30 Cineworld cinemas in the UK. Marketed as a place to pick up a coffee to take into a movie or to catch up with friends after a film, it's clear that Starbucks has been able to fill a gap for Cineworld, helping to add value to movie-goers.
Difficulty score 7/10
As long as both brands are clear about their goals, shop sharing can be a great way to boost brand awareness, acquisition and revenue. However, it requires more investment than other forms of partnership, particularly offline. Therefore, it carries with it a higher risk.
Overlaps with distribution marketing partnerships, co-branding.
A joint venture occurs when two or more companies (known as the parent companies) form a smaller company together (known as the child company).
Objectives achieved
Both brands remain competitive and share resources, strengthening their offering and therefore boosting acquisition, action and revenue.
How it works
Joint ventures are the most legally entangling and generally, the messiest of the partnerships we've explored, so it's unsurprising that they're not a popular choice with smaller companies who don't have previous partnership experience.
When you enter into a joint venture, you're effectively going into business with the other company, so you have to be sure you're making the right decision – once you're in one, it can be hard to extricate yourself.
There are two types of joint venture that partners can choose from:
1. 50/50 joint ventures
A 50/50 joint venture is when all the parent companies own an equal portion of the child company, giving them all an equal share of risk and responsibility.
2. Majority-owned ventures
In a majority-owned venture, one parent company owns more of the child company than the others. For example, there might be one parent company who owns 70% of the child company, and another parent company who owns the remaining 30%.
Although the risks are large, bigger companies tend to enter into joint ventures to remain competitive and become an even stronger entity than they can alone. Alternatively, they may be looking to deal with a problem of limited resources.
Another slightly less entangling agreement for companies who don't want to form a new company is an equity alliance. For companies to form an equity alliance, one company must purchase a percentage of equity in the other.
What gets measured?
Since joint ventures are based around creating a new company, determining the success of the partnership depends on measuring this company's success. So, when it comes to measuring, all the usual KPIs that you would use to measure a company's profitability should be recorded, from total revenue to employee turnover, customer service and efficiency.
Joint venture example
The US streaming platform, Hulu, was originally formed as a joint venture between The Walt Disney Company, News Corporation, Comcast's NBC Universal and Providence Equity Partners. Although Disney bought Fox's and WarnerMedia's assets in 2019 to become a majority stakeholder, it remains a joint venture, with Comcast still owning around a third of the platform.
Check out our full list of joint venture examples.
Difficulty score 10/10
Joint ventures are the most complex partnerships that two companies can form – both legally and in terms of the level of investment each company is required to put in (whether in money, resources or time). They're also difficult to reverse! For that reason, we'd say it's the most difficult of all to get right and definitely comes with the most risk.
Overlaps with joint product partnerships, co-branding.
Conclusion
Partnership marketing really does make true those age-old adages that 'two heads are better than one' and 'we're stronger together than we are alone'.
While there are many different types of strategic partnerships and they can be forged between very different brands, the trick to negotiating a truly successful strategic partnership is to ensure that it's beneficial to both parties. By sharing the risks as well as the gains, you can ensure that both parties are equally invested in maintaining a long, healthy and fruitful partnership.
If you're ready to develop a partner ecosystem strategy and find strategic partners who could help your business, read our guide on how to find strategic partnerships. And most importantly, remember to book a demo for Breezy – we search the whole web for your most relevant partners, making it quick and easy to discover opportunities that can actually help you grow your business.
Imogen Beech
Imogen is a copywriter and content writer with over two years' experience writing about the exciting world of strategic partnerships, as well as running her own business. She loves learning about new topics as she writes, and has enjoyed penning articles on industries ranging from mortgages to events, theatre to home improvements and everything in between.
View more by Imogen Beech