Outsourcing can be a fantastic way for companies to save money, save time and gain expertise. And it's well-known. In fact, 70% of B2B decision-makers have outsourced key services to third parties, while just 25% claim they've never done so (according to YouGov).
But what exactly does a good outsourcing partnership look like? Here are some outstanding outsourcing examples to shed some light.
1. Ablewell Care and Focus IT
Focus IT provides strategically managed networks for small-to-medium-sized brands that have minimal IT resources. The provider focuses on providing end-to-end management for brands' computer networks so that they can worry less about their IT and instead focus on what they do best.
Home care brand, Ablewell Care, decided to partner with Focus IT as the company was about to move offices and its previous one-man-band provider was no longer suited to its needs. 
Delegating this side of business operations meant that Focus IT was able to facilitate the switchover during the office move, saving Ablewell Care a great deal or time. Not only that, but as a long-term partnership, Ablewell Care is able to rely on Focus IT to consistently manage its backups, system monitoring and call-outs. The IT company also continuously recommends improvements that could help the home care provider to run its business and systems more quickly and efficiently.
 IT support is the most common service to outsource in the UK (according to YouGov) and it's easy to see why. As Ablewell Care has demonstrated, partnering with a third party to outsource IT services is a great way to gain expertise and access top talent in the IT industry.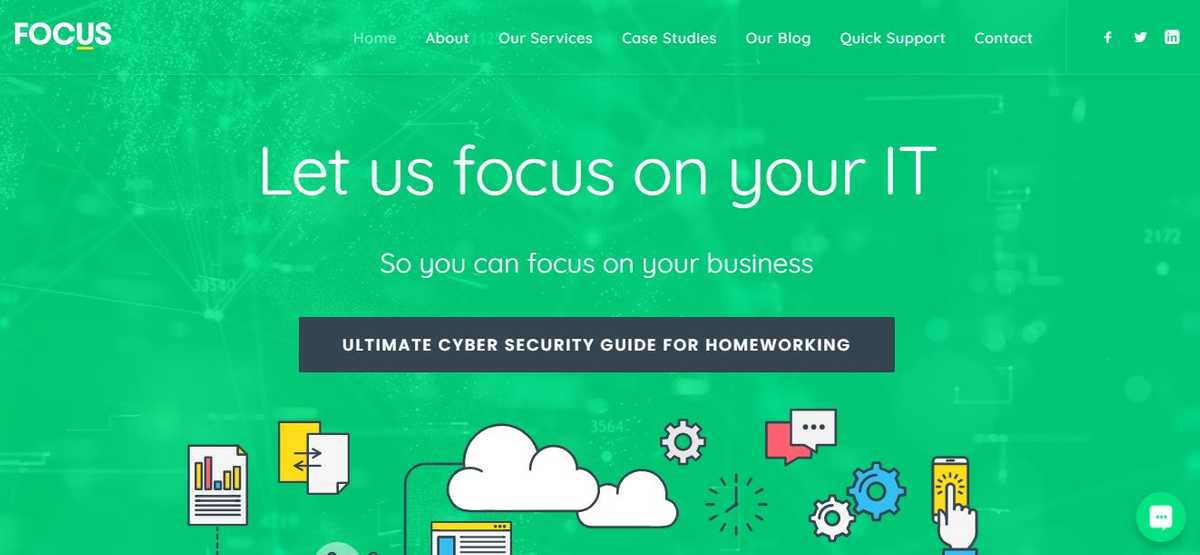 2. Octopus Group and Sanctus
Outsourcing employee mental health coaching (or offering employee mental health coaching at all) is a relatively new concept, but one that's becoming ever more popular.
Sanctus partners with businesses to improve mental health in the workplace, and Octopus is just one of the brands that it works with. Essentially, Sanctus provides brands with qualified coaches who offer employees 45-minute private sessions to speak about whatever's on their mind – from looming deadlines to strained relationships with colleagues.
It's unlikely that Octopus would have anyone in-house qualified to offer these coaching sessions, so by outsourcing, they're gaining very specific expertise. Perhaps even more important though is the fact that, by outsourcing to Sanctus, Octopus is able to improve their employees' emotional wellbeing and happiness at work. This is likely to help the brand retain its employees and get the best out of them.
It's also worth noting that CSR is becoming increasingly important – Accenture claims that more than half of customers in the UK want companies to take a stand on issues they're passionate about, while Cone Communications reports that 64% of millennials would refuse a job from an employer without a strong CSR policy (read more about this in our list of strategic partnership stats).
By partnering with Sanctus, Octopus is showing both its employees and the wider public that it's tackling the issue of mental health, in a similar way to how other brands might form a charity partnership. In fact, the CEO and Co-Founder, Simon Rogerson, calls it 'the most successful partnership Octopus Group has made in 20 years' (according to Sanctus).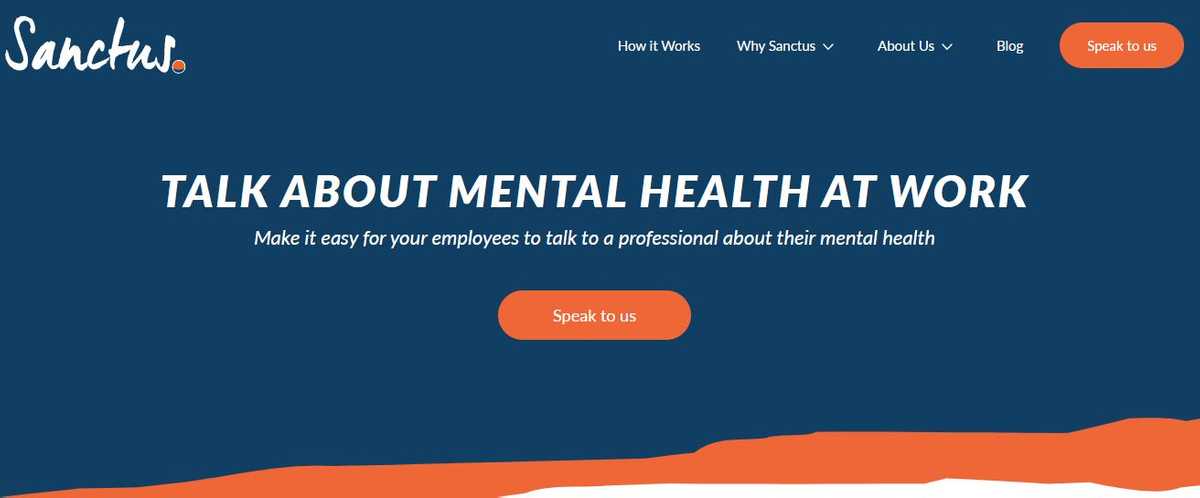 3. Intel and TSMC
Partnering with a third party to deal with the manufacturing of products or components is a particularly common form of outsourcing – also known as a supply chain partnership.
One such example is Intel. Intel itself makes and supplies microprocessors to a range of computer system manufacturers including Dell, Lenovo and HP – and the fact that it's kept so much of its manufacturing in-house is one of the reasons behind the company's success. However, while the majority of its products are manufactured internally, it does also outsource the manufacturing of some products and technologies to external foundries.
In particular, Intel has recently announced that it will join Apple to order the world's first 3-nm chips from the Taiwan chip foundry TSMC. 
Intel dominated US chipmaking for nearly 50 years, but recently fell behind Asian chipmaking giants like TSMC and Samsung Electronics, due to delays in rolling out its own latest chip production technologies. Now, expanding its outsourcing – including relying on TSMC for both 3-nm and 5-nm nodes – will hopefully enable it to boost sales and eventually regain dominance.
One of the main challenges for Intel will be combining chiplets from TSMC with other chiplets made internally by Intel into one device. However, if Intel plays its cards right, outsourcing in this way could be just the ticket it needs to lead to a major rebound! Check out our selection of supply chain partnership examples for more companies nailing this kind of outsourcing.
4. Dr Smile and Gandt
It's becoming increasingly important for companies to put digital first, but doing so involves a whole host of expertise that might not be available to every company in-house. Gandt helps businesses to grow and achieve digital longevity through services that include digital strategy consulting, marketing audits and implementation of marketing channels.
One company that's enjoyed making use of Gandt's expertise is Dr Smile. The European dental aligner and dental health brand was enjoying steady sales but wanted to take the next step to boost growth. However, it wasn't sure which of its marketing channels was driving the company's sales, making scaling a costly exercise.
Dr Smile worked with Gandt to conduct an analysis of its digital presence and customer data, and received recommendations for areas they should improve and focus on. The consultancy also helped to optimise Dr Smile's website, improve its marketing campaigns and implement new technologies designed to enhance customer experience and, ultimately, drive growth.
By working closely with Gandt, Dr Smile was able to gain skills, knowledge and expertise that it wouldn't be able to access in-house. Rather than simply solving Gandt's problems and then leaving, as you might expect in a more transactional relationship, Gandt worked hand in hand with Dr Smile's team to impart its knowledge – upskilling Dr Smile's employees and equipping the team with the talent needed to continue to grow in the future.
All in all, the partnership was certainly a successful one, as Dr Smile enjoyed a 300% boost in revenue over nine months, and was able to grow its team into a full-stack marketing organisation.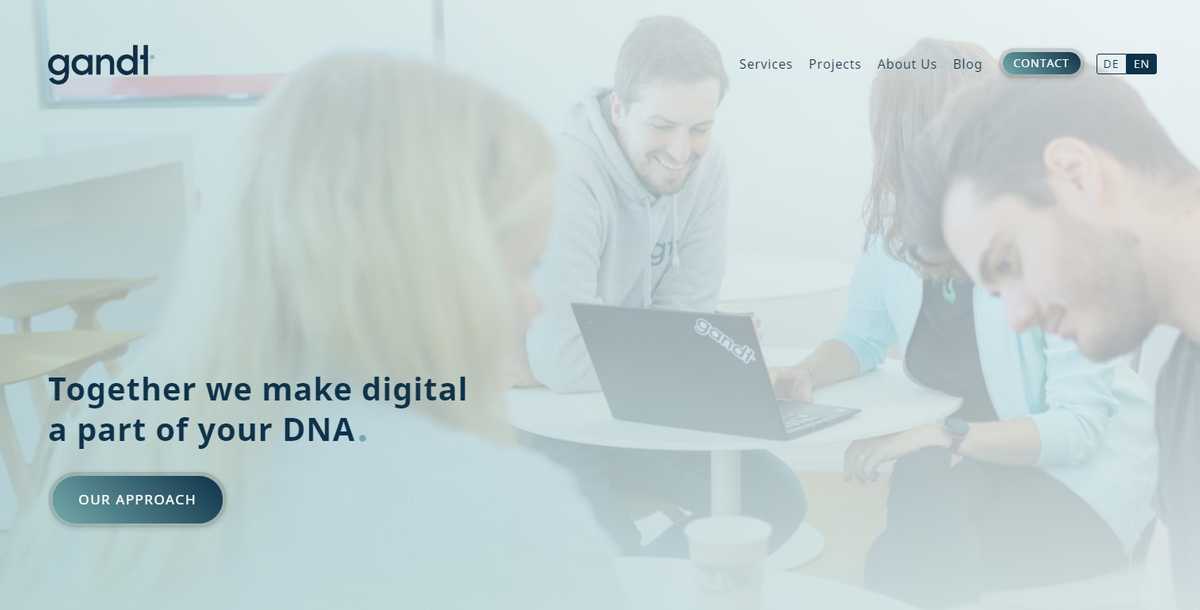 5. Argos for Business and RSVP
RSVP provides customer service for a range of brands including Argos for Business – a leading retailer offering businesses merchandise, incentive and motivation solutions.
With a team of customer service agents on-hand to answer calls from both B2B and B2C customers, RSVP is able to answer a wide variety of queries on their partner's behalf. By being their partner's voice in a customer service capacity, RSVP acts as an extension of their partner brand's team, allowing them to scale while saving them resources.
Although you might think that outsourcing your customer service could be risky, given that you're relying on another party to speak to your customers directly, RSVP claims to resolve 90% of customer queries the first time.
Lisa Goward, the Client Service Manager for Argos for Business states: 'We enjoy a warm, friendly and proactive partnership with RSVP,' showing that trust and open communication is key to this kind of outsourcing. In fact, RSVP also made it onto our list of the best B2B partnership examples, but this time with another of their partners – Virgin Wines.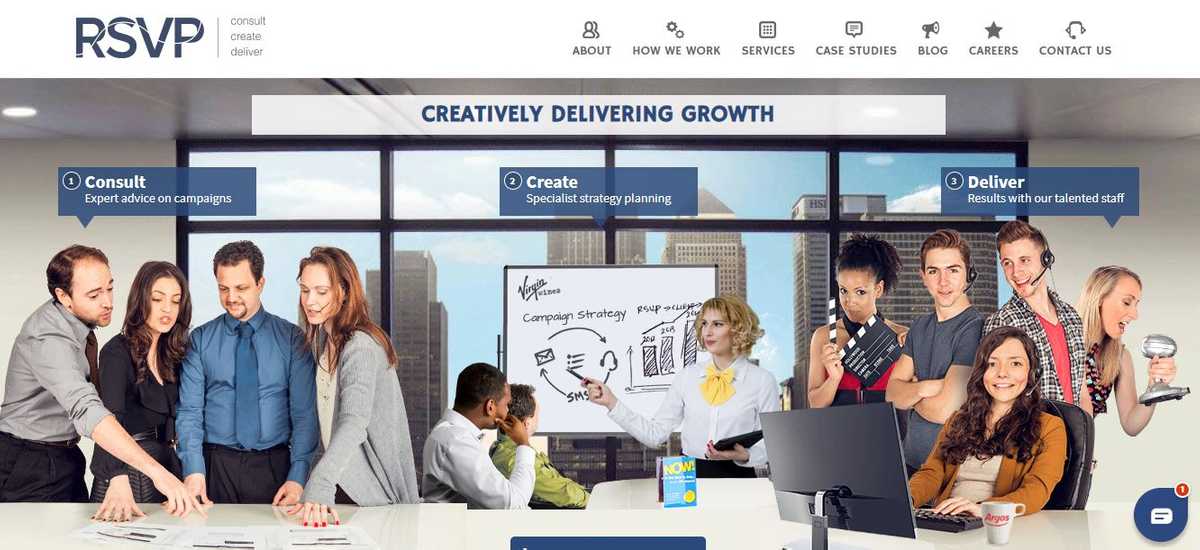 6. Encyclopædia Britannica and Giraffe Social Media
Giraffe Social Media is an agency that provides social media services to businesses around the world. Just one brand it's partnered with is Britannica UK – a subsidiary of Encyclopaedia Britannica Inc, and a leading provider of learning and knowledge.
Keen to increase enquiries and interest in its resource, Britannica wanted to grow a highly relevant and engaged audience on social media. It was also keen to interact with these communities to build better awareness of the encyclopaedia. 
Working with Gifaffe, Britannica wasn't just able to save time and resources in-house, but it also increased its chances of success by engaging experts in their field.
Indeed, Giraffe got to work using ads and posting interesting content on Facebook and Twitter in order to grow the brand's presence on these platforms. Likes of Britannica's Facebook page increased by 41.26% and its Twitter following went up by 36.47%. 
The social media agency also reached out to people on Twitter on Britannica's behalf, to initiate conversations and increase brand awareness. While the Twitter reply reach stood at 20,672 in the first month of the campaign, it increased to a staggering 268,046 by the sixth. In this way, Britannica is a great example of how outsourcing to specialists can enable businesses to reach their goals.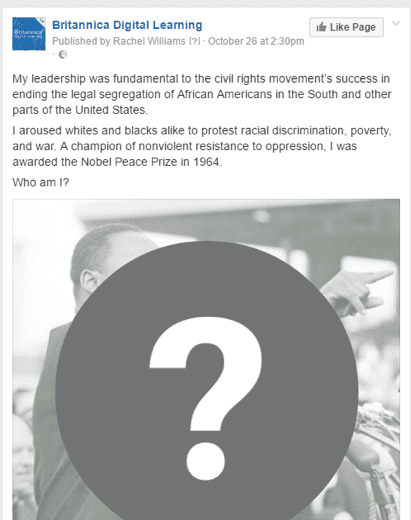 --
As you can see, there's a huge range of services that businesses can outsource – whether we're talking manufacturing, marketing, customer service or anything else under the sun! 
Generally, if you're considering outsourcing, it's best to consider areas within your business that you feel could use some improvement. For instance, perhaps you're lacking the in-house expertise that could help you reach your goals. Or, perhaps you're haemorrhaging money trying to run an element of your operations internally that could easily be handed over to a third party.
Either way, just make sure that you keep hold of the parts of your company that best represent your identity. That way, you only stand to gain, and you won't risk losing yourself along the way!
To get started on your hunt for outsourcing partners, why not book a demo for Breezy? We can't wait to show you how we can help you find relevant strategic partners to help you take your brand to the next level.
Imogen Beech
Imogen is a copywriter and content writer with over two years' experience writing about the exciting world of strategic partnerships, as well as running her own business. She loves learning about new topics as she writes, and has enjoyed penning articles on industries ranging from mortgages to events, theatre to home improvements and everything in between.
View more by Imogen Beech