10 excellent incentive and loyalty marketing examples that leverage partnerships
Publication date

Author

Imogen Beech

Reading time

7 minute read
We all know what a loyalty program is. In fact, 77% of us take part in a retail loyalty program, according to Accenture. Meanwhile, 46% of us have joined a hotel program and 40% of us are part of an airline program.
But no matter what kind of loyalty program you're part of, at the centre of them all is one heavenly word… rewards. An incentive or loyalty marketing partnership is all about teaming up with a partner brand to make your rewards even more enticing (we'll explain it all in our guide to incentive marketing partnerships).
Whether it's running a giveaway for a partner brand's product or offering rewards points that can be redeemed with your partner brand, it's a great way to incentivise your customers to display the behaviours you want them to. After all, whether it's discounts, freebies or cashback, who doesn't love a good reward?!
To give you some inspiration, we've listed the 10 best loyalty marketing examples that make use of rewards partners. Enjoy!
Top 5 loyalty marketing examples
First things first: loyalty marketing is when a brand incentivises customer loyalty by rewarding consumers for displaying loyal behaviours. Usually, that's about rewarding retention and repeat purchases – after all, Forbes recently reported that it costs 5x more to acquire new customers than it does to retain your existing ones!
So, who's running the most tempting loyalty marketing programs using partnerships? Let's take a look.
1. American Express
Users of American Express' Preferred Rewards Gold Credit Card can earn Membership Rewards Points for every £1 they spend. Typically, every £1 spent using the card gets the consumer 1 point. But if they spend directly with airlines or in a foreign currency, they get two points for every £1 spent.
These points can be redeemed with partner brands including Amazon and Ticketmaster, with 1,000 points currently equal to £4.50 to spend at Amazon. Plus, they can be transferred over to 12 airline partners' loyalty programmes, including British Airways Executive Club and Emirates Skywards.
All in all, it's a great way to incentivise repeat purchases with the card. But on top of that, publicising the rewards available incentivises consumers who don't yet possess a Preferred Rewards Card to join the program. It's a win-win!

2. Tesco
Tesco's Clubcard lets consumers earn one Clubcard point for every £1 spent in-store and online (or 1 Clubcard point for every £2 spent on fuel).
Once consumers accumulate 150 points or more, they receive vouchers that can either be redeemed in-store or exchanged for Clubcard Reward Partner tokens to spend with partner brands.
If spent in-store, 150 points is the equivalent to a £1.50 voucher. However, if used with partner brands, consumers may be able to boost their points' value. For example, consumers can turn every 50p in vouchers into £1.50 to use at Pizza Express.
Other rewards partners include English Heritage, RAC breakdown cover and Cottages.com.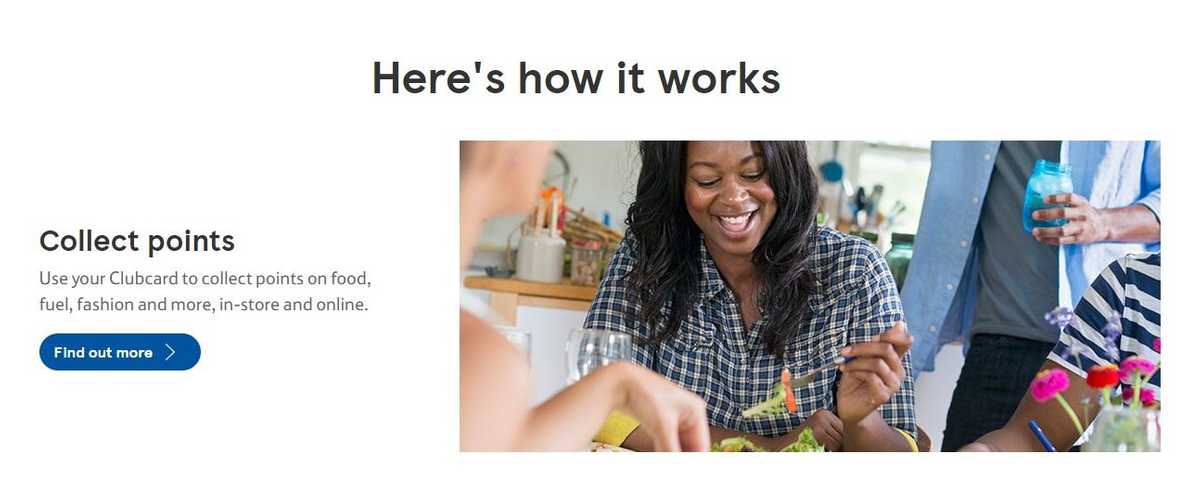 3. Vitality
Insurance provider Vitality's reward scheme is a little different from the ones we've covered so far. It actually rewards consumers who are on its life insurance cover for living healthier!
It might sound odd, but if you think about it, it works for everyone involved. For Vitality, it's (arguably) less likely that someone healthy will need to claim on their insurance. And from the consumer's point of view, they get to unlock all sorts of rewards, from coffee to gym memberships, for living more actively. Of course, this also makes it more likely that they'll stay on the insurance plan, incentivising loyalty at the same time.
The scheme offers rewards from over 30 partner brands. Just a few of the incentives include up to 50% off a flexible monthly gym membership with Virgin Active, up to 20% off hotel bookings with Expedia and up to 40% cashback on Good Health food bought from Waitrose.

4. Barclaycard
The Barclaycard Freedom Rewards card enables users to earn 'Freedom' points each time it's used. The credit card accumulates one Freedom point for every £1 spent on anything purchased in the UK or abroad, and two Freedom points for every £1 spent at any UK supermarket or petrol station.
The points can be redeemed on tons of days out, meals, drinks and shopping. Sadly, the card isn't available to new customers anymore, but existing customers can still rack up points each time they spend. And since points can be spent with over 60 rewards partners, we thought it worth a mention!
Participating brands including Argos, River Island, B&Q, Pizza Hut, Bella Italia and Thorpe Park.

5. Charlie HR
According to Charlie HR, four out of five employees prefer perks to a pay rise. So, the HR software brand rewards its customers (small businesses) by helping them to reward their employees (finding it hard to get your head around that?! Welcome to the club!).
Charlie HR members get access to exclusive discounts with over 30,000 brands, including up to 55% off cinema tickets at cinemas including Cineworld, Odeon, Picture House and Vue. Plus, they get to earn 'WOWPoints' as they shop, which they can cash in or use to get even deeper discounts.
What we love about this loyalty marketing example is how far-reaching it is. Not only does it encourage brands to keep using Charlie HR (by helping them to keep their employees happy) but it also encourages employees to stay with their current company. So, it's a great system for all parties involved!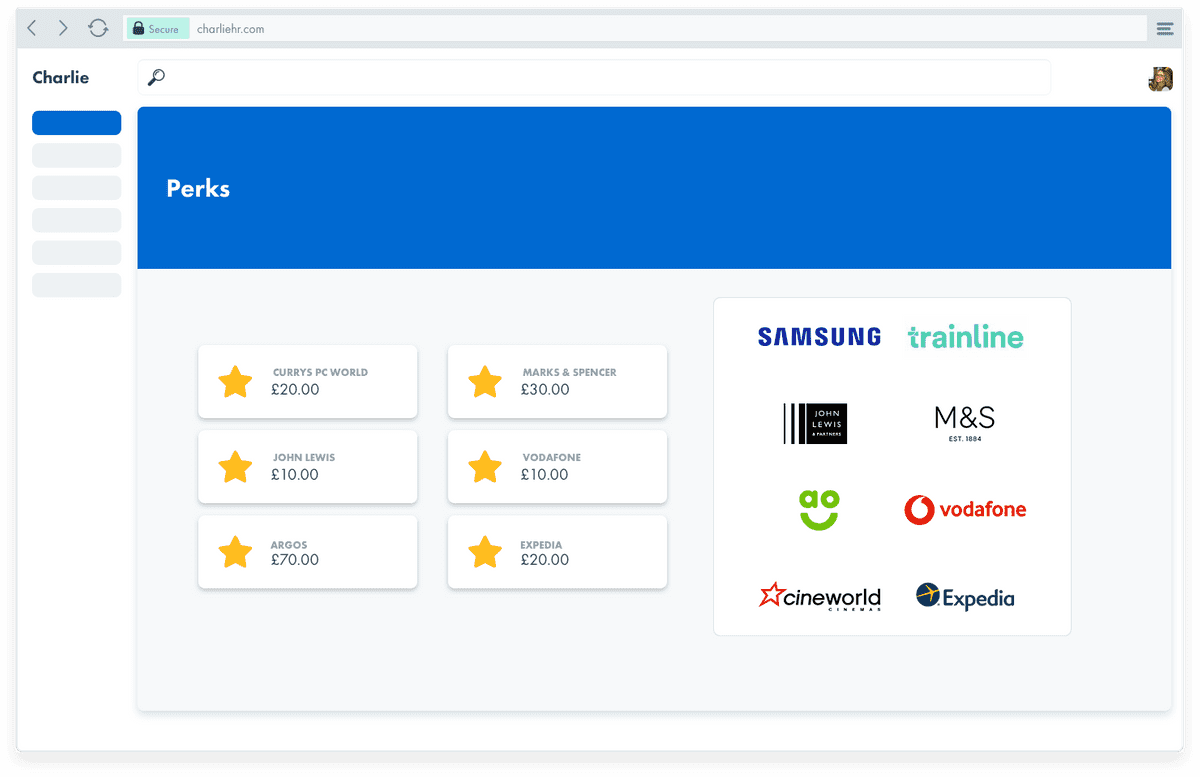 Top 5 incentive marketing examples
Incentive marketing is when a brand incentivises a specific customer behaviour by offering them a reward when they complete an action. Sound familiar?
If you're thinking 'this sounds an awful lot like loyalty marketing,' that's because it is! Loyalty marketing is actually a type of incentive marketing that rewards loyalty. So in a way, the terms can be used interchangeably. That said, loyalty isn't the only behaviour that brands might want to reward – other sought-after behaviours include high-value purchases, referrals and email list signups.
We've taken a look at the best incentive marketing examples that use partnerships to reward something other than loyalty.
1. EE and Apple Music
Network provider EE gives new users six months of Apple Music for free. That means access to 60 million songs, which can be downloaded as well as listened to – it's a pretty powerful way to incentivise consumers to switch over to EE's network.
On top of that, EE covers any data that's used to enjoy it, so users don't have to worry about using up their data allowance. The incentive has a takeup rate that's 45% above forecasts, and it's also improved the brand's net promoter score by a huge four points.
But the deal's pretty sweet from Apple's point of view too. Once the offer ends, customers automatically start paying for the subscription to Apple Music, at a cost of £9.99 per month.
That said, this is one of those partnerships that could be categorised in more than one way (hence why we've listed it as one of our favourite partner marketing examples out there!). Just as it's a type of incentive marketing, it could be seen as 'bundling' too, which is a kind of distribution marketing agreement. Check out our guide to distribution marketing to see how they overlap. At the end of the day, there are 15 types of strategic partnerships (that we've counted!), and it's rare that any partnership fits into just one box perfectly.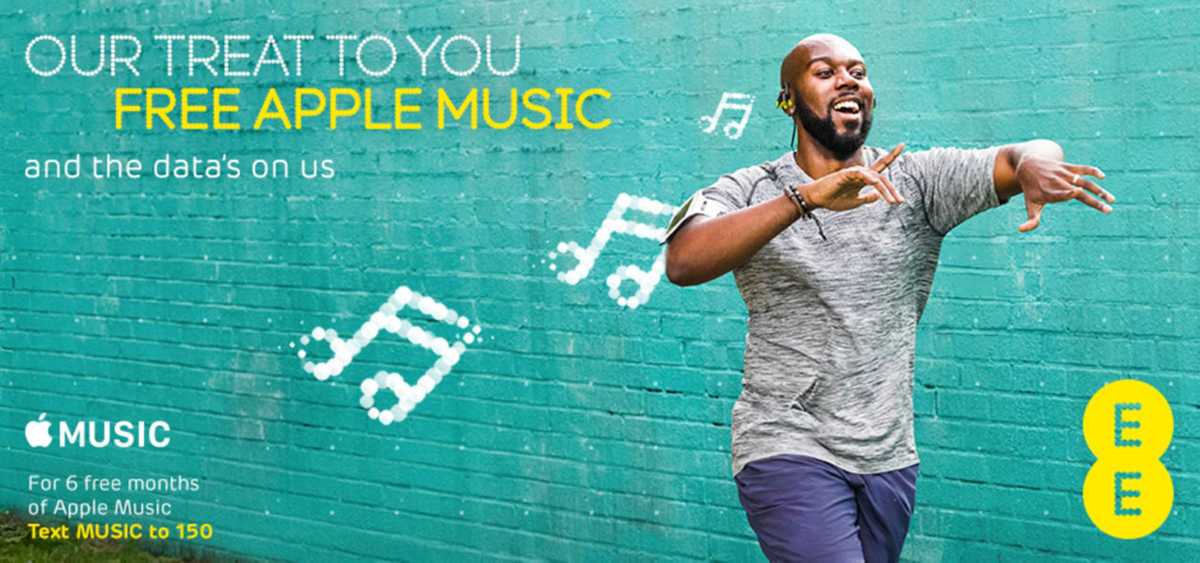 2. Hush and Home Pizza Ovens
Clothing band Hush teamed up with Home Pizza Ovens to launch a competition that would see someone win the chance to loan a Ventura Ibrido pizza oven, complete with all the ingredients needed to whip up an authentic Italian pizza.
To enter the competition, consumers had to enter their details into a form, which enabled Hush to grow its database.
This is just one of many competitions that Hush implements with the help of rewards partners. By ensuring that partners fit into the lifestyle that Hush promotes, the online fashion retailer is able to grow its brand awareness and reach new consumers who fit its target market.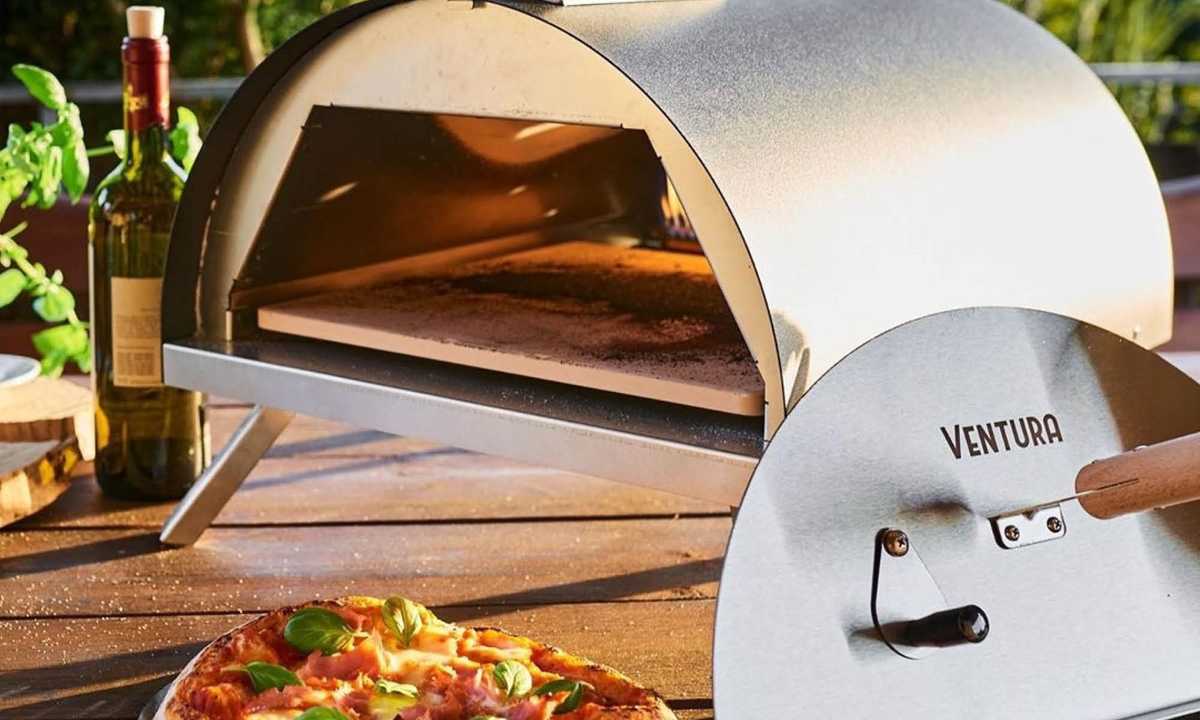 3. Skinny Food Co. and TUI
Next up is another competition but one with a very different aim. The Skinny Food Co. teamed up with TUI to offer their customers a chance of winning £500 worth of holiday vouchers.
The competition's goal was twofold. It aimed to incentivise the health food brand's customers to place new orders and to leave reviews on Trustpilot. Either of these actions would result in an entry to the competition, but consumers who completed both actions would double their chances of winning.
Although there were only two winners, by making the prize high value, the brand was able to make the competition look especially attractive. And of course, this can only have been helped by holding the competition in November and December – a time when many of us are dreaming of winter sun!
While it's impossible to tell just how many reviews or orders the brand got as a result of the competition, it has over 18,500 reviews on Trustpilot at the date of writing. So, we can safely assume that they did something right!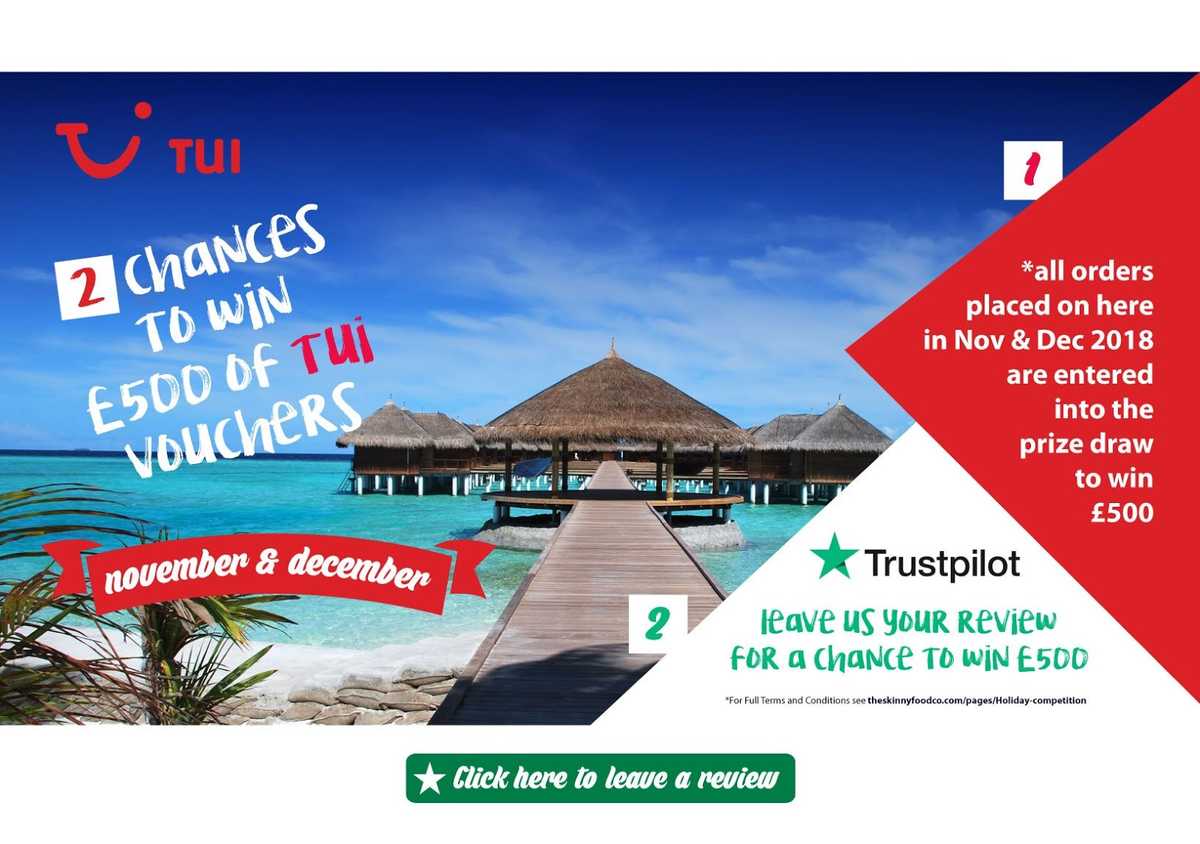 4. Santander and Amazon
Word of mouth is a powerful tool that brands can harness through referral marketing (check out our guide to referral marketing for more). So, it's no surprise that Santander embarked on an incentive marketing partnership that would encourage their customers to refer a friend.
In 2019, the bank introduced an incentive whereby customers who referred a friend to a range of the bank's current accounts would receive a £50 gift card for Amazon (assuming the referral was successful). Not only that, but the friend who received the recommendation would also receive a £50 Amazon gift card on switching to Santander.
By offering incentives to both the referrer and the referee, Santander made it more likely that the referral would be successful. After all, a consumer will be more inclined to refer a friend if they feel they're helping rather than doing so for their own gain. And of course, the introduction of a reward for the friend makes it more likely that after being referred, the friend will convert.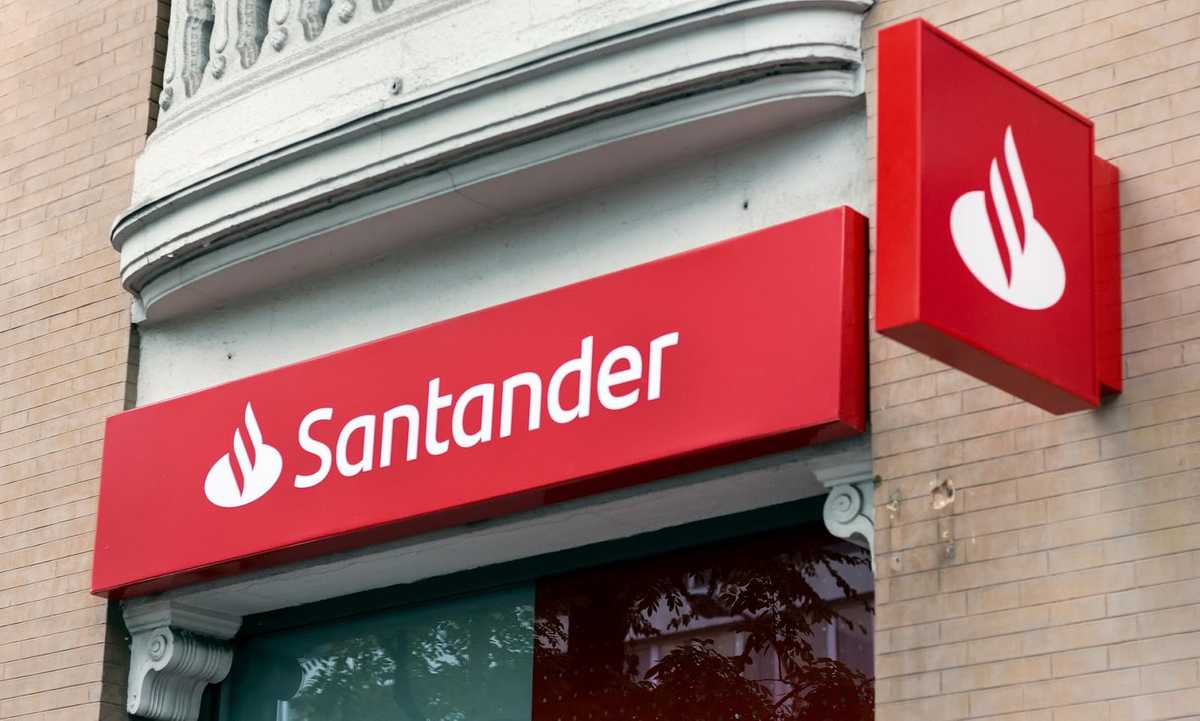 5. Twitch Kittens and AKRacing
To complete our list, we've chosen a very different type of incentive marketing example, but one that's become increasingly common with the rise of the internet and social media.
Twitch Kittens collaborated with AKRacing to launch a competition (the third competition to make it onto our list!) that would see one lucky winner gain a specially designed gaming chair from AKRacing.
According to Gleam, the competition incentivised consumers to provide a boost to Twitch Kittens' social media metrics, with the Twitch streaming channel encouraging consumers to share, like, tag friends and follow them on various social channels to enter. On one Tweet about the competition alone, Twitch Kittens gained a whopping 6.8K retweets.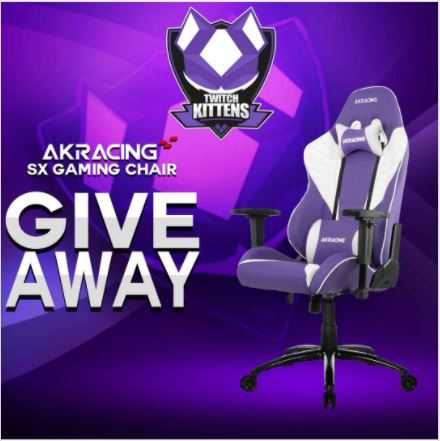 As you can see, successful incentive marketing – or loyalty marketing – partnerships can take many different forms. If you're considering getting a rewards partner onboard, the first step is to pinpoint exactly what customer behaviour you're looking to incentivise. Is it repeat purchasing? Referrals? Reviews? Social media engagement?
Once that's decided, it's all about simply finding the right partner to help you reach your goals. Which is where Breezy comes in! Sign up to Breezy to get access to hundreds of relevant partner recommendations to choose from.