5 out-of-this-world comarketing examples
Publication date

Author

Imogen Beech

Reading time

6 minute read
Comarketing is when two or more brands work together to promote something – whether that's a piece of content, a product, an event or anything else in between. With a comarketing campaign, brands can leverage one another's reach and reputation to create a marketing campaign with double the impact!
But who's doing it really well? Let's take a look at some of our favourite comarketing examples.
1. Hubspot and Chatfuel
In 2017, inbound marketing and sales software provider, Hubspot, teamed up with leading social media chatbot platform Chatfuel. Together, the pair created a unique (and free!) ebook on how to build a chatbot, called the BotBook.
The ebook was hosted on Hubspot Academy – Hubspot's official learning resource – and both brands promoted it on their channels. In order to download it, however, users had to chat with a Facebook Messenger bot that captured lead information such as their name, email address, company name and size. 
We love this comarketing example for so many reasons. First, the ebook was a great way for Chatfuel to position themselves as the experts in chatbots. Not only was this clear in the content of the ebook, but consumers even got to experience it for themselves when they used the chatbot to gain access to the ebook in the first place.
Meanwhile, Hubspot benefited from giving users of Hubspot Academy access to a valuable resource. And both brands were able to leverage one another's reach to get their ebook seen and downloaded by consumers they wouldn't necessarily have been able to reach alone.
That said, arguably the biggest benefit to both brands would have been lead generation. By collecting information such as consumers' names and companies, the partners would have had a wealth of data that they could then use in whatever way they chose. In fact, just five hours after downloading the BotBook, HubSpot's bot (powered by Chatfuel) asked consumers for permission to send them charts and graphs within Facebook Messenger, attempting to keep consumers engaged right from the outset.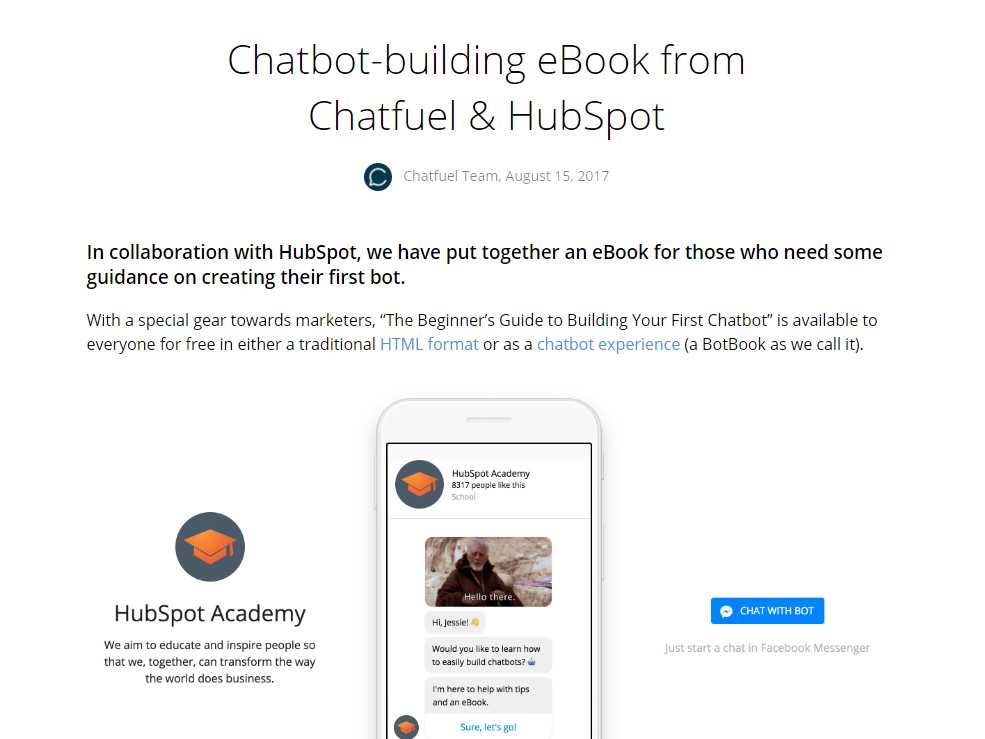 2. Girlboss and Uber
Girlboss is a community of female entrepreneurs who aim to help women progress at work. In 2018, it teamed up with taxi-hailing app Uber to launch a pitch competition for startup founders.
The idea behind the competition was to help individuals to break barriers and achieve their entrepreneurial dreams. Up for grabs was a whopping $200,000 of funding, along with entrepreneurial mentorship. 
News of the contest was shared extensively in a powerful comarketing campaign. Activities included a podcast, dedicated resources on the Girlboss blog and workshops for contestants during the Girlboss Rally in New York. One of the most memorable, however, was the complementary #RethinkTheRatio video, which aimed to challenge expectations of what leadership looks like.
While at first glance, Girlboss and Uber don't have an awful lot in common, there's more to the partnership than meets the eye. For Girlboss, partnering with a household name like Uber would have been a fantastic boost to brand awareness and certainly helped them to spread their message of female empowerment far and wide. Plus, as a poster child for successful tech startups, Uber was a more-than-appropriate partner to co-run a startup competition.
Uber, on the other hand, had some repairing of its brand image to do after a range of scandals surfaced about its company culture, specifically to do with sexual harassment and misconduct. By partnering with Girlboss, Uber was making a statement that it takes gender equality and diversity seriously, which would have been a useful step in winning back trust from consumers. 
3. Airbnb and Flipboard
Airbnb and Flipboard are two brands that are centred around passions. Airbnb, the homestay marketplace, is all about authentic travel experiences. Meanwhile, Flipboard, the social news aggregator, lets readers follow all their passions in one place.
When Airbnb launched 'Trips,' a service that allows people to book local Experiences led by local hosts, the pair embarked on a comarketing campaign to go with it. They created bespoke Airbnb Experience Magazines on Flipboard, grouped into four cities. The magazines were made up of immersive Storyboards that stitched together beautiful image galleries, articles and videos that users could explore to their heart's content. 
But that's not all. Users who hit the 'heart' on any of these stories would be in with a chance of winning a free trip on Airbnb! 
The partners collaborated on an integrated comarketing strategy across the US to drive traffic to the magazines. They used everything from targeted emails and push notifications to display, social and video ads both on and off the Flipboard platform. And they even targeted leads with immersive microsites.
The pair's goals were slightly different. Airbnb wanted to reach a qualified audience and increase awareness around their new offering. However, Flipboard was keen to get users who hadn't used the app for a while to dive back into the platform, creating meaningful engagement with their existing users.
Despite their different aims, the partnership was a win for both parties. Followers of Airbnb's profile on Flipboard went from 0 to 29,000 and the campaign drove around 38,000 visits to Airbnb's website. At the same time, Flipboard garnered 4.2 million page flips from 440,000 viewers, and the Airbnb Experiences featured were 'hearted' more than 69,000 times. Those are some powerful stats!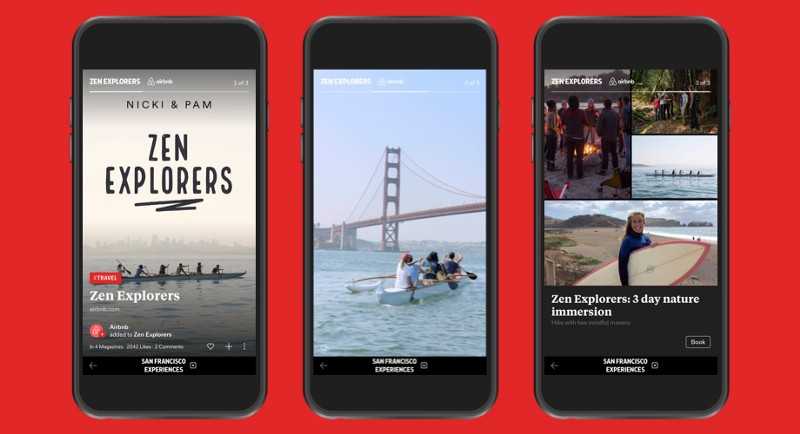 4. Bumble and TikTok
In September 2021, dating app Bumble and video social media platform TikTok launched a new European partnership designed to encourage users to show off their authentic personalities while dating – a fitting topic at a time when people have been out of practice dating after months of pandemic-induced lockdowns. 
To launch the partnership, the pair embarked on a comarketing campaign titled 'Date With Better Answers.' The video shows TikTok creators helping daters to connect authentically by inspiring them with content related to their interests. In the UK campaign, that inspiration is provided by chef Nathan Smith (@TheGrubWorksKitchen) and freestyle footballer Olivia Weedall (@oliviaraeweedall).
According to TikTok, popular interests like these have become subcultures on the social media platform, with #foodtiktok having reached nearly 34 billion views and #freestylefootball more than a billion. Interests are important to Bumble too. The app has introduced badges that allow users to add up to five interests to their profile from a list of 150.
While the campaign was pushed live on both apps, it doesn't end there. Each creator who appears in 'Date With Better Answers' will post their own video on their channel as part of the partnership, sharing a tutorial such as how to make a certain recipe or how to do a specific football trick.
Bumble and TikTok are both passionate about wanting people to connect on an authentic level, with a focus on inclusivity and equality. And they both have similar audiences. By working together to share their values more widely, the pair have created a partnership in which they can help one another to boost their brand reputations and leverage one another's following to increase brand awareness and (hopefully!) attract new users.
5. Red Bull and GoPro
We wanted to end on a real high note, so here we are with possibly the most famous comarketing example of all time: energy drinks maker Red Bull and action camera brand GoPro! 
The long-term partners have embarked on countless marketing stunts but their best-known is Stratos – a stunt that saw Felix Baumgartner jump from a helium balloon 24 miles above the earth back in 2012, shattering three world records, breaking the sound barrier and, perhaps most importantly, capturing the whole thing live on a GoPro camera! The footage was watched live by 8 million viewers and has since been viewed by millions more across both Red Bull and GoPro's channels.
While the event itself made it into our selection of the best co-branding examples, the joint sharing of video content is arguably what's made the pair so notorious. While only a limited number of people can be present at Red Bull's events, GoPro's footage allows them to be relived afterwards by millions. It's true that energy drinks and cameras might not seem like the most natural pairing, but the brands' values and audiences share a huge overlap with both encouraging and embracing thrilling adventures.
In 2016, the pair reached an agreement that would see Red Bull receive equity in GoPro and GoPro become Red Bull's exclusive Point-of-View Camera and Content Partner. Through the partnership, GoPro gets access to more than 1,800 of Red Bull's extreme sporting events in more than 100 countries, giving it the ideal content to show off its action cameras. And Red Bull gets its daring feats filmed flawlessly, ready to share with the masses. Ultimately, they both bring something unique to the table and neither could achieve the same success without the other.
--
As you can see, comarketing can take lots of different forms. And, although you might not have the budget that the big guys like Red Bull or Uber have under their belts, that doesn't mean you can't embark on an ultra-successful comarketing campaign. If these comarketing examples tell you anything, we hope it's that the more creative you are, the better!
All that's left is to sign up with Breezy to scour our tool for the best comarketing partners for your brand. Then, get those creative juices flowing. We can't wait to see what you come up with!