12 best influencer marketing platforms
Publication date

Author

Imogen Beech

Reading time

10 minute read
With 49% of consumers depending on influencer recommendations (according to Influencer Orchestration Network), influencer marketing is fast becoming a vital part of any brand's partnership strategy.
While we wouldn't quite call it a type of strategic partnership as such in itself, it's a rich melting pot that brings to a head referral marketing, content marketing and, often, affiliate marketing (check out our guides on each to find out more). And it's no big secret. Not only do 75% of marketers now use influencers as a marketing tool, but Chief Marketer revealed that 43% of them are planning to increase their influencer marketing spend within the next 12 months.
If your plan is to hop aboard and form some successful influencer partnerships, we've listed the best influencer marketing platforms to help.
And of course, if you want to cut down on the number of platforms you're having to negotiate with as part of your partnership strategy, just sign up with Breezy. Our tailored search engine helps you find the best partners for you (influencers included) by searching the whole web. You're welcome!
So, what is an influencer marketing platform?
An influencer marketing platform, also known as an influencer network or marketplace, is a third party website designed to help brands find influencers to work with and vice versa.
Brands can browse thousands of influencers who have agreed to receive collaboration briefs. Usually, the platform lists important information about each influencer, such as data from their social media accounts, details of previous brands they've worked with and what kind of content they create. That way, brands can easily find the right influencer for their marketing campaigns, whether they're looking for micro-influencers, macro-influencers or anything else in between!
But it doesn't stop there. Most top influencer marketing platforms also take care of the legal contractual side of things and provide success metrics once a campaign comes to an end. Ultimately, they make it quicker and easier for brands to engage influencers for campaigns, giving them the capability to work with tens or even hundreds of influencers at scale.
Best influencer marketing platforms for small businesses
As a small business, the likelihood is that you're not going to be hunting out influencers with the biggest following you can find. Instead, you'll probably be looking for micro-influencers (with around 1,000 to 100,000 followers) who have a niche audience that's relevant to your brand. Influencers of this size also have a sweet spot in terms of engagement rates, which is a big plus!
Here are three top influencer marketing platforms for small businesses.
1. Upfluence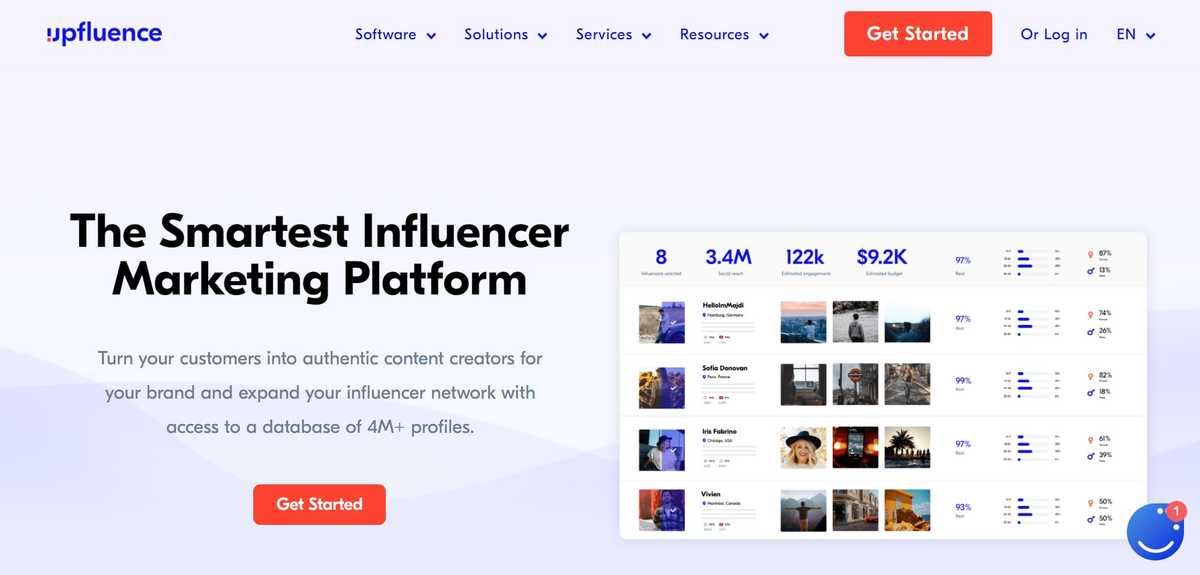 Price: Not listed
Although it's used by some big brands like Microsoft and PayPal, Upfluence is a great tool for SMEs. It has a range of pricing options available depending on the level of support you need, including specific packages for startups and small businesses.
Upfluence allows brands to filter results by audience data. This makes it much easier to negotiate the nearly 3 million influencers who are listed on the platform to find those who perfectly fit your niche.
Pros:
Choose from a range of packages to suit your business size and needs
Nearly 3 million influencers
Very precise search tool
Filter results by audience data
Includes social listening streams
Includes some level of training and support
Easy-to-use collaboration tools
Access to success metrics
Cons:
Social listening streams are limited in cheaper packages
Filtering results by audience data is only available for influencers on Instagram
2. Klear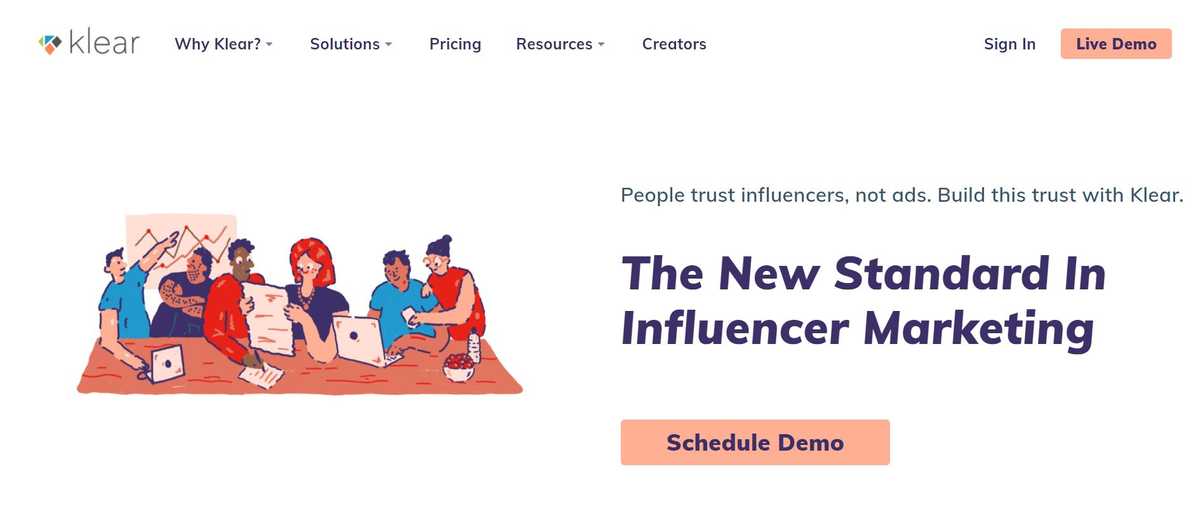 Price: Starts at $250/month
Klear targets small and medium-sized businesses who aren't yet using a platform for influencer marketing (alongside big brands who already use management software but want increased data and analytics). Plus, it has a discounted package for startups with less than 20 employees.
Klear's 'Monitors' tool sets it apart from the competition. This is a combination of social listening and analytics that makes it easy to research competitors, monitor specific hashtags and even help the platform's AI to understand your brand.
Pros:
In-depth data available
Accurately analyse audience demographics and psychographics
Easy-to-use interface
Influencers are scored on each social channel
'Monitors' tool makes relevant influencer discovery quick and easy
Cons:
Influencer management systems aren't ground-breaking
3. Post for Rent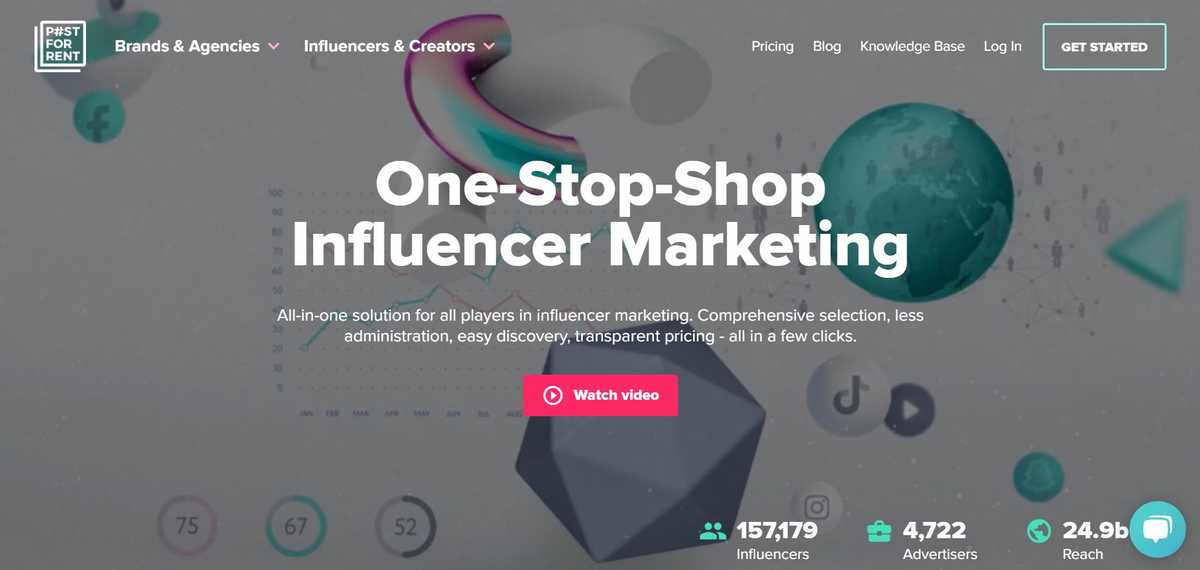 Price: Starts at $99/month for influencer discovery
Post for Rent is a cost-effective tool for small businesses who only want to pay for what they actually use. The platform charges $99 per month for brands who want to be able to search influencers but don't need campaign management tools. Or, you can manage your campaigns on the platform and let it source influencers for you, for a 20% service fee.
For brands who want an all-in-one solution, Post for Rent's Manager Pro package is still much cheaper than many solutions on the market at $199 per month (and is often discounted). Plus, the platform lets you instantly analyse any social media account for $5 per report. All in all, it has all the tools you need if you need them. And if you don't, you don't have to fork out for them!
Pros:
Only pay for what you need
Dynamic and fun-to-use platform
Quick and easy to set up and publish campaigns
Take full control or choose fully-automated, AI-powered campaigns
Works equally well for companies of any size
154,000 influencers
Cons:
Requires companies to make choices about their priorities upfront
Best influencer marketing platforms for large businesses
Large businesses typically need to be able to work with influencers at scale. Plus, they tend to have the resources to be able to make use of (and know what to do with) a lot more data than small companies.
With that in mind, we've selected the three best influencer marketing platforms for large businesses.
1. CreatorIQ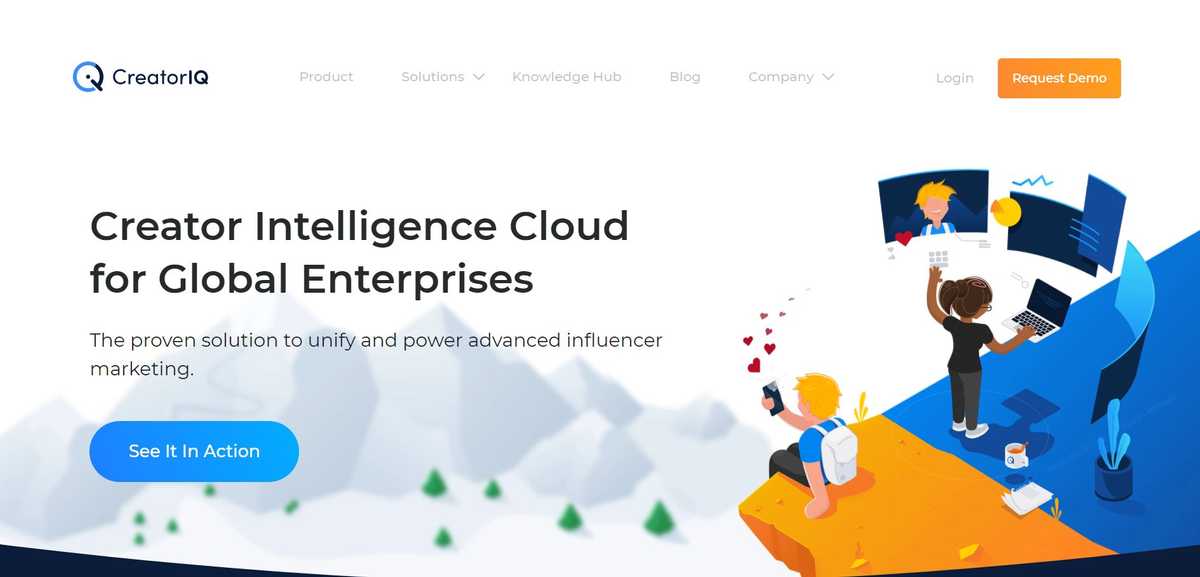 Price: Not listed
With clients including Unilever, Disney and Dell, CreatorIQ was built for big businesses – in fact, it openly states that its smallest clients earn around $100 million per year. This end-to-end solution uses tech to simplify influencer marketing and resolve problems that often plague the industry, such as follower fraud and inauthentic influencers.
CreatorIQ integrates directly with social platform APIs, with its AI-powered algorithm analysing over 1 billion social accounts to see if they warrant being added to its database. It's a great tool for finding highly-relevant influencers who you can invite to join your network.
Pros:
Includes an exhaustive list of features and capabilities
More than 15 million influencers
Analyses every element of content for relevance, including images and emojis (not just bios and hashtags)
Vets influencers for authenticity, assigning influencers an 'Integrity Quotient'
Allows you to build your own network within the platform
Access to dynamic, customisable reports
Cons:
Not suitable for small to medium-sized businesses
Prices are likely to be high to match the scope of the platform
2. Tagger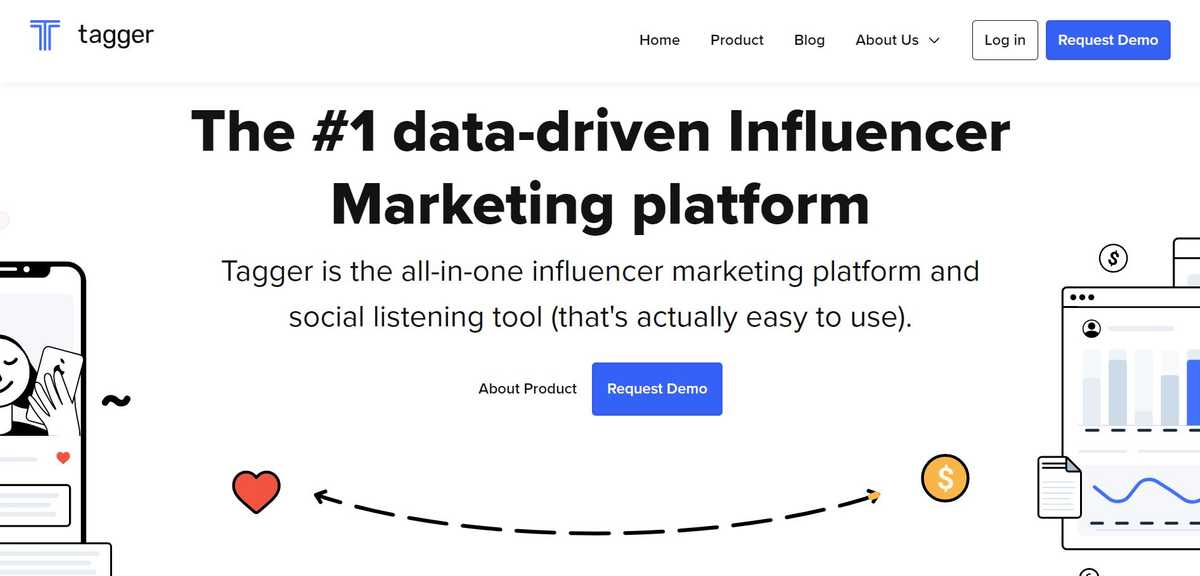 Price: Not listed
Tagger is a top influencer marketing platform for businesses who place a strong emphasis on data. The platform can track 9 billion social conversations, which can all be searched for and analysed by brands who have the capacity to make use of it.
Tagger's strongest point is its ability to analyse what people talk about in order to understand their real interests and affinities – making it possible to choose influencers whose followers will take a genuine interest in your industry and brand.
Pros:
In-depth data
Over 3.5 million influencers
Social listening is at the platform's core
Easy to sort, filter and refine results
Handy management dashboard
Customisable workflow tools for easy communication and collaboration
Reporting function
Cons:
The amount of data and information available can be overwhelming
3. #Paid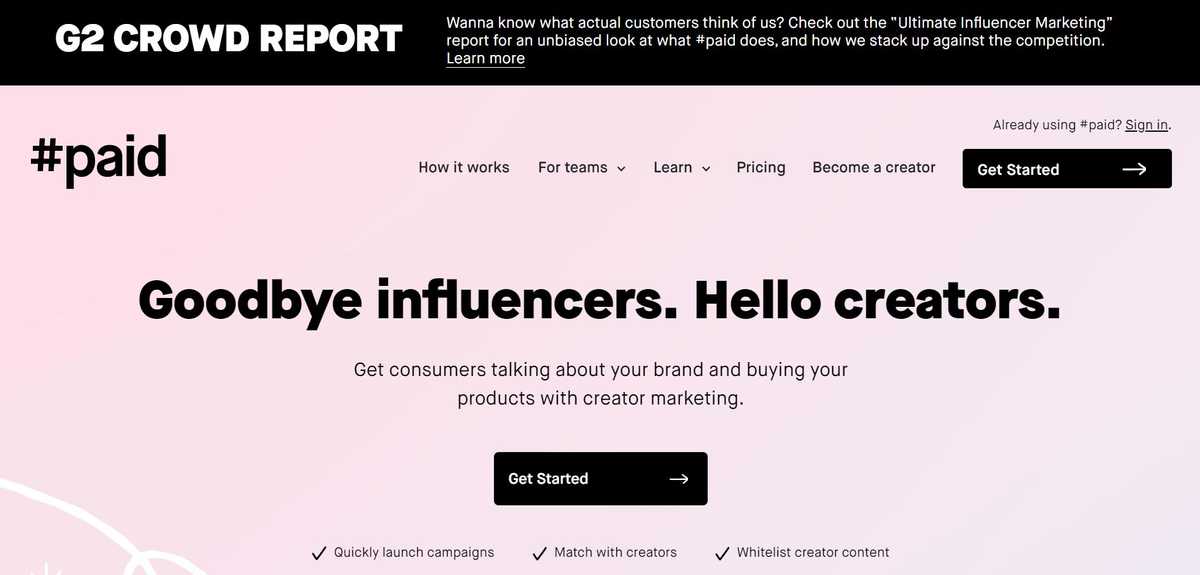 Price: Starts at £299/month
#Paid has the form and function of a simple influencer marketplace but was built with large businesses and big budgets in mind (its clients include Coca Cola and Ikea). Ultimately, it's an easy-to-use, self-serve solution that prioritises great content and relevant following over reach alone when it comes to influencer discovery.
Our favourite #Paid tool has to be the 'Handraise' feature, which allows influencers to pitch their interest in a brand's campaign. The #Paid team vets all pitches before selecting only a proportion to pass on, saving brands a ton of time.
Pros:
Prioritises content and fit over reach
Encourages targeted campaigns for each stage of the sales funnel
Access to analytics
Multi-user permission available for all subscription tiers
'Whitelisted Ads' allows brands to publish ads through creators' handles on Instagram and Facebook
'Handraise' feature allows influencers to express their interest in brands' campaigns with pitches that are vetted by the #paid team
Clean and easy-to-use interface.
Cons:
Only 20,000 influencers
Minimum spends can restrict those on small budgets
Best B2B influencer marketing platforms
Lots of Instagram influencers selling specific lifestyles aren't going to be relevant to B2B marketers. But that certainly doesn't mean that B2B brands should rule out influencer marketing.
According to TopRank marketing, 43% of marketers are already experimenting with B2B influencer marketing, and 57% believe influencer marketing will be integrated in all marketing activities within the next three years.
Many of the platforms we've already mentioned have good potential for B2B, but read on to uncover out three top influencer marketing platforms that are particularly great for B2B businesses.
1. GroupHigh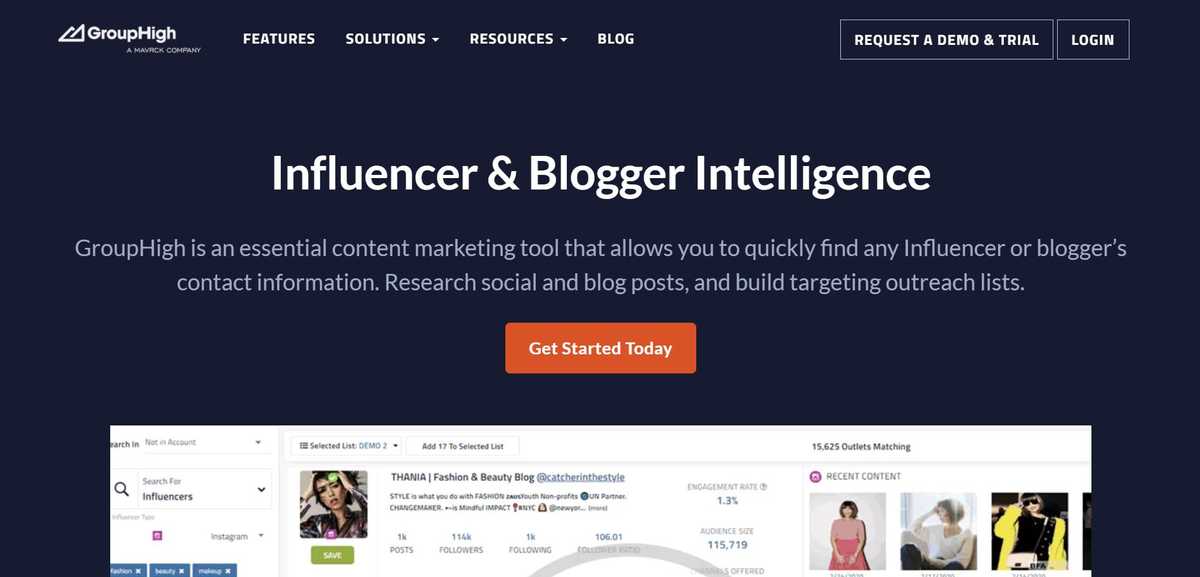 Price: Not listed
GroupHigh is a full influencer marketing platform that has a strong focus on bloggers and is a favourite with B2B brands.
Not only is the platform great at accurately helping brands to find influencers in their niche, but it also allows brands to filter and access data on around 50 million websites. Brands can instantly see blogs that have already linked to their brand, competitors or clients, before using the information to build relationships with bloggers who could promote their products and content.
Pros:
Allows brands to easily search for and filter blogs by web traffic, SEO authority and more
Accurately finds relevant bloggers in your niche
Analyses around 50 million websites
Reveals bloggers who link to you, your competitors and your clients
Quick and easy to find any influencer or blogger's contact information
Allows brands to build targeted outreach lists
Includes unlimited influencer search
Access to reporting
Cons:
Manual approach to outreach
2. Onalytica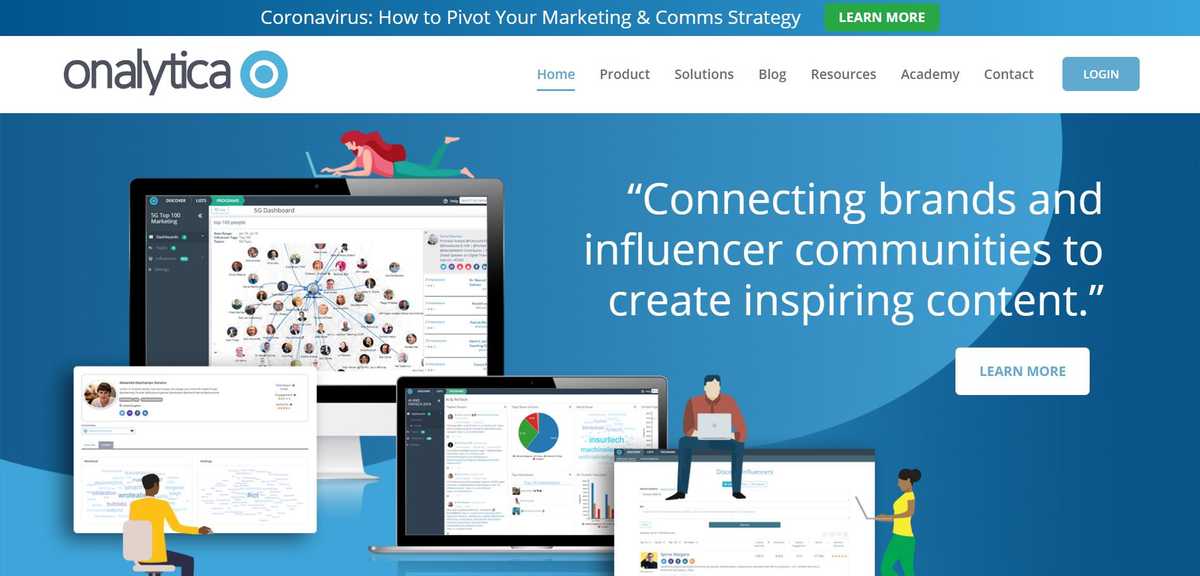 Price: Not listed
Onalytica was recently named '2019 MarTech vendor of the year' by B2B Marketing. This influencer marketing platform uses an algorithm to search through posts on WordPress, blogs and social media channels including LinkedIn. A human team then vets the results, removing any that are clearly unsuitable.
Given that employee advocacy is a powerful tool for B2B brands, we like Onalytica's employee advocacy scheme. It aims to make a brand's employees more influential and capitalises on interactions between employees and influencers. The platform is also able to analyse brands' content before recommending relevant influencers.
Pros:
Global database of over 700,000 influencers
Access to a dedicated customer service manager
Recognises the power of employee advocacy for B2B brands
Free-to-access lists of top influencers online
Robust insights into your brand awareness and engagement
Easy to interact with influencers via the platform
Access to success metrics
Great search functionality
Cons:
3. Traackr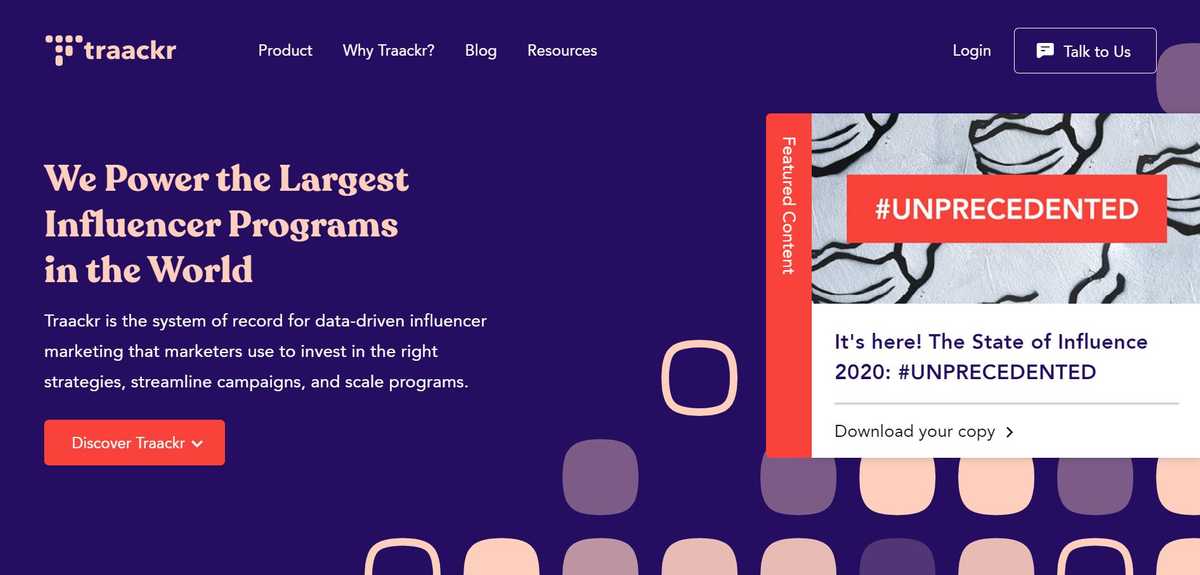 Price: Not listed
Although it doesn't have any features that are specific to B2B businesses, Traackr has a bank of blogs and guides with tips on influencer marketing for B2B brands, so it's clearly a focus for them. Plus, it allows brands to manage campaigns across tons of channels including blogs, Facebook, Twitter and more.
The platform's centred around helping brands to create long-lasting relationships with influencers as opposed to one-off transactions. One of our favourite things about it is the level of insight it can offer into a brand's industry and competitors – for example, revealing how much budget is being spent on micro-influencers as opposed to top-tier VIPs.
Pros:
Takes into account a large range of channels
Includes insights into your industry and competitors
Robust search function
User-friendly interface
Includes a social listening tool
Network visualisation map shows connections between influencers and other people
Includes relationship and campaign management
In-depth data and analytics
Audience Quality score makes it easy to avoid inauthentic accounts
Cons:
Advanced functionality requires some level of technical skill
Best free influencer marketing platforms
Many of the top influencer marketing platforms we've covered so far offer free trials. But did you know there are also platforms that offer free packages with no time limit? Often, these don't give brands access to as many features as top-tier packages, but they can be game changers for those on a budget.
Check out the best free influencer marketing platforms to sign up to.
1. Carro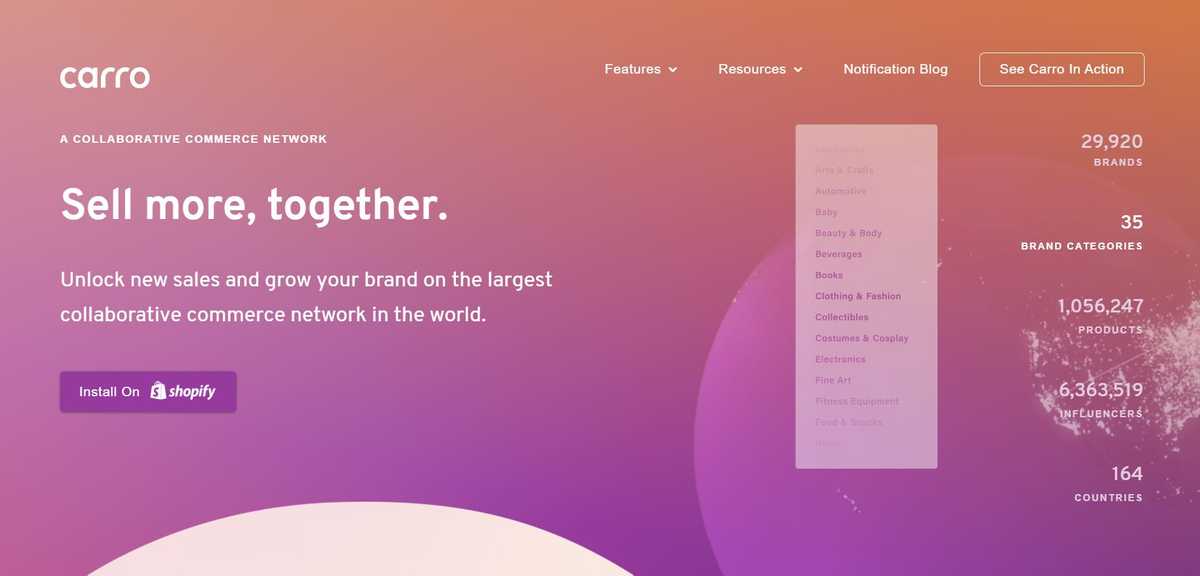 Price: £0/month
Carro is an influencer marketing platform that focuses on Shopify, making it a great resource for e-commerce brands and marketing agencies. The platform helps brands to find and collaborate with influencers, journalists and media who are already brand followers, customers or email subscribers – allowing marketers to leverage the power of their fans.
All of Carro's features are currently free, although the platform is looking into charging for their new 'Brand Partnerships' software that will allow brands to cross-sell their products on other Shopify stores.
Pros:
All influencer marketing features are free
Over 6 million influencers
Handy influencer discovery tools
Designed to help brands leverage the popularity of their current customers and fans
Automated order placing for product gifting
Ability to track brand mentions
Brands can receive pitches from influencers on collaboration ideas
Easy to set up and use
Cons:
Only works for e-commerce stores who are on Shopify
Only reveals influencers who already have a connection to the brand
2. Tribe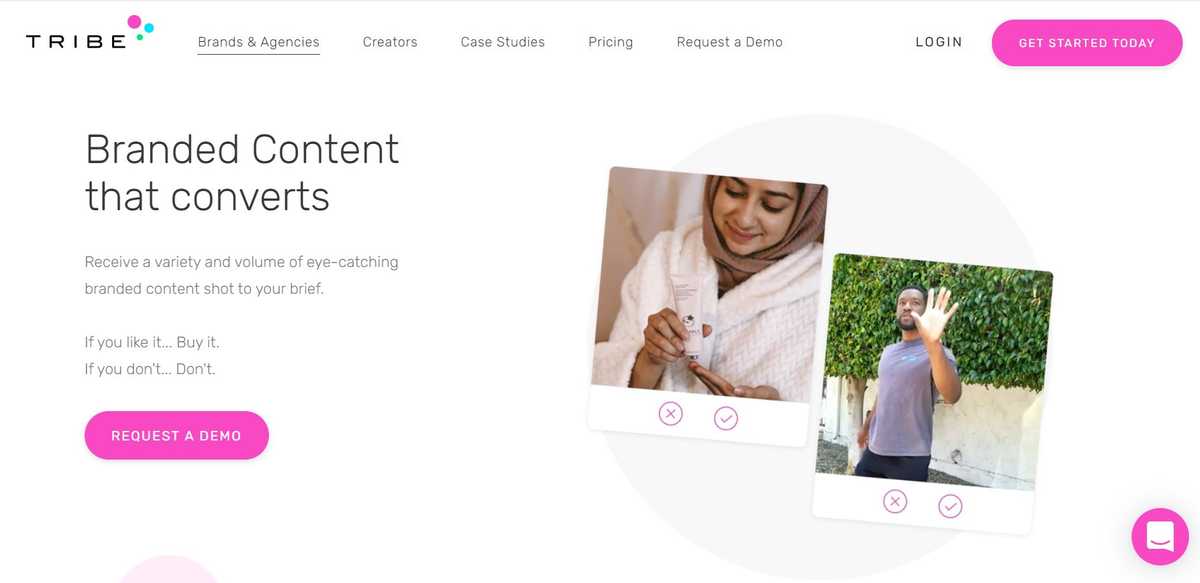 Price: Starts at £0/month
Brands who create an account on Tribe don't have to pay a subscription fee, making it a cost-effective and flexible option for those on a budget.. However, when you come to publish a campaign, you'll need to pay a £249 activation fee (be warned: it may be more cost-effective to fork out for a yearly subscription if you're planning on publishing a significant number of campaigns).
The great thing about Tribe is that you only have to pay influencers for content that you actually like. Influencers can send you content in response to your briefs, but you get to choose what gets published and anything that you don't approve for publishing is free.
Pros:
Free to create an account
Only pay for what you use
Nearly 75,000 influencers
Easy management of both influencer and content campaigns
Ability to gift products to influencers
Choice of varied and dynamic influencer content created to your brief
Cons:
Can't take communication outside of the Tribe platform
Requires £249 payment to activate a campaign
3. Publicfast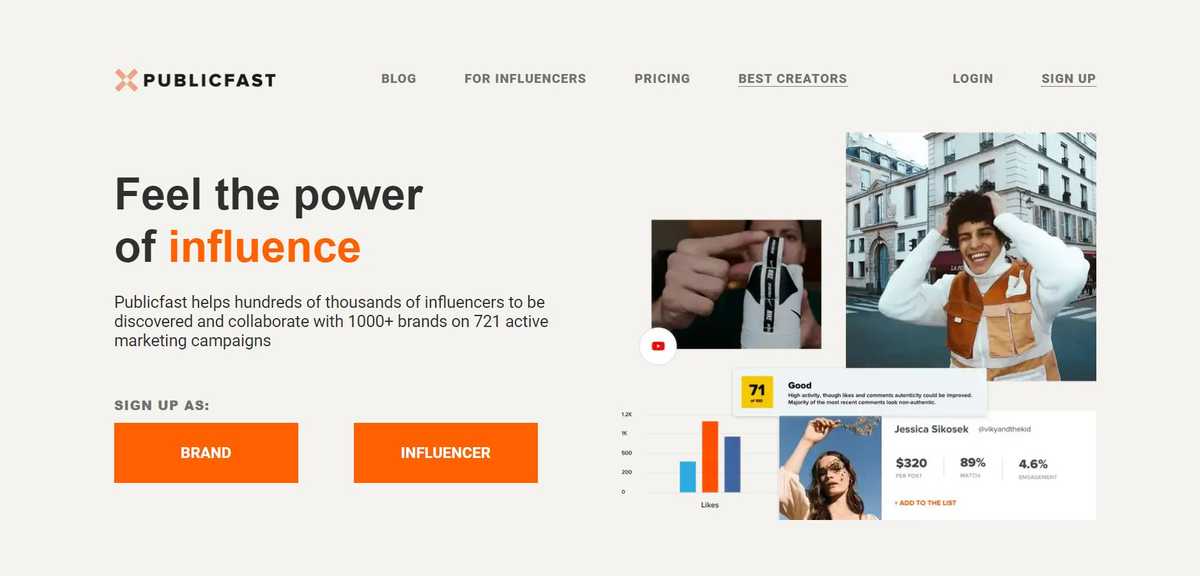 Price: Starts at £0/month
Publicfast has a choice of two packages for brands, including a free 'starter' package which gives access to 130,000 opted-in influencers. Just be aware that if you choose to manage a campaign through the platform, the package requires brands to budget a minimum of $250 for the campaign.
Publicfast claims to support influencer marketing campaigns across more channels than any other platform. With an easy-to-use search function, detailed metrics and reporting, it's a powerful end-to-end campaign management solution for brands.
Pros:
Free access to 130,000 influencers
Easy-to-use search function
Detailed metrics and reporting
More channels than any other platform
Cons:
Minimum $250 budget for campaigns
Can take time to learn the platform
--
As you can see, there's no one best influencer marketing platform on the market. Instead, finding the best one for your brand will require you to think carefully about your priorities – do you need a cost-effective solution to get you going? Or are you looking to scale up your influencer marketing with a more comprehensive offering?
If you're looking to forge successful influencer marketing partnerships, don't forget to sign up with Breezy. Our tailored discovery engine will uncover not just influencers, but tons of other partner marketing prospects that can help you grow your brand.