9 excellent examples of affiliate websites: the big guys
Publication date

Author

Reading time

11 minute read
Updated: 10th May 2023
Looking for some examples of successful affiliate marketing websites? You've come to the right place.
Perhaps you're toying with the idea of taking the leap to become an affiliate marketer. Maybe you're already a seasoned affiliate looking for ways to make more money with affiliate marketing. Or maybe you're a brand that wants to find affiliate marketers and create an affiliate program for your business. Either way, these excellent affiliate website examples are sure to provide you with the inspiration you need.
From comparison sites to product reviewers, these big affiliate marketing companies all started somewhere. But having made it big in the world of affiliate marketing, theynow bring in millions of pounds of revenue and employ large teams.
Looking for examples from the smaller guys? Check out our piece '6 excellent examples of affiliate websites: the bloggers'.
1. Wirecutter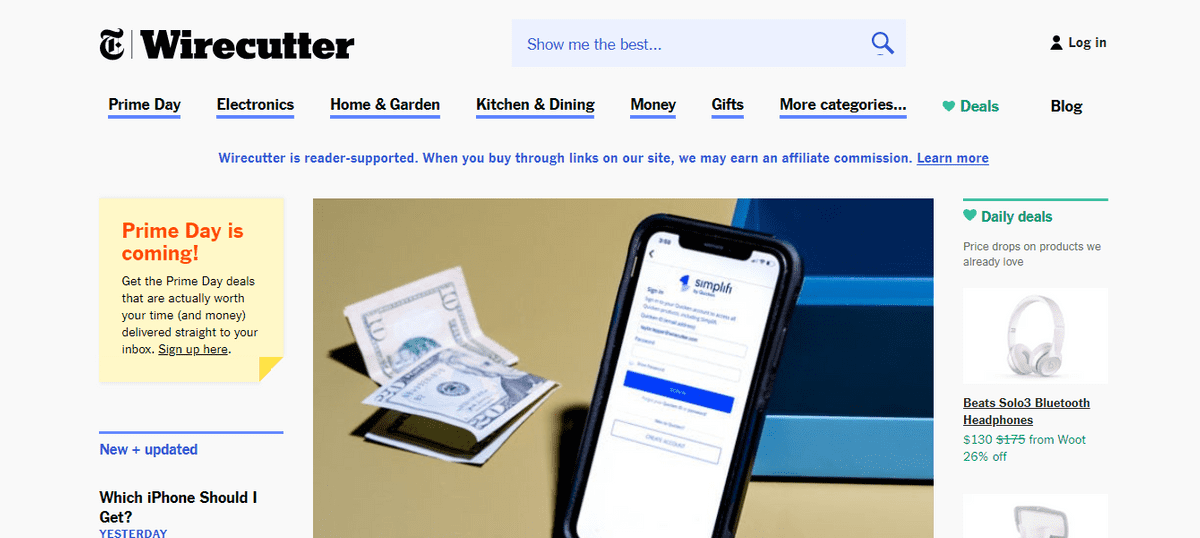 Monthly visits: 10 million
Estimated revenue: $20 million in 2018
Wirecutter is a journalistic-style affiliate website that lists the best gear and gadgets for people who want to save time figuring out what to buy. Founded in 2011, it was acquired by the New York Times in 2016 and features affiliate links to a range of websites, including Amazon, Home Depot, Nordstrom and Office Depot.
But with tons of affiliate marketing websites out there that do just that, why is Wirecutter so successful at what it does?
For one, the Wirecutter team are clearly experts in their fields. This mix of journalists, scientists and researchers deliver advice through a combination of rigorous reporting, interviewing and testing. It isn't one of those sites that simply scours the web for recommendations to pass on. Instead, they test hundreds of products before recommending just a few. Check out Wirecutter's piece about the best bath mats as an example.
Secondly, Wirecutter is transparent about its motives and the fact that it receives a commission from affiliate links. In fact, the declaration is right there, front and centre on their homepage! For Wirecutter, this focus on openness and honesty infiltrates everything they do. It even calls itself the reader's 'geeky friend with next-level research skills who tests everything they buy so you don't have to'.
Most of the site's product selections include some higher-priced items which are likely to generate some large commissions. So, it stands to reason that this affiliate website was bringing in more than $20 million for the New York Times by 2018.
However, in 2021, Wirecutter was moved behind New York Times' paywall, with users having to pay a subscription fee in order to access more than a limited number of articles. As such, the value it brings to the New York Times is no longer limited to just affiliate income.
2. Consumer Search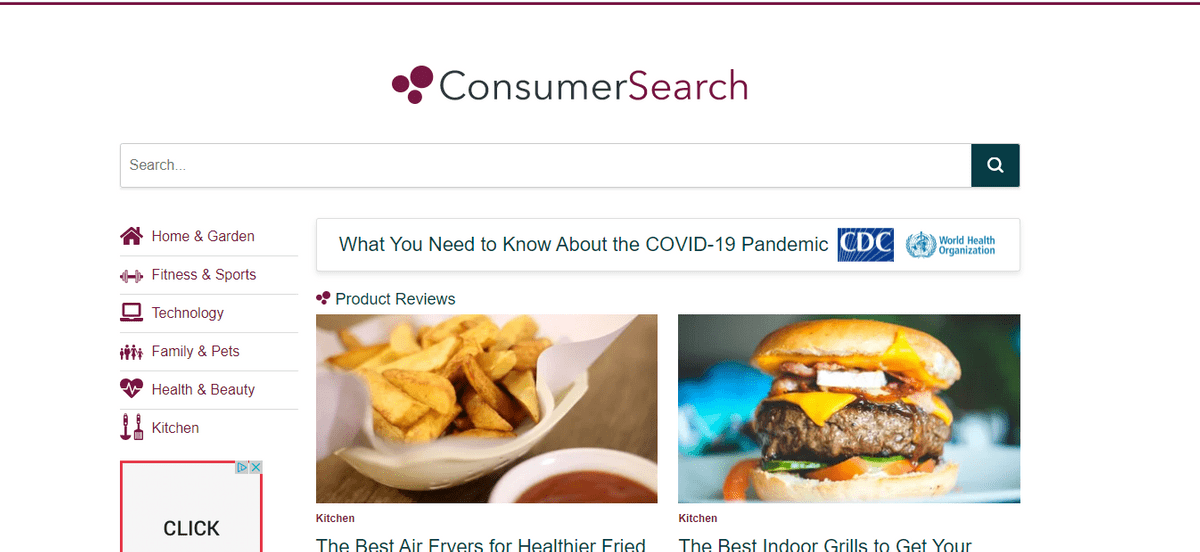 Monthly visits: 2 million
Estimated revenue: Acquired by About.com in May 2007 for $33 million and then sold to iAC in 2013 as part of a larger deal for $300 million
Consumer Search is a huge affiliate website that focuses on reviewing home products from lawnmowers to Bluetooth speakers and dishwashers. It's been running since 1999 and although it's not the most modern affiliate marketing website around, we just love its simplicity.
Consumer Search is doing what the majority of affiliates do when setting up niche affiliate marketing websites – targeting keywords related to the 'best' of each product type. The difference is that they're doing it on a much larger scale to most other affiliates, and they're getting great results – with 1.2 million monthly visitors.
We love Consumer Search's reviews because rather than simply ranking items best to worst, they feature a range of options that are great in different ways. Take Consumer Search's piece on home security cameras as an example. Yes, they have a 'best overall' pick, but they've also called out a product as 'best value' and another as 'best night vision' and so on, making it easy for consumers to find what they're looking for.
Consumer Search is fairly unusual in that pretty much all of its affiliate links lead to Amazon products – in fact, we couldn't find a single affiliate link leading to any other site. With a commission rate of up to 12%, Amazon certainly isn't the highest-paying affiliate program there is. But as a big site, Consumer Search is likely attracted to the sheer volume of offers that Amazon gives them access to. In fact, Amazon affiliates get over 12 million offers to choose from (check out our piece on the best affiliate programs for more)!
Although we can't be sure what their revenue is, Consumer Search was acquired by About.com in May 2007 for $33 million and then sold to iAC in 2013 as part of a larger deal for $300 million. So, we can safely assume this has been a very productive affiliate partnership for both Consumer Search and Amazon.
3. Money Saving Expert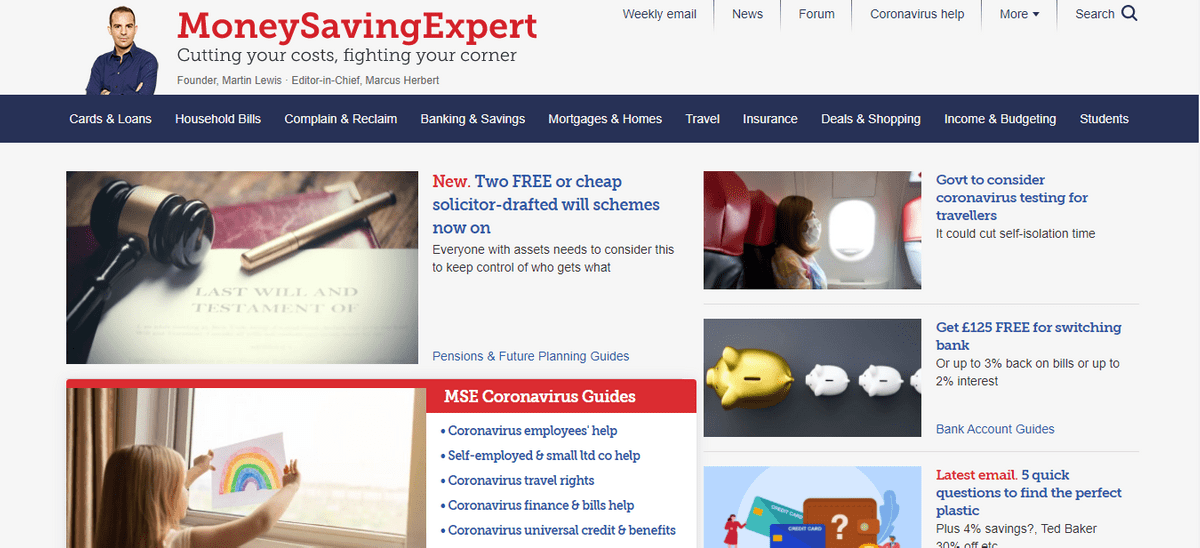 Monthly visits: 20 million
Estimated revenue: Worth around £3 billion
Money Saving Expert is the UK's biggest consumer website, dedicated to saving the average consumer money in all walks of life. The site provides journalistic research, handy money-saving tools and a large community forum.
So, what makes it so successful?
Unlike many review sites, Money Saving Expert is completely editorially independent. Companies can't pay to appear on the site, and although it makes its money through affiliate marketing, financial considerations don't impact the site's recommendations.
The company writes its guides based on consumers' best interests and only afterwards does a team search for affiliate links for the products that have been included. In fact, if the team can't find an affiliate link to a product, it will still be included and Money Saving Expert simply won't make any money off that recommendation.
Money Saving Expert is also unusual in that it tries to avoid building relationships with financial product providers themselves, in a bid to avoid any pressure from companies who want their products included. Instead, it mostly uses affiliate links provided by other affiliate websites, such as Tradedoubler, or by comparison sites, such as MoneySupermarket and uSwitch. Money Saving Expert then simply receives a share of the revenue.
You might think that this lack of financial motivation would inhibit the site's success but instead, it's cemented its position as a top 60 UK website. Since it was set up for just £100 in 2003, this affiliate marketing company has gained 16 million monthly users, almost 100 full-time staff, and an email distribution list of more than 13 million people.
4. This Is Why I'm Broke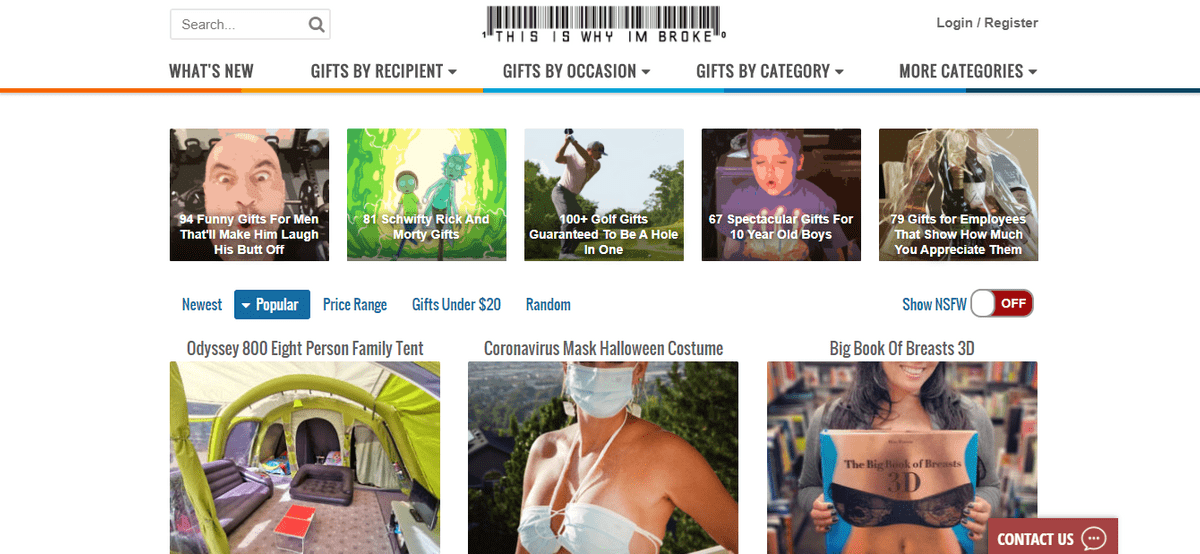 Monthly visits: 2 million
Estimated revenue: $70,000 per month
If you're looking for the most random, pointless and unusual gifts, This Is Why I'm Broke is your go-to site. It may be crammed with products that you'd think nobody in their right minds would buy (check out this pimple popping toy to see what we mean!) but they still make thousands of pounds in commission, with most of their affiliate links leading through to Amazon.
So what exactly are they doing right?
It isn't the most advanced or modern of affiliate marketing websites, but This Is Why I'm Broke is a master at tapping into consumer trends and people's sense of fun. These are exactly the kinds of products you'd expect people to share with friends, link to on social media or purchase for a joke, and the site's witty product descriptions certainly help! Plus, This Is Why I'm Broke lists quite a few high-value products, increasing the value of each sale.
But that's not the only way this affiliate marketing website makes money. When people click on these Amazon affiliate links, a cookie is saved, meaning that even if that person goes on to buy a completely different product from Amazon, This Is Why I'm Broke still gets paid. Of course, with its 'related products' feature, Amazon is an experienced cross-seller, so the conversion rate is likely to be high!
5. Skyscanner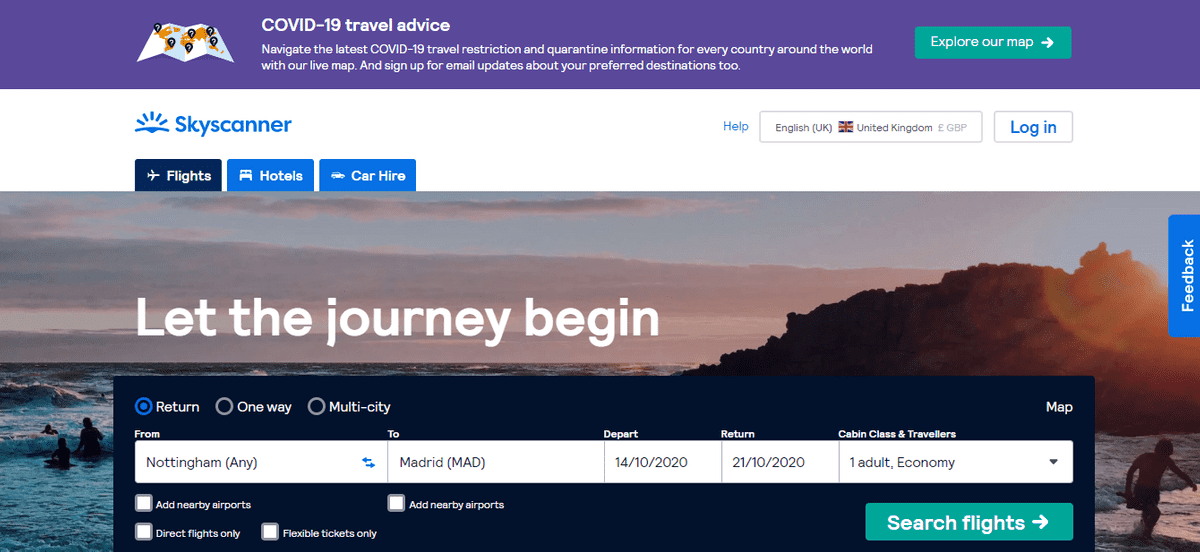 Monthly visits: 100 million
Estimated revenue: £114 million in 2021 (down from pre-pandemic peak of £311 million in 2019)
Skyscanner could be seen as the Google of travel sites, allowing users to search for and discover the cheapest flights, hotels and rental cars available on a given date. Skyscanner's algorithms list the options available in order of the cheapest deals first, but also include information such as reviews and key features to help consumers make the best choice for them.
The majority of Skyscanner's 11 million monthly visits can be attributed to Search Engine Optimisation (SEO), thanks to the affiliate website's detailed travel guides and tourism-focused articles. It's a great example of how SEO and affiliate marketing can work together hand-in-hand as Skyscanner then earns commissions from the airlines, hotel partners and car rental companies that it recommends or lists on its price comparison tools.
Like Money Saving Expert, Skyscanner always lists the best deals for consumers, even if it doesn't have an affiliate deal with the company being featured. This helps to build trust with consumers and means that visitors are likely to come back every time they have a holiday on the cards.
Not only is Skyscanner now a household name, but it also went from being founded by three university grads in 2001 to being acquired by Ctrip (the largest travel company in China) for approximately $1.8 billion in 2016. So, this affiliate marketing website is clearly doing something right!
6. Finder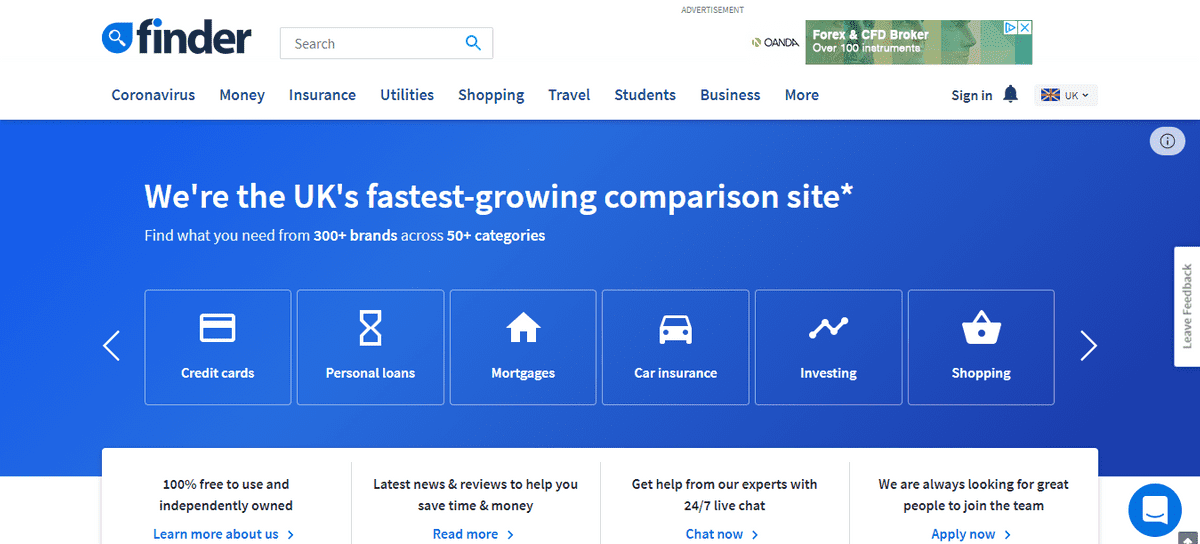 Monthly visits: 3 million
Estimated revenue: $113 million
Finder is the fastest-growing comparison site in the UK and a huge global affiliate marketing website. With a mission to make everyday decisions less of a chore, they help consumers find what they need from more than 300 brands across over 50 categories – from credit cards to mortgages, car insurance to hotels.
With so many niches covered, it's no surprise that this site appeals to a large range of brands looking to promote their products and services. Plus, Finder's client services team provides partners with advice and analytics to help improve their performance.
But what is Finder doing right on the consumer side?
Well, Finder offers much more than just straightforward product comparisons. It's also jam-packed with useful content pieces, money-saving advice and handy tools. Take this alcohol savings calculator, for example, showing just how much money you could save by giving up alcohol. This demonstrates Finder's focus on bringing value to consumers over selling products. By focusing on their consumers' needs first and foremost, the revenue generates itself!
7. PC Part Picker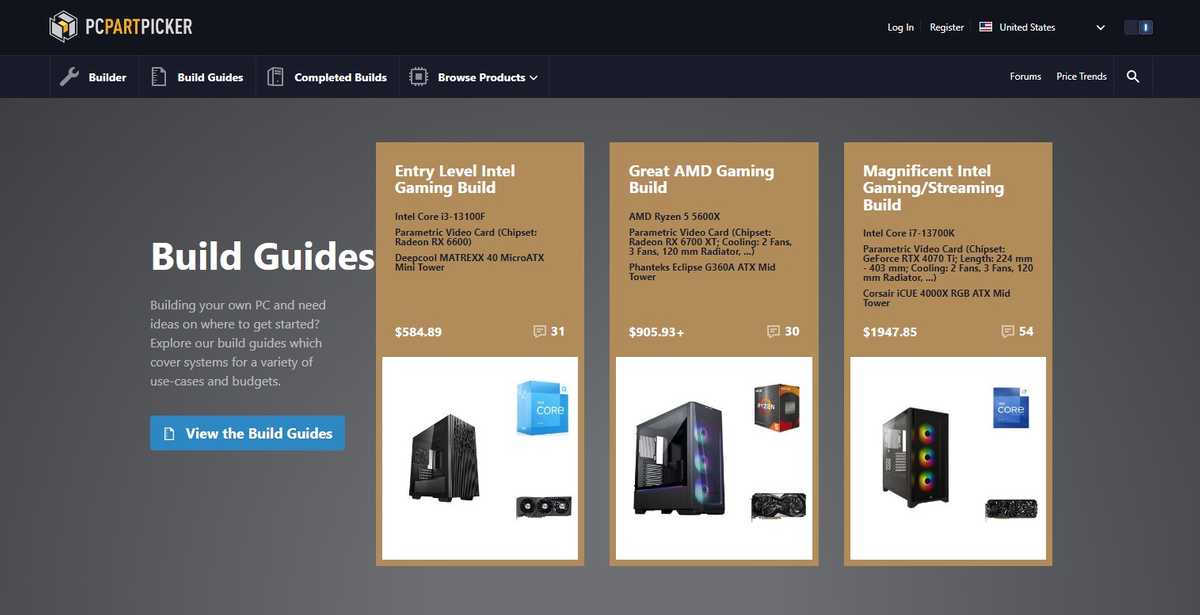 Monthly visits: 20 million
Estimated revenue: $5 million in 2021
While some affiliate websites have broadened their market to target a number of niches, PC Part Picker shows that it is possible (and can even be lucrative) to just find a niche in affiliate marketing and run with it. 
This successful affiliate website helps PC enthusiasts to build their own rigs. DIY computer building is a complex task, and PC Part Picker offers advice, examples of completed builds and even a builder tool to help you select the best products for your DIY computer. 
Products mentioned on the site mostly have their own product page. Alongside user reviews and specification info, PC Part Picker lists which manufacturers sell the product and at what price, so that users can get the best deal on the products they need (and so that, where possible, PC Part Picker can make a commission using affiliate links).
So, what can we learn from this?
Well, it clearly pays to put your users first when building an affiliate website. With a helpful mix of interactive tools, advice and real-life examples, PC Part Picker is giving its audience exactly what they need. It's also built a community around its niche, with a forum and examples of computer builds that have been submitted by its online community.
Like many of the affiliate website examples we've listed already, PC Part Picker is objective when it comes to picking which products to recommend. Yes, it makes compensation from some of its recommendations. But, as the site clearly states on each product page, the compensation it makes doesn't affect which products are displayed or the order in which they're listed. 
In this way, PC Part Picker is a resource that people can trust, knowing that their interests are being put first rather than the affiliate website's own pocket.
8. NerdWallet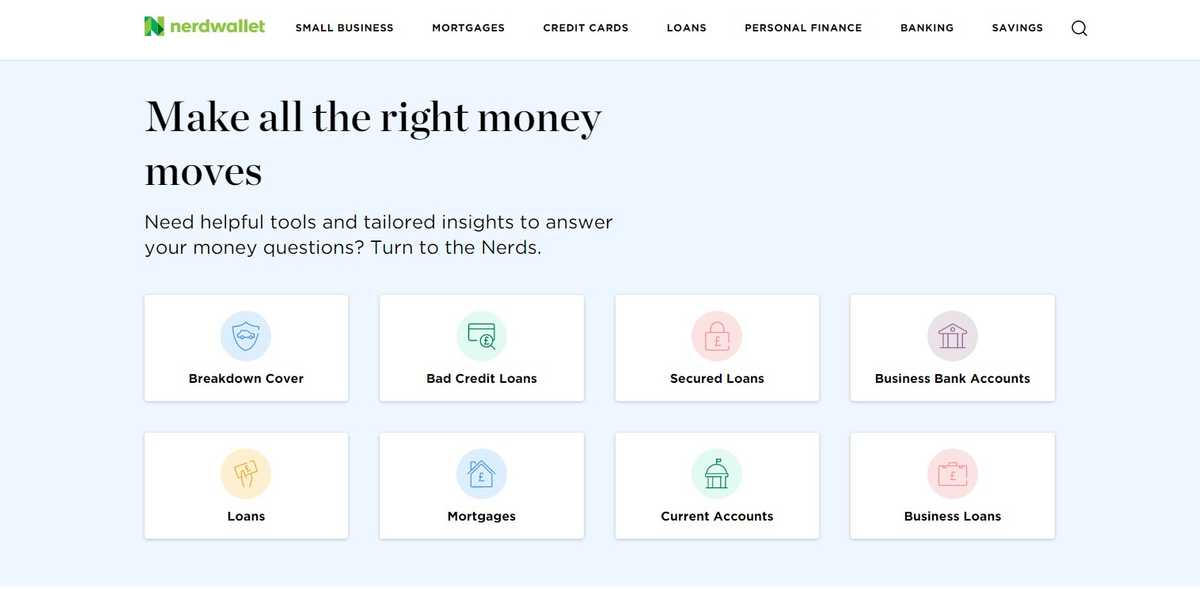 Monthly visits: 30 million
Estimated revenue: $539 million in 2022
It would be impossible (or perhaps just silly) to pull together a list of the best affiliate websites without mentioning NerdWallet. This affiliate marketing powerhouse is widely seen as a fantastic example to learn from and it's easy to see why.
NerdWallet is a financial comparison website that covers topics ranging from insurance to mortgages, credit cards to investment advice. In fact, it's so trusted that its name alone is typed into search engines more than 160,000 times every month! It makes its income through affiliate marketing and earns a commission on many of the financial products it compares, including with companies like Upstart and Capital One.
But what exactly is it that makes NerdWallet stand out in such a competitive niche?
Well, for one, it's invested in a bunch of tools to truly help its users. For example, it has a home affordability calculator, a debt payoff calculator and even a cash versus miles calculator for would-be jet setters. And those are just the tip of the iceberg!
We also love the fact that NerdWallet makes no assumptions about how much you already know about money. It's super accessible and makes it really easy to understand money matters, regardless of how much experience you have. It actually refers to its team as 'the Nerds,' giving users confidence that they're talking to people who are pretty obsessive about money and who really know what they're talking about!
Ultimately, people are going to like a resource that helps them to wrap their heads around such an important but complicated topic – and that helps them to make the best financial decisions!
9. Dog Food Advisor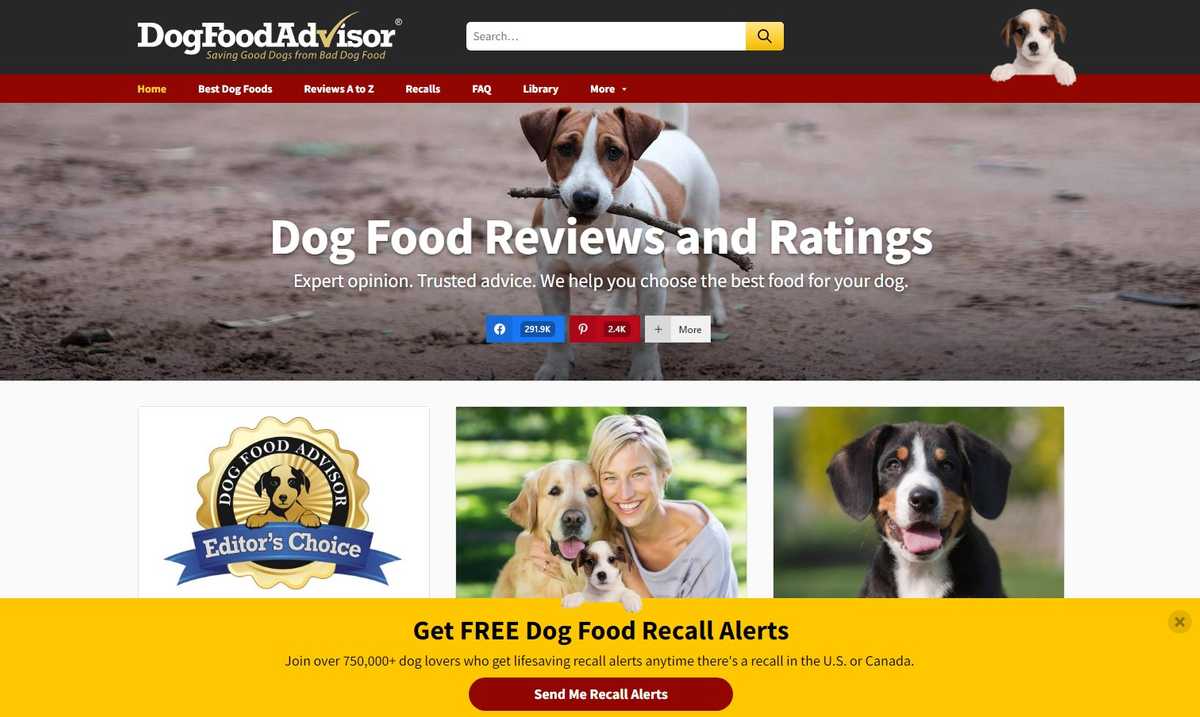 Monthly visits: 1.2 million
Estimated revenue: Acquired by Wag! in January 2023 for $9 million
Dog Food Advisor is an affiliate website that – you guessed it – advises people on dog food! It's capitalised on the globe's love of their furry family members to create a super niche website. Just think: this affiliate website could have chosen to advise people on the much broader topic of pet food, but instead chose to hone right in on food for man's best friend.
It primarily focuses on reviews. In fact, there are hundreds of dog food reviews listed on the affiliate's website, which can be filtered by brand – or by dry, wet or raw food types – making it really easy for users to find the information they're looking for.
Where Dog Food Advisor excels is in the detail and its knowledge of our canine companions. While you'll find tons of blogs claiming to list the 'best dog foods' online, Dog Food Advisor recognises that every dog and family is different. It really delves into the nitty gritty of which dog foods excel in which areas, including the best foods for dogs with allergies or even something so specific as the best small breed puppy foods.
To make money, Dog Food Advisor receives a commission from online retailers selling the foods it recommends – like Chewy or Amazon. However, it's very clear about the fact that it doesn't get paid to favour particular products. So, users can be sure that the reviews they read are independent and unbiased. This is particularly important when it comes to something as important as a beloved family member's health.
Another clever move is to offer 'free dog food recall alerts.' Promising to send users an alert anytime there's a recall in the US or Canada is a great way to get users to join Dog Food Advisor's mailing list – alongside the free alerts, users also get tips and ideas about feeding their dogs better. Even if these emails don't contain affiliate links, they'll certainly be a key way to drive recurring traffic to the site where there are affiliate links aplenty!
--
As these nine examples of affiliate marketing websites show, successful affiliates come in many different forms – from famous comparison sites to niche review sites (and that's not to mention those that make money as an affiliate without a website!).
Plus, since all of these websites are making huge profits on commissions alone, just think how much value they must be bringing to their affiliate partners! At the end of the day, a successful partnership is a win-win for both the affiliate and advertising brand. Check out our beginner's guide to affiliate marketing to find out more.
So, how do I become a successful affiliate marketer?
If you're ready to get started, don't forget to book a demo for Breezy. Whether you're looking for affiliate products to promote or an affiliate to help you grow your business, it's the quicker and easier way to find hundreds of potential affiliate partners who could help you achieve your goals - we can't wait to show you!
Imogen Beech
Imogen is a copywriter and content writer with over two years' experience writing about the exciting world of strategic partnerships, as well as running her own business. She loves learning about new topics as she writes, and has enjoyed penning articles on industries ranging from mortgages to events, theatre to home improvements and everything in between.
View more by Imogen Beech