6 excellent examples of affiliate websites: the bloggers
Publication date

Author

Imogen Beech

Reading time

8 minute read
Want to make money with affiliate marketing? Or decided to create an affiliate program for your business?
Affiliate marketing is one of the most underrated types of strategic partnership out there. Not only does it give companies a risk-free way to promote their products, but it also gives your average Joe a fantastic way to earn a passive income (give our beginner's guide to affiliate marketing a read to find out more). And the best thing of all? Anyone can do it!
To give you some much-needed inspiration, we've hunted down some of the most successful affiliate marketing websites run by bloggers that have made a (very decent!) income through affiliate marketing.
From affiliate marketing bloggers to hairdryer reviewers, these affiliates come in all sorts of shapes and sizes. But they all started off as humble one-person blogs before growing into the amazing money-making machines that they are now.
So, whether you're looking for great examples of what affiliate marketing can do for your business, or for some inspiration to help you learn how to become an affiliate marketer, let's take a look at what we can learn from these successful affiliate marketing websites.
To view a list of larger organisations that have built their revenue through affiliate partnerships, check out our piece '6 excellent examples of affiliate websites: the big guys'.
1. John Chow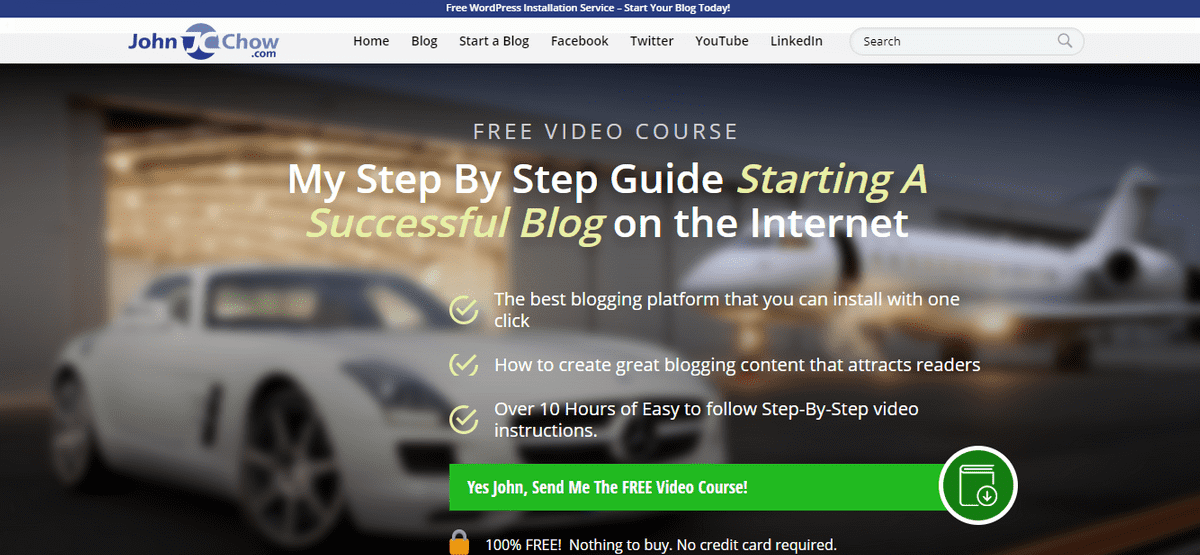 Monthly visits: Over 200,000 per day
Estimated revenue: $83,320 per month
When it comes to affiliate marketing bloggers, John Chow is seriously nailing it. He used affiliate marketing to take his blog from making no money at all to making over $40,000 per month in just two years, working on it for just two hours a day! And he even won Best Marketing Affiliate Blog at the 2012 Affiliate Marketing Awards.
If you're wondering what makes this top affiliate marketing blog so special, we'd say it comes down to a few things: the variety of topics covered, the detail he goes into and the range of mediums he uses. John Chow covers multiple topics in great detail, from blogging to cars, technology to fine dining. And rather than just focusing on written content, he also publishes videos on Youtube which he then links to on his blog.
By linking to some pretty high-value products, John Chow's able to maximise on the commissions he receives. Plus by linking to some subscription services (like email service provider AWeber), he even gets some recurring commissions.
John Chow prides himself not just on the number of visitors he receives, but on the number of active daily readers and followers his affiliate marketing website generates – over 200,000! He uses social media extensively to promote his blog pieces and drive traffic to his affiliate website, but in order to engage such a large audience, it's clear that his content must be of real value.
2. 50em.com

Monthly visits: 65
Estimated revenue: Unknown
Now, you might think that 65 monthly visits isn't enough for 50em.com to warrant its place on this list. But this seven-page blog does something incredibly clever. Rather than signing up to multiple affiliate programmes, it promotes just two competing products – Ontraport and InfusionSoft, which are two of the most popular automation products on the market.
50em has geared up his whole affiliate marketing website to helping readers choose between these two products, through a mixture of videos and written content (although it's worth noting that when we visited the site, the videos were showing error messages).
The genius thing about this super niche affiliate marketing website is that anyone on there is sure to be actively looking to buy one of these two products – so the conversion rate is likely to be very high. This is a great example of how important search intent is when you're looking to make SEO and affiliate marketing work hand in hand.
On top of that, both tools run on a subscription basis and can cost hundreds of dollars a month. That means just one sale could prove extremely lucrative (InfusionSoft starts at $199 per month while Ontraport's monthly fee starts at $79 but can go up to $497)!
Not only does 50em provide useful information and honest, first-hand accounts of both products, he also welcomes questions, which really helps to build a relationship with his readers. In fact, we particularly love the wording: 'If you've got a question about Infusionsoft or ONTRAPORT, don't let it melt your brain? I bet I can answer it. Try me.' In this way, he presents himself as the definitive source on all things related to this topic, marking him as an expert and doing wonders to build trust and ultimately generate sales.
3. Missy Ward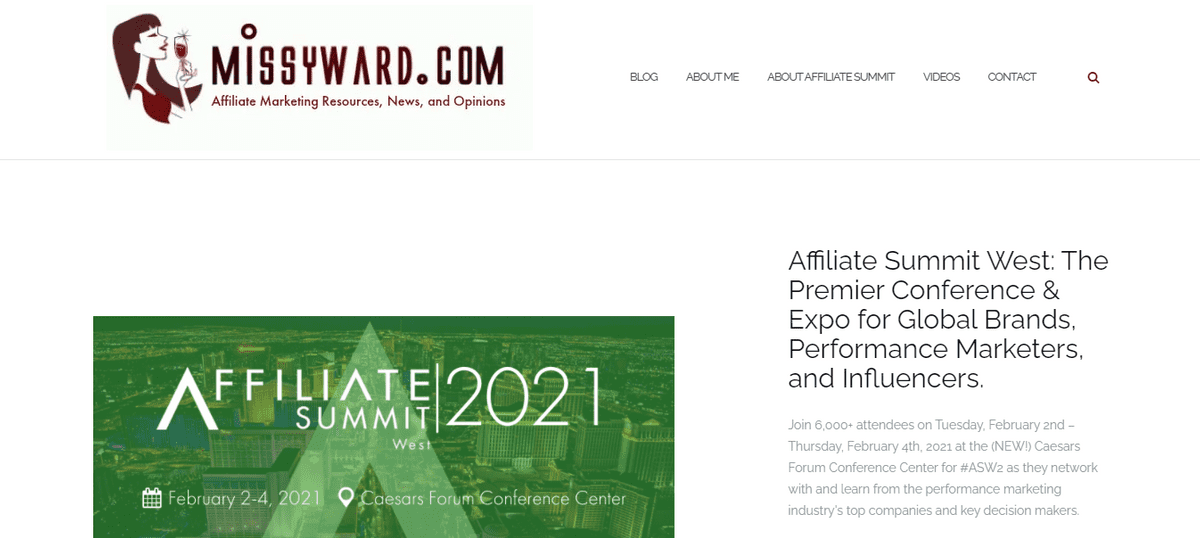 Monthly visits: Unknown
Estimated revenue: $100,000 to $500,000 (NB. This includes income generated with her business partner Shawn Collins from Affiliate Summit)
Missy Ward is a real expert when it comes to affiliate marketing. She's the CEO and co-founder of Affiliate Summit, she's written books about making money through blogging, and of course, she's a successful affiliate marketing blogger herself. In fact, she's been in affiliate marketing since 1999!
Aimed at helping others to make money through affiliate marketing, missyward.com gives readers access to affiliate marketing resources, news and opinions. And of course, there's no shortage of discounts for Affiliate Summit events too.
What we love about Missy Ward's blog is that her writing style is super relatable. Her advice can be followed by anyone, whether they have a clue about affiliate marketing or not and she forms a really direct relationship with the reader – we just love lines like: 'Raise your hand if you have one or more abandoned affiliate sites. I know I do!'
Plus, she's really open about how she makes her money. A lot of the time, disclosures on affiliate links can make it sound as if the affiliate is a little embarrassed or cagey about the fact they're making money from their readers. Not Missy Ward!
On nearly all of her recent posts, you'll see the disclosure message: 'Disclosure: If I'm not making money through affiliate links on the post you're currently reading, it's an oversight on my part and will be corrected soon.' We just love how unashamedly honest she is!
4. Yaro Starak
Monthly visits: Approx 9k
Estimated revenue: $200,000 from affiliate marketing alone
When Yaro Starak created a blog about his experiences as an entrepreneur, writing blog posts was just a hobby. But 18 months later, he was earning between $5,000 and $10,000 a month.
Starak now uses blog to teach budding entrepreneurs how to build a business around a certain business model, which includes creating a blog, growing an email newsletter and selling his own courses. While affiliate marketing was never his main focus, over the years it's become a lucrative secondary strategy for him, earning him over $200,000 from this alone.
So, what is he doing right? For a start, there's a real market for his content out there. And this market is willing to spend money on associated services and products. In Starak's case, he admits this was a bit of a happy accident. However, he now stresses the need to put in the research before wasting two years of your life on an idea that can never make money.
Starak's affiliate income comes primarily from writing product reviews. Essentially, he'll write about something that he's used personally that has an affiliate programme. While his affiliate marketing income initially took a while to build, Starak realised that by promoting these blog posts using email marketing, he was able to multiply his results by 10x.
The other thing that we love about Yaro Starak's blog is the fact that you could very easily spend time reading all his useful, educational content without spending a penny. His content is genuinely useful, which is what's made it possible for him to build such a large email list and following. It's also worth noting that Starak spends nothing on paid traffic, with all his monthly visits resulting from organic traffic.
5. The Landlord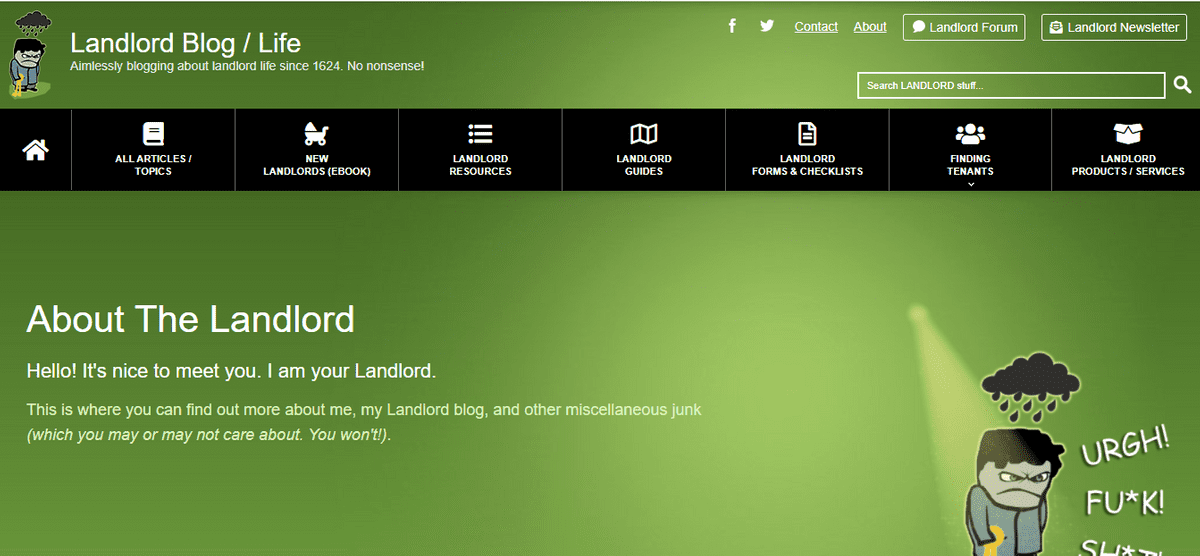 Monthly visits: 350k
Estimated revenue: Unknown
Propertyinvestmentproject.co.uk is a wildly successful niche affiliate website specialising in all things to do with being a landlord. As a personal blog run by someone who elusively calls himself 'The Landlord', it's full of advice, rants and opinions, all based on the blogger's own personal experiences as a buy-to-let landlord.
This site makes all of its money from affiliate marketing (although of course, it's worth noting that 'The Landlord' doesn't make all of his money from affiliate marketing, but rather from investing in property). So, why is this site doing so well?
Firstly, it's super niche. If you're a budding landlord looking for advice on getting started or a seasoned landlord who's run into a specific problem, this site was (quite literally) made for you. However, the niche is big enough that 'The Landlord' still has plenty of followers, with over 60,000 signed up to receive his email newsletters.
Having such a niche audience is great when it comes to recommending affiliate products. 'The Landlord' can make sure that all his affiliate links lead to products and services that his audience genuinely needs – like this Portable Appliance Test. Read our guide to finding a niche in affiliate marketing to learn more.
Secondly, all the advice and opinions you'll come across on this affiliate marketing website were formed from firsthand experiences. This isn't a case of reading tips written by a copywriter who's researched the buy-to-let industry. Rather, it's a case of learning from someone who's been there and done it all before (and has made mistakes so you don't have to).
6. Oomphed!

Monthly visits: 700
Estimated revenue: Unknown
While we're on the topic of niche affiliate marketing websites, we simply have to mention Oomphed! This hairdryer review site was created by Ellie, who spent so much time trying to find the best hairdryer for her long, thick, curly hair that she decided to share all the knowledge she'd picked up on her search via a blog.
Oomphed! features reviews of over 50 hairdryers, divided up into categories based on hair type (frizzy, curly, thick…) or hairdryer type (ceramic, ionic, tourmaline…). And of course, there's an affiliate link to every hairdryer that's featured, making it super easy for her to earn commissions.
What we like about Oomphed! is that Ellie has found something she does well and stuck to it. Focusing on such a small product category means she can be the expert in hairdryers and has made Oomphed! the place to come for anyone on a hairdryer search. Plus, a hairdryer isn't something you just buy once – her readers are likely to return to her site every time they need a new one.
To narrow things down still more, this is solely an Amazon affiliate website, meaning that every link she posts leads to Amazon. While the Amazon affiliate programme doesn't offer the most lucrative commissions out there, hairdryers can be expensive. So, the site will likely still generate a decent amount in commissions.
On top of that, Amazon is a master at cross-selling. So, Ellie may well receive commissions from other items that her readers go on to buy after clicking on her links. Check out our piece on the best affiliate programs to find out more.
--
As you can see, there's a huge variety of affiliates, even within our 'bloggers' category. And of course, it's totally possible to make money as an affiliate without a website too, whether that's through affiliate marketing on Instagram, setting up your own YouTube channel, using a content publishing site or even using PPC to promote your affiliate links. But that's another story!
Ready to build your own affiliate website? Or looking to find affiliate marketers who can help you grow your business? Just sign up with Breezy to reveal hundreds of potential partners you could collaborate with. Enjoy!