The 7 best affiliate programs: from the top-paying to the biggest
Publication date

Author

Alex Phillips

Reading time

13 minute read
What makes a great affiliate program? Is it high commission rates, a huge choice of affiliate products or cookies that last forever?
There's no easy answer. After all, a great affiliate program has to work for both the brand and the affiliate, and no two brands or affiliates are the same. One brand might not be able to offer the highest commission rates, but they might offer recurring payments on subscription products. Another might operate with a short cookie duration, but the commissions might make up for it.
We've pulled together a selection of the very best affiliate programs that have all become successful in different ways. Whether you're a brand looking to grow your business through affiliate marketing or an affiliate marketer looking to increase your income, these affiliate programs are a great place to start. We'll take a look at why they work, where they fall short and what you can learn from them.
But first things first...
What even is an affiliate program and how does it work?
An affiliate program, also known as an associate program, is a brand's system for paying someone to promote its products and rewarding them based on performance (check out our beginner's guide to affiliate marketing for more). It lets potential affiliates know:
What commission they're offering
Who gets the commission (all affiliates or only the first or last?)
When affiliates get paid
What payment methods the brand uses
How conversions are tracked
How long conversion cookies last
Based on this information, an affiliate can choose whether or not a brand's affiliate program is right for them. That's why it's important that brands make sure their offering is attractive.
The best way to get affiliates' attention is through high commission rates. If a brand's relatively unknown, it'll be hard to attract affiliates with commission rates of around 5-10%. But brands that offer 25-30% are likely to be much more desirable.
However, offering high commission rates isn't always possible. And, as these amazing affiliate programs show, there's much more you can offer affiliates besides just a high-paying program.
1. ClickFunnels Affiliate Program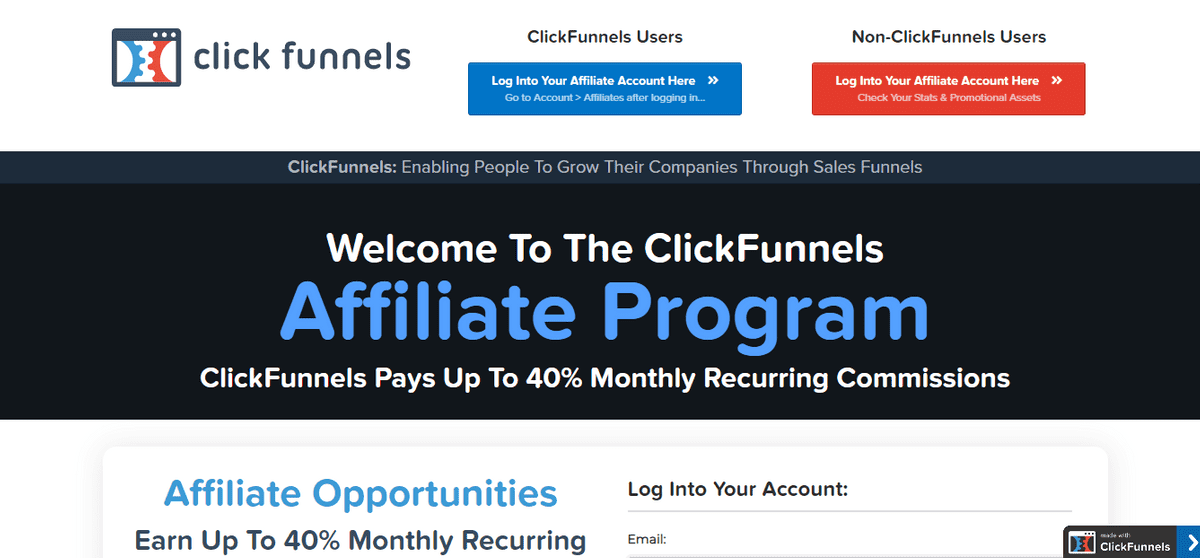 Commission: Roughly 40%
Cookie life: Unlimited
ClickFunnels is a versatile software that enables entrepreneurs to build sales pages, marketing funnels and other types of sales funnels for their business.
From our point of view, there are two huge benefits to the ClickFunnels Affiliate Program. Firstly, it offers around 40% commission on all ClickFunnels products that you promote. Given that a subscription for their flagship product costs around $97 per month or $297 per month (depending on which plan your visitors select), you can see how you could quickly earn a lot of money as an affiliate!
Secondly, ClickFunnels is a recurring product. So, instead of just getting one lot of commission per referral, you continue to receive a commission every month for as long as your user stays subscribed! It's a great way to earn a more consistent income through affiliate marketing.
Plus, while the majority of affiliate marketing programs use cookies that last around 30 days, ClickFunnels has something that they call 'sticky cookies'. This means that if you refer a customer and they buy any other ClickFunnels products, you get the commission, for the lifetime of the customer! Just bear in mind that commissions are paid 45 days after the 'cooling off' period, in case there are any refunds or cancellations.
The biggest restriction we can think of in relation to the Clickfunnels Affiliate Program is that it's only really appropriate for B2B affiliates, whereas programs like Amazon Associates have a much wider appeal for a large range of audiences. However, if you're an affiliate who has an audience of entrepreneurs and startups, this is a top-paying affiliate program that can't be beaten.
Pros
40% commissions
Recurring products mean you earn each month
'Sticky' cookies give you commissions for the customer's lifetime
Cons
Payments are made 45 days after a 'cooling off' period
Only appropriate for b2b affiliates
2. Fiverr Affiliates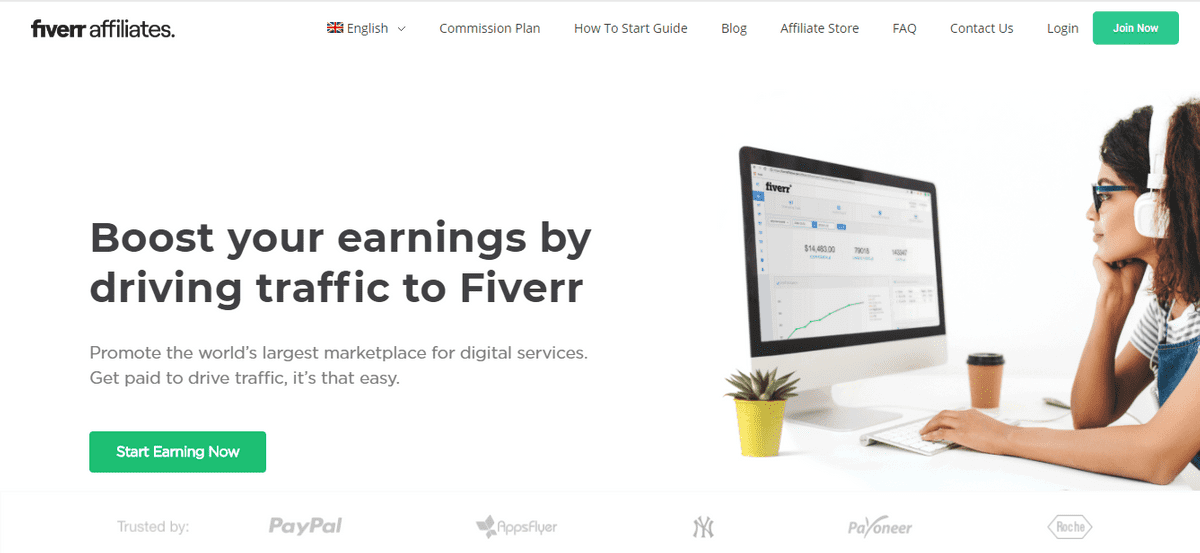 Commission: Dynamic CPA up to $150 or $10 CPA + 10% RevShare
Cookie life: 30 days
Fiverr is the world's largest marketplace for online services, helping users to find freelancers who offer anything from logo design to copywriting, admin to coding.
With over 250 categories and more than 3 million digital services, the Fiverr affiliate program will appeal to affiliates in a range of niches and offers plenty of choice. Plus, affiliates can promote any of Fiverr's offshoot services, such as Fiverr Learn, Fiverr Elevate and AND CO.
The program's strongest suit is easily its commission rates. This top-paying affiliate program offers two commission plans for services: a $15 to $50 CPA for first-time buyers and a $10 CPA plus 10% revenue share for purchases made within the first 12 months. On top of that, there are excellent commissions on Fiverr's other products too – we're talking $150 for Fiverr Pro, 30% for Fiverr Learn and 30% for AND CO.
Fiverr affiliates also get tons of creative assets to help them promote Fiverr's services, in all sorts of formats, sizes and languages. A bespoke dashboard helps them manage and monitor campaigns, and support from a full-time affiliate marketing team makes the whole program generally smooth and pain-free.
However, the program's biggest drawback is that it only provides commissions for first-time buyers. This is in contrast to many other affiliate marketing programs that pay commissions for repeat purchases, so it does let the service down.
Not only that, but commissions on sales of Fiverr Pro are capped at $150. While that's not a bad figure, Fiverr Pro services can cost as much as $8,500, so a variable commission rate would earn affiliates more. Plus, it's worth noting that Fiverr won't pay affiliates until their commissions are over $100, which is relatively high.
Pros
More than 3 million digital services that affiliates can promote
No referral limit
Easy-to-use dashboard
Tons of creative assets and resources
Dedicated affiliate manager
Cons
Commissions only apply to first-time buyers
$100 payment threshold
Fiverr Pro commissions are capped at $150 per sale
3. Amazon affiliate program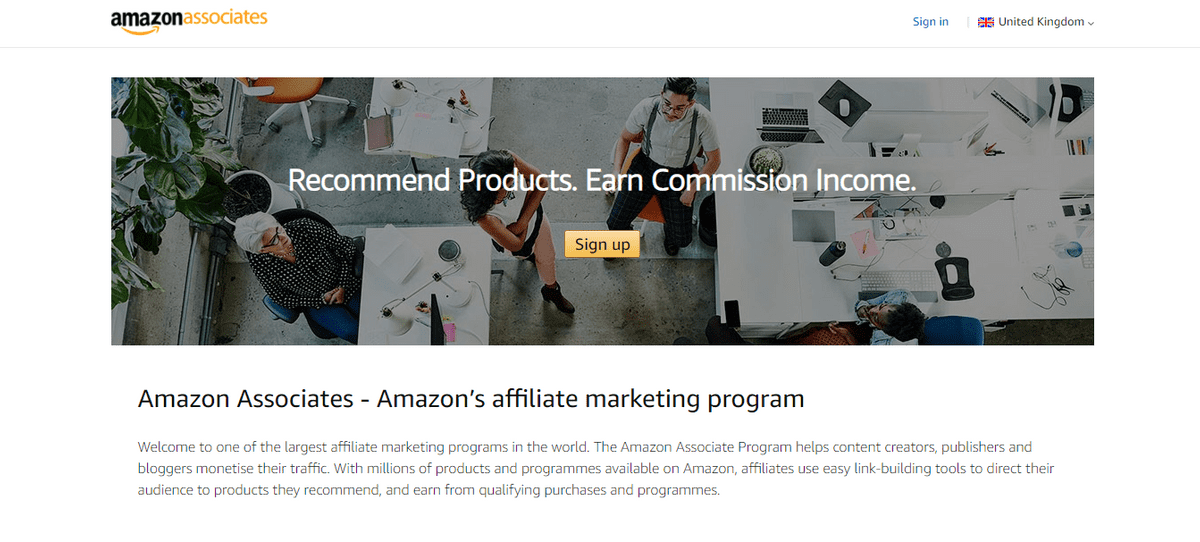 Commission: Up to 12% depending on product category and qualifying revenue
Cookie life: 24 hours
Amazon Associates is the largest affiliate program in the world, with more than two million affiliates and over 12 million offers for affiliates to choose from.
The best thing about becoming an Amazon affiliate is that you get commission on all products bought within your cookie. So, for example, your Amazon affiliate link might send a user to a bike helmet, but if they then go on to buy a coffee table, you'll earn commission on both items.
This is particularly great because Amazon is such a master at conversion. Just think how many times you've gone to Amazon to buy one thing and come away with a basket full of items! It's all due to the fact that Amazon is constantly split testing their platform to find new recommendations for your visitors – so, the likelihood of your visitor being upsold (and therefore earning you commission on a number of items) is high.
The Amazon UK affiliate program offers commission rates of up to 12%, providing you're in the right niche. However, the commission rate (and choice of products available to promote) varies massively based on which product category you're interested in and some product categories will earn you well under.
In the UK, sales of home entertainment, smartphones and mobile phones will earn you a measly 1% commission, while Prime wardrobe purchases and gift cards won't earn you any commission at all! So, make sure that you scrutinise Amazon's table of commission rates when deciding whether the Amazon affiliate marketing program is right for you.
The other thing to be aware of is that the cookie duration for the Amazon affiliate program is very short. While the standard cookie life for affiliate programs is around 30 days, cookies from Amazon affiliate links have a duration of just 24 hours! However, don't forget that this means _anything _your visitors buy from Amazon during these 24 hours will earn you a commission. Plus, there's one very important exception – if one of your visitors adds an item to their basket, Amazon gives you a whopping 90-day cookie on that product!
Pros
Earn commissions on products upsold by Amazon
High conversion rates
12 million offers for affiliates to choose from
90-day cookie on items added to basket
Cons
24-hour cookie duration
Low commissions for some niches
Complex policies and terms of service
4. Shopify Affiliate Program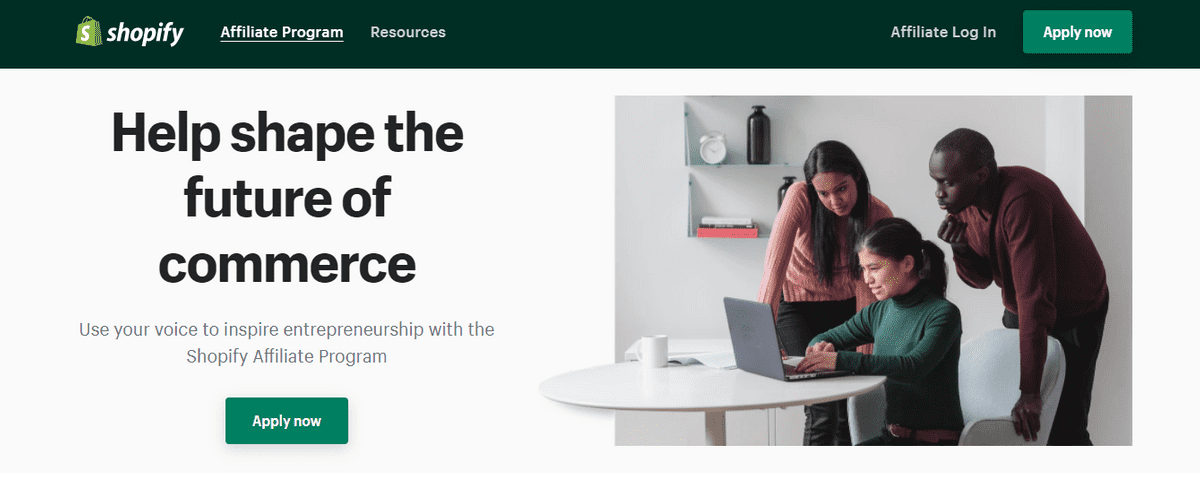 Commission: 200% of customer's first bill
Cookie life: 30 days
Shopify is a subscription-based platform that makes it easy for entrepreneurs and small businesses to sell products anywhere – online, through social media or in-person.
The Shopify affiliate program has a very generous commission rate of 200% of the customer's first bill. According to their website, this means that affiliates earn an average of $58 for each user who signs up for a paid plan and a maximum of $2,000 for each Plus referral. So, if you're an affiliate whose target audience is small businesses and entrepreneurs who could benefit from subscribing to the Shopify platform, this could be a high-paying affiliate program for you.
Other than the commissions, one of our favourite things about the Shopify Affiliate Program is its lifelong trial conversion. It means that if someone you've referred to Shopify completes the 14-day free trial and upgrades anytime later, you'll still get a commission – no matter how much time has passed!
Plus, as long as your account balance is greater than $25, the Shopify Affiliate Program pays out twice a month via PayPal. That's a lot quicker than most affiliate programs, which often require you to wait until you have more money in your account, or that simply pay out less regularly. They also pair you up with an affiliate manager so that you can easily ask questions and better understand how your promotions are performing.
There is, however, one major downside. Although Shopify is a subscription-based business, they don't give out recurring payments. This is a little disappointing when you consider how much money they could be earning from your referral if a customer subscribes to the service long-term. They also have some pretty strict policies, which have led to several affiliates claiming they have been unfairly banned from the program.
Pros
200% commission on customer's first bill
Lifelong trial conversion
Fast payouts
Dedicated affiliate manager
Cons
Strict policies have caused many affiliates to be banned
No recurring commission
5. eBay Partner Network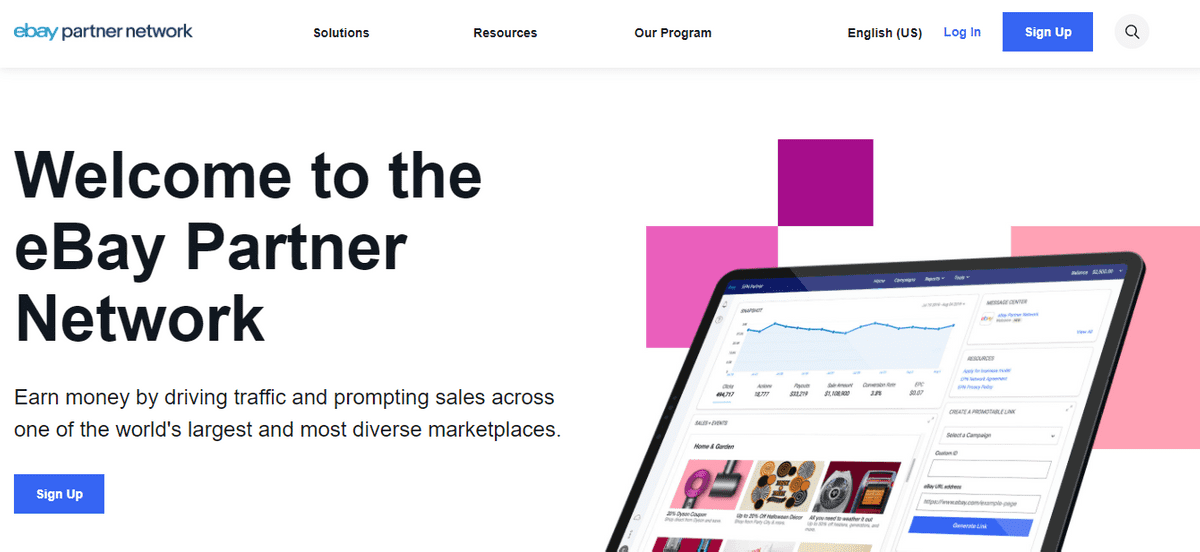 Commission: From 1% to 5% depending on product category
Cookie life: 24 hours
With 1.4 billion listings and 183 million buyers, eBay is one of the largest online marketplaces in the world. And luckily, it has a popular affiliate program to match!
We love eBay Partner Network because its policies give affiliates more freedom to promote products in a way that works for them, in comparison to Amazon's affiliate program. The affiliate models it supports include email marketing, social sharing, loyalty, blogging and more.
Similarly, although its commission rates don't stretch as high as Amazon's, you might be able to earn more from eBay Partner Network depending on your niche. That's because both affiliate programs have a changeable commission rate depending on the category of the product you're promoting. For example, say you want an affiliate link to a mobile phone. eBay's affiliate program will earn you 2% commission on conversions, whereas Amazon's will only earn you a measly 1%. Make sure to check eBay affiliate pogramme's rate card to ascertain whether their commission rates are worth it in your niche.
Although its commission rates clearly aren't the highest, eBay excels in upselling – with 'sponsored items' displayed on each product page, it's very successful at making sure every visitor leaves with more items than they originally came for. And, like Amazon, it allows affiliates to earn a commission on any items that a visitor buys, rather than just from the item your affiliate link leads to. That means that you're likely to benefit from receiving commissions from a pretty packed basket!
However, while eBay's cookies used to last seven days (the same amount of time many of eBay's auctions last), they now only last a paltry 24 hours. Although this is in line with Amazon's affiliate program, it does more damage to eBay's affiliates because of the site's bidding system.
Basically, the best online bidders don't bid until right near the end of the auction to avoid inflating the item's price. So, many affiliates aren't receiving credit for the bids that were brought in thanks to their marketing efforts, which has caused a big reduction in income for many longtime eBay affiliates.
That said, according to eBay, 90% of the site's listings are 'buy it now'. So, as long as affiliates stick to items that can be bought immediately rather than bid upon, eBay Partner Network can still be a high-paying affiliate program.
Pros
Earn commissions on products upsold by eBay
High conversion rates
Choose from 1.4 billion listings
Cons
24-hour cookie duration
Risk of losing out on late bids
Low commissions for some niches
6. Udemy Affiliate Program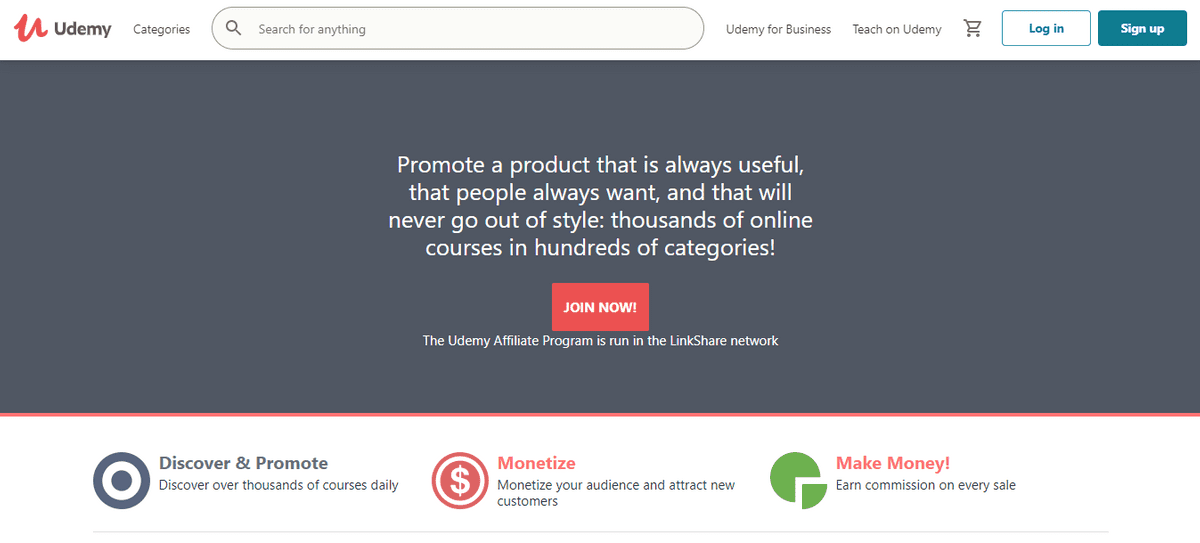 Commission: 15%
Cookie life: 7 days
Udemy is a reputable marketplace for e-learning and online tuition, with more than 50 million users in 200 countries. And of course, it fills a great gap in the market at the moment with social distancing measures in place around the world.
By offering tens of thousands of classes across 15 main categories and more than 100 subcategories, Udemy is sure to have a product that will appeal to your audience, no matter what your niche as an affiliate marketer.
We particularly love it because selling courses feels less 'salesy' than selling products, making it ideal for bloggers whose main aim is to educate readers. For example, if you're writing an informative article about fishing, you could link to one of Udemy's fishing courses. Or, if you're guiding readers through a renovation project, you could link your readers to this course on sculpting your own earth oven.
One thing that the Udemy Affiliate Program does particularly well is providing a wide variety of creative assets for affiliates to make use of. These mostly come in the form of Udemy-branded banners that can be used in blog posts, sidebars and more. They're also quick to provide one-off banners for different seasons or special events.
Thanks to the program being hosted by Rakuten LinkShare, it's easy for Udemy affiliates to monitor the performance of their marketing activities, such as clicks, sales, commission and impressions. Plus, the program has a relatively low payment threshold – each time an affiliate has $50 in their account, a commission is received on the next payment day.
Our biggest bugbear with Udemy Affiliate Program is that its frequent discounts and promotions have created a climate in which users won't buy full-price courses. When there isn't a sale, conversions slow as users wait for a new sale to arrive. Plus, although Udemy's 7-day cookie duration beats the likes of Amazon and eBay, it's still a lot shorter than the usual 30 days you'd expect to see on an affiliate marketing program of this kind.
At 15%, Udemy's commission rate also lets it down a little – particularly because it used to pay affiliates between 40% and 50% for each sale! However, with a range of courses at varying prices, it wouldn't be hard to pick the more expensive courses to promote in order to maximise the commission you receive, giving it the potential to be a top-paying affiliate program.
Pros
Large choice of creative assets
Fills a gap for online courses
Choose from thousands of courses to promote
Cons
7-day cookie duration
Conversions can be slow outside of a promotion
3-4 day approval process for new affiliates
7. ClickBank Affiliate Marketplace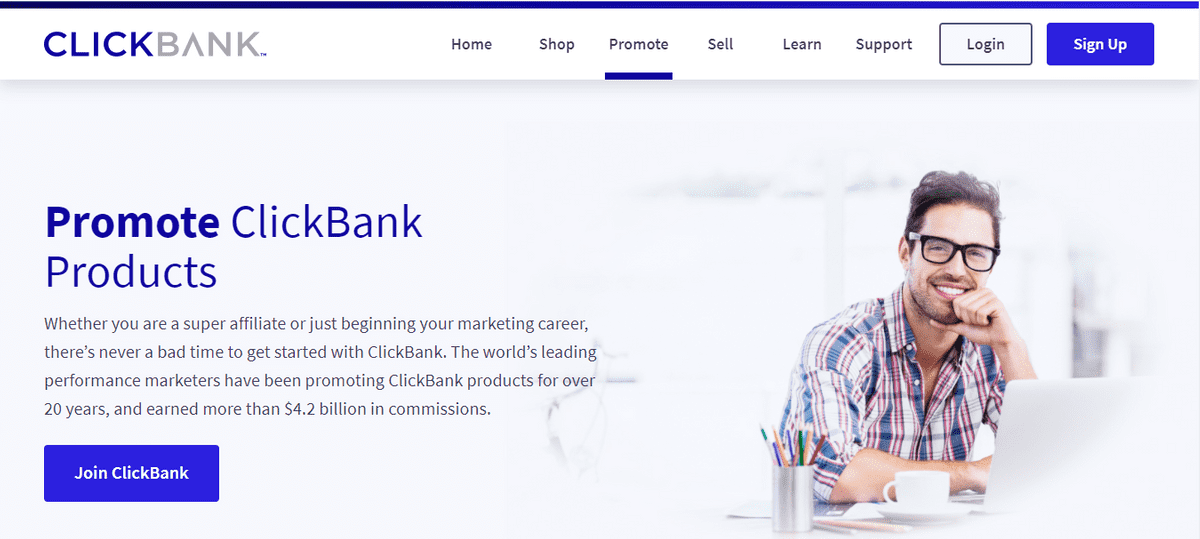 Commission: 0% to 90% depending on the product
Cookie life: 60 days
ClickBank is a large online marketplace selling digital products. Since it was founded in 1998, it's acquired over 200 million customers from all over the world. Vendors can register on the site to host and sell their digital goods, while affiliates can sign up to promote any of the digital products listed. The site became very popular with affiliates, although it has come under fire more recently.
So, is ClickBank Affiliate Marketplace still a useful source of income for affiliates?
Our favourite thing about it is the level of choice and control it offers affiliates. Different products offer different commission rates, with some products offering as high as 90% commission!
What that means is that you essentially make all the decisions. You can choose to go with products that have the highest commission rates possible, or you can opt for those with lower commission rates but higher prices. You can also look for products that draw customers in with a low initial price but that offer multiple upsell opportunities.
Not only that, but the ClickBank marketplace offers some subscription products. Sell these and you get a recurring commission, giving you continuous passive income instead of just a one-off payment. So, as long as you're discerning when choosing which products to promote, ClickBank can be a high-paying affiliate program.
However, one of the biggest criticisms of the site has been the quality of the products being sold. Although there are some valuable products available on the marketplace, there are also many that offer little to no value, prompting some to call the site a 'scam'.
Sadly, this is simply down to the sheer number of products on the site, with ClickBank prioritising quantity over quality. Although we think that ClickBank could probably benefit from being pickier with the vendors it allows on the marketplace, it's worth noting that it does offer a 30-day, no-questions-asked refund to anyone who purchases.
In some ways, this approach is what gives affiliates so much choice when it comes to finding products to promote. But it does mean you need to do your homework before blindly creating affiliate links for products you're not familiar with. Looking at reviews is one good indicator. Plus, the ClickBank affiliate program gives each product a 'gravity' score to show how well it's selling through affiliate marketing.
You should also be aware that ClickBank won't pay out your first commission payment until you have five different purchases, under their Customer Distribution Requirement. This is simply to stop new ClickBank affiliates from purchasing products through their own affiliate links to obtain a discount, but it can be off-putting for those starting out.
Pros
Choose products with high commission rates
View which products convert well
Choose to promote automatic upsell offers
Recurring commissions on subscription products
Lifetime commissions available with some vendors
Cons
Five purchases required to receive first payout
Low-quality products in the marketplace
ClickBank's reputation has suffered in recent years
Payouts can't be made through PayPal
As you can tell, the best affiliate programs come in many different shapes, sizes and styles. What works for one affiliate marketer and brand may not be the best choice for another!
If you're a budding affiliate, commission rate is an important factor to consider but don't just join every high-paying affiliate program you can find. You're much more likely to get good results when you're promoting a brand and product that you truly believe in and that appeals to your audience.
If you're an affiliate brand, the key to your success lies in creating an attractive affiliate program, but it also needs some serious marketing efforts behind it! Whether you decide to market your program in-house, to join an affiliate network or sign up to an affiliate agency, it's important to dedicate some proper resources to finding the right affiliates for your brand (if you're stuck, our guide to finding affiliates is sure to help).
Ready to get started? Whether you're hunting for affiliates to promote your products, or a brand that can pay you great commissions, simply register on Breezy to discover the perfect partner!